CM to join virtual meet of Sonia
18 parties have been invited to the first major political exercise in the national Opposition space since the pandemic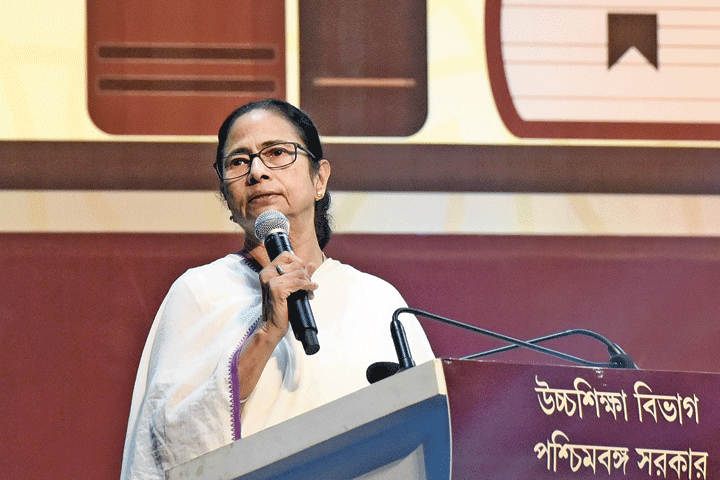 ---
|
Calcutta
|
Published 20.05.20, 12:06 AM
---
Mamata Banerjee said on Tuesday that she would attend the videoconference of all major forces in the national Opposition, scheduled to take place from 3pm on Friday, where issues such as the Centre's pandemic handling, the migrant crisis and the suspension of labour laws by some BJP-ruled states are likely to be discussed.
The videoconference has been convened by Congress chief Sonia Gandhi and 18 parties have been invited to the first major political exercise in the national Opposition space since Covid-19 assumed serious proportions in India.
"Some political parties will meet to discuss Covid-19. It's good. We have been discussing Covid-19 with the Centre. We, those in Opposition, will have a bit of discussions. That's what this is," said the Trinamul Congress chief.
"This will be via videoconference. A dialogue within ourselves, on how to work better amid this. What we have been facing, that too," she added.
Mamata said the likes of DMK chief Stalin, NCP chief Sharad Pawar, CPM general-secretary Sitaram Yechury are expected to join.
Sources in Trinamul said the agenda of the meeting included various aspects of the pandemic, its "mismanagement" and the fallout.
"The Narendra Modi government's mismanagement of the pandemic, the migrant worker crisis that is the largest in the Independent India, the suspension of vital labour laws by several BJP-ruled states are some of the main areas," said an MP.
"Besides, the hoax of the Rs 20 lakh crore package, the freeze on activities of important parliamentary committees, the ill-treatment meted out to states ruled by non-NDA forces are also to feature," he added.
According to a Bengal minister, when the lockdown was initially declared in March, Mamata and others in the national Opposition space had agreed to steer clear of politics and allow the Centre to function unhindered, and to help out in every way possible.
"The BJP, however, never reciprocated and stooped to unprecedented lows even by their standards, to politicise and even communalise the pandemic and its various aspects. This was most blatantly done in Bengal, but other Opposition-ruled states also got a taste of it," he said.
"So, now that we know that the lockdown is all but over and the pandemic is practically becoming an endemic, it is time for the national Opposition to raise its voice against the many ills and follies of the BJP and its government at the Centre," he added.