Voter turnout was lowest in Darjeeling among 107 municipalities in Bengal that went to the polls on Sunday with political parties attributing the dismal figure to the cold weather and migration of youths in large numbers.
Provisional polling figures issued by the state election commission said only 54.08 per cent of 65,398 voters in Darjeeling had exercised their franchise. Most of the civic bodies in the state recorded turnout of more than 74 per cent on an average.
Chandrakona municipality in West Midnapore district recorded the highest turnout at 89.06 per cent. There is unlikely to be much change in the polling percentage once final figures are published by the commission.
Later in the evening, the commission put the final polling percentage in Darjeeling at 53.79.
"The low turnout in Darjeeling is because of the cold weather. Many elder people are in Siliguri at the moment," said the Bharatiya Gorkha Prajatrantrik Morcha's Amar Lama who is contesting from ward 24.
During the winter, the elderly prefer to stay at warmer places like Siliguri. They usually descend in the first week of December and return after around mid-March.
The India Meteorological Department recorded a maximum temperature of 13.8 degree Celsius and a minimum of 4.8 degree Celsius in Darjeeling on Sunday. The maximum and minimum temperatures in Siliguri were 27.7 degrees Celsius and 13 degrees, respectively.
In the 2017 Darjeeling civic polls, which were held on May 14, the turnout was 60 per cent. "My parents came to Darjeeling yesterday (Saturday) just to cast their votes. They will be returning to Siliguri on Wednesday," said Ravi Pradhan, a Darjeeling resident.
Local residents have said the low turnout is also an indication that most of the youths leave the hills either for higher studies or work. "For them, to return just to cast a vote is difficult. The participation of youths was definitely less this time," said a resident.
There were exceptions, too.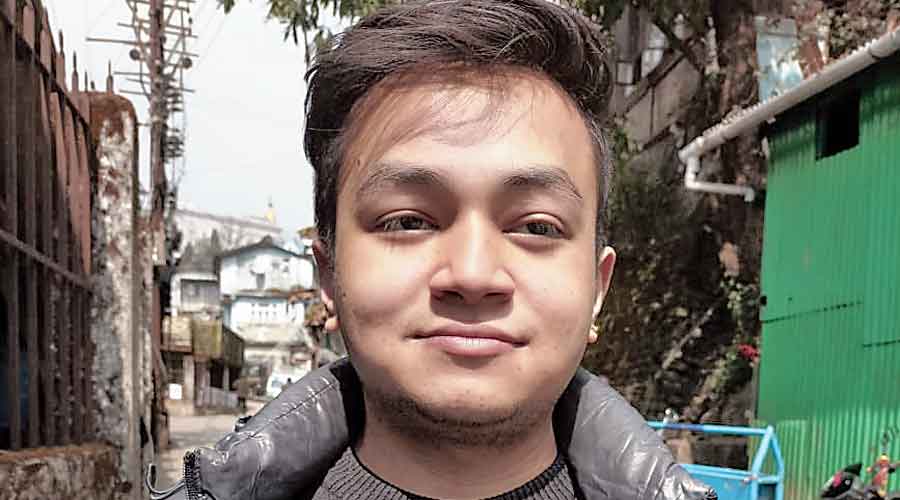 Siddharth Sharma after casting his vote on Sunday.
Siddharth Sharma, 22, travelled to Darjeeling from Siliguri on Sunday just to cast his vote. Siddharth had been staying mostly in Siliguri after returning from Lanzarote in Spain in 2020.
"I thought it was my duty and also my right to cast my vote. That is why I came to Darjeeling today. I will leave for Siliguri in the evening," said Sharma, a resident of Rai Building in Darjeeling.
The voting was peaceful in Darjeeling.
Senior hill leaders cutting across political lines, from Anit Thapa to Ajoy Edwards, Binay Tamang to Bimal Gurung and Neeraj Zimba, said they felt democracy was in complete play in the hills this time around.