Civet spotted, tiger fear vanishes
Forest department officers had been conducting an awareness drive in the area, which helped save the animal's life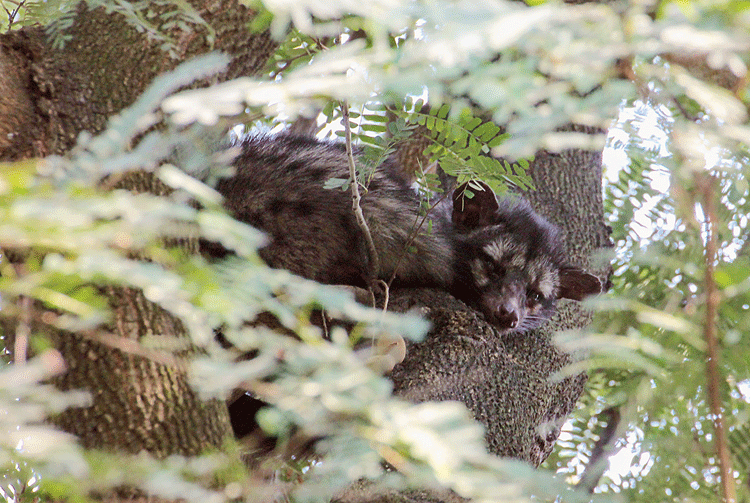 The large Indian civet spotted on Sunday.
Picture by Abhi Ghosh
---
Published 09.02.20, 07:12 PM
|
---
The month-long panic over the suspected presence of a tiger came to an end in Phulia on Sunday when a large Indian civet was spotted at Kalipur village.
A section of the villagers had been spending sleepless nights with nocturnal patrols and other measures after they had seen suspicious pugmarks. They tried to kill the animal on Sunday, but were prevented by other villagers.
Forest department officers had been conducting an awareness drive in the area, which helped save the animal's life.
The foresters also put guards under a tamarind tree on the top of which the civic took refuge, asking the villagers to leave the spot so that the scared animal could manage to leave, which it eventually did.
People of Phuliapara, Chatkatala and other adjacent areas in Phulia appeared relieved after the identification of the nocturnal visitor.
"The spotting of the large civet was a big relief. We can now be sure it wasn't a tiger," said a villager.
Around 9am, some people noticed the civet in a bush and chased it with sticks and stones. The animal, in a bid to escape the attack, climbed the tree, when some villagers decided to kill it. But a large number of the villagers, who had gathered at the spot, stopped them.
"We immediately called the forest officials to save its life," said Tushar Pal, a resident of Kalipur.
A team of forest officials soon arrived and asked the villagers to leave the spot, securing the tree to ensure the animal's safety. "The fears were baseless. It is a harmless animal. We tried our best to to save the animal, which later disappeared. We are thankful to the majority of the villagers, who warded off attempts to kill it," said Uttam Garai, a forest official.