City Gen Y in step with Swedish green girl
The 15-year-old Swedish student Greta Thunberg has been nominated for the Nobel Peace prize this year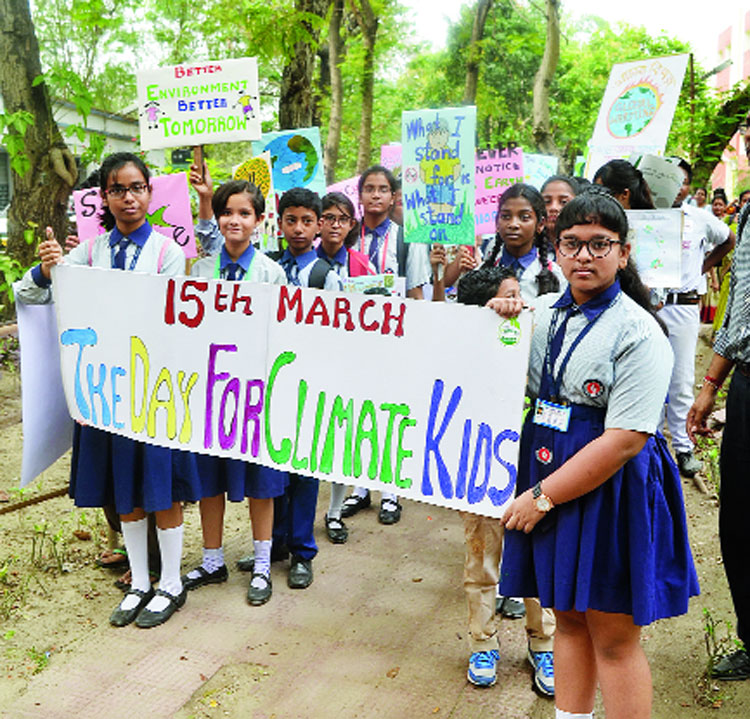 ---
|
Calcutta
|
Published 16.03.19, 09:05 AM
---
Students skipped classes, conferences, a game of cricket and even board exam preparations to join a walk and create awareness about global warming, as part of a worldwide movement, on Friday.
Fridays for Future, a worldwide movement initiated by 15-year-old Swedish student Greta Thunberg in August 2018, saws students from over 130 countries campaigning for a greener world every Friday.
Around 70 students went around the Jadavpur University campus with placards, talking about the dangers of excessive carbon emission and how they plan to make a difference together.
Monalise Ghosh, a Phd student of Jadavpur University, wanted students to lead by example. "I refuse plastic bags in shops, hopefully setting an example for others in the queue. The state should stop the use of plastic like in many states. I also want the recycling industry to grow," said the student of economics who missed a conference to be part of the walk.
Greta missed school every Friday for three weeks last August to sit in front of the Swedish parliament, demanding reduction of carbon emissions in keeping with the Paris agreement.
Her strike generated support from the student community all over the world. The aim: not just to spread awareness about climate change but to convince law-makers and people in power to take an environment-friendly stand.
The Swedish girl has been nominated for the Nobel Peace prize this year.
The city edition of the protest had students and teachers from Techno India Group Public School, Garia; The Akshar School, Shamil Chhotoder Pathshala, Jadavpur Baghajatin High School, Jadavpur Sammilita Balika Vidyalaya and Jadavpur University joining hands with NGOs such as Earth Day Network for a sharing of experience. Some parents also joined the movement.
"My exams have just got over and the term break is on. I could have joined my friends for a game of cricket. But I chose to come here," said Sampat Mandal, a Class VIII student of Techno India Group Public School, Garia.
Classmate Kuntal Kumar Ghorai wants cleaner air so that he can breathe better. "I try not to use the air-conditioner," he said.
Nearly 40 teachers and students from the Garia school were part of the rally.
Antara Dasgupta is giving her Class X Boards from The Akshar School. Yet, she chose to attend the rally in between last-minute studies.
"This is as important as exams. I don't use plastic. I know what is ethical fashion. I use organic products as much as possible. But like Greta, I am here to seek policy change. The high carbon emission from factories must stop," she said.
The participating students pledged to meet every Friday to seek redress.