Chunk of coal falls, 4 of family dead in West Burdwan
The incident comes at a time the CBI is probing allegations of coal pilferage from ECL mines in Asansol and Durgapur since November last year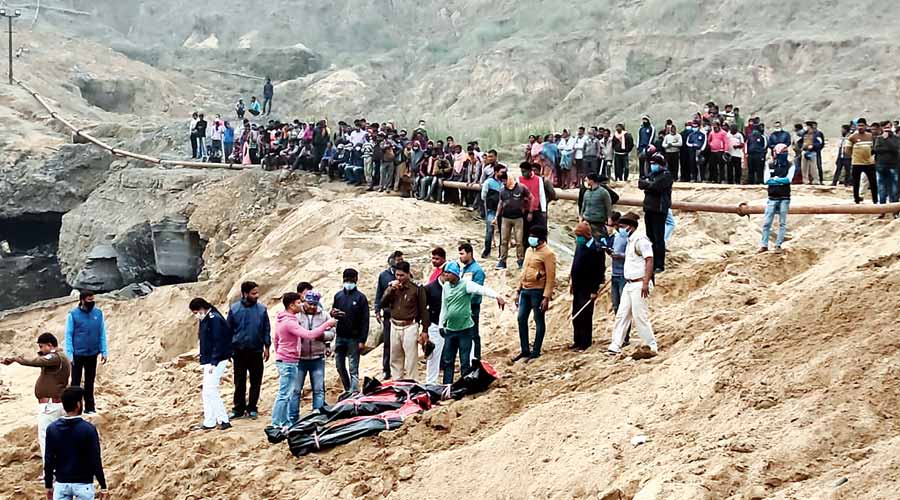 The opencast mine where the accident occurred at Laodoha on Wednesday.
Dipika Sarkar
---
Durgapur
|
Published 27.01.22, 01:31 AM
|
---
Four persons of the same family, who had gone allegedly to pilfer coal from an opencast mine of the Eastern Coalfields Limited, were killed when a large coal chunk fell on them in West Burdwan's Laodoha on Wednesday.  
Another person from the same family has been injured.
Police identified the deceased as Annahari Bauri, 50, Shyamal Bauri, 23, Natabar Bauri, 25, and Pinki Bauri, 22. They were rescued by police and sent to hospital where all were declared brought dead. The injured has been identified as Kishore Bauri, 22.
The incident comes at a time the CBI is probing allegations of coal pilferage from ECL mines in Asansol and Durgapur since November last year in which names of some Bengal ruling party leaders have cropped up. The police have started investigations in the incident."The police rescued the villagers soon after we got the news of the mishap. One person survived, while four others were declared dead at the hospital. We are probing how the incident occurred," said Abhishek Gupta, deputy commissioner of police (east), Asansol-Durgapur police commissionerate.
Sources have said hundreds of local people as well as those from neighbouring Birbhum come to pilfer coal from ECL mines in West Burdwan regularly.
"Coal pilferage is a common practice in this area but there had been a lull in such activities ever since the CBI started probing coal smuggling in November last year," an ECL source said.
Sources said petty smugglers had regrouped and were pilfering coal again. "They are hiring local unemployed youths for stealing coal from the mines at Jamuria, Barabani, Laodoha and Pandaveswar. They later transport the smuggled coal to various depots on bicycles and bullock carts," said the source.
Asked what the ECL was doing to stop the theft, officials said they had lodged complaints of coal pilferage with the police. The police, however, said no such complaint was pending with them.
"We take serious actions whenever we get complaints of coal pilferage from the ECL. As of now no such complaint is pending or lying unattended," said Gupta.
Local Trinamul MLA Narendranath Chakraborty said the incident was unfortunate. "The incident was very unfortunate. Some local people had gone to the mine this morning. Four of them were killed in a mishap. The ECL should cordon off the mine properly so that none could trespass," he said.
ECL officials said the mine had been outsourced to a private mining company for lifting coal. "The agency and the ECL jointly maintain security at the mine. But hundreds of villagers regularly come there to steal coal," said an ECL official.
The police said they had cautioned local people not to enter mines as it might pose danger to them.