Children's treat in autumn
Read more below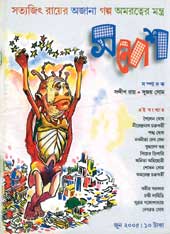 ---
---
The cover of June 2005 issue of Sandesh that was published after the Ford grant
For any Bengali magazine worth its name, the Puja sonkhya, the autumn issue, is crucial. So for Sandesh, the children's magazine that used to be as integral to Bengali children as its namesake is to Bengali cuisine. Replete with stories, comics, puzzles and illustrations, Sandesh captured not just the child's imagination but the elders' as well.
It was born in one of the most creative households of Calcutta. A product of the Ray legacy, Sandesh was started by Upendrakishore Ray Chaudhuri, the fabulist,in 1913, from U Ray and Son's block-making office at 100 Garpar Road. Writer Lila Majumdar, Upendrakishore's niece whose 100th birth anniversary was celebrated with a special Sandesh issue, wrote: "Sandesh has been the launching pad of many a writer in the Ray family." The childhood memoir of Satyajit Ray, Upendrakishore's grandson, Jakhan Chhoto Chilam, is replete with references to Sandesh.
But even such illustrious history has not been able to give this magazine a steady life. This year, it is struggling hard to make it to the stands by Tuesday.
In the run-up to the Pujas, the Sandesh office in the sprawling Triangular Park on Rashbehari Avenue has its staff, mainly volunteers, in an overdrive to produce the Puja issue. It will be a combined issue of September and October. The 360-pager will have the serialised translation of Aliens, a film script by Satyajit Ray, and a piece by him on his aunt Kanak Das (the Rabindrasangeet singer), film director Tarun Mazumdar's article on "Shooting-er Spot Selection", Arunendu Mukherjee's article on funny incidents during Ray's shootings and write-ups on cricket, cinema, art and culture.
"We have a print run of 5,000," says Amitananda Das, son of Ray's cousin Nalini Das and publisher of Sandesh. He doesn't sound too hopeful though. "The Puja will see us through a few months," he said.
Financial difficulties, distribution bottlenecks, plummeting subscription and advertisement issues have been plaguing Sandesh for years. "The problem lies in distribution and advertisement," says the fourth-generation Ray and current editor Sandip Ray. "It's difficult to run a magazine with part-timers. All those who work for Sandesh do it out of love," says Ray, lamenting the irregularity of the issues.
Sandesh did very well till 1922 with Sukumar Ray, Upendrakishore's son and one of the greatest Indian humour writers, at the helm. "Sukumar ran the extended family from the profit of Sandesh," says Amitananda. After his death in 1923, the downslide began. The magazine was stopped in 1925. In 1931, Sandesh was revived by an old employee of U Ray and Sons, Karunabindu Biswas. It ran for three years and writings of Rabindranath were published in Sandesh. "But this too stopped," says Amitananda.
In 1961, under the stewardship of Satyajit Ray, a grand revival was planned for Sandesh. In 1963, a co-operative was formed called Sukumar Sahitya Samabay Samiti Ltd with Ray's Lake Temple Road flat as its registered office. In 1964, Sandesh premises shifted to its present 172/3 Rashbehari Avenue address. From 1974, Nalini Das took over as joint editor with Lila Majumdar and with her husband Ashokananda Das as the publisher.
A number of activities had been started to sustain reader interest like Prakriti Padua Daptar, an ecology club. Reader interaction was initiated with a section called Hat Pakabar Ashar where young subscribers could publish themselves. "From 1964 to 1992 Sandesh remained profitable," says Amitananda. However, tragedy struck again as during 1992-93 a succession of deaths in the family, including that of Satyajit Ray, Nalini Das and Ashokananda Das, left the magazine stewardless. Lila Majumdar was too ill to be able to continue. From 1993-94, the magazine passed on to the hands of Sandip Ray and Amitananda.
But times had changed and with cable television, comics and costly printing standards, Sandesh's circulation plummeted. It continues as a predominantly black-and-white magazine with some issues having four-colour prints. "From 75 paise per copy, the price rose to Rs 12 in 2007, but the circulation dropped to around 2,000," says Amitananda.
Then came a grant from the Ford Foundation. "A sum of Rs 38 lakh was sanctioned, out of which Rs 21 lakh was given initially," says Amitananda. Sandip Ray shifted the Sandesh office to his home at 1/1 Bishop Lefroy Road.
The grant made an obvious difference to Sandesh and production quality improved. But after the initial grant, Ford Foundation stopped its funding. "It had asked for a statement of accounts in December 2003 and sent a reminder in 2004. We were unable to furnish that. In 2005, the Foundation blacklisted us," says Das.
However, after the Ford fiasco, the magazine started again with zero capital. There were free ad insertions in newspapers. But Sandesh continues to struggle to exist. "We still don't have a marketing manager, we can't afford one," said Das. Satyajit Ray's name brings orders. But that's not enough.