Chairs, bottles fly at Modi rally in Purulia
The pandemonium continued even after the Prime Minister took the dais around noon and saw his speech disrupted several times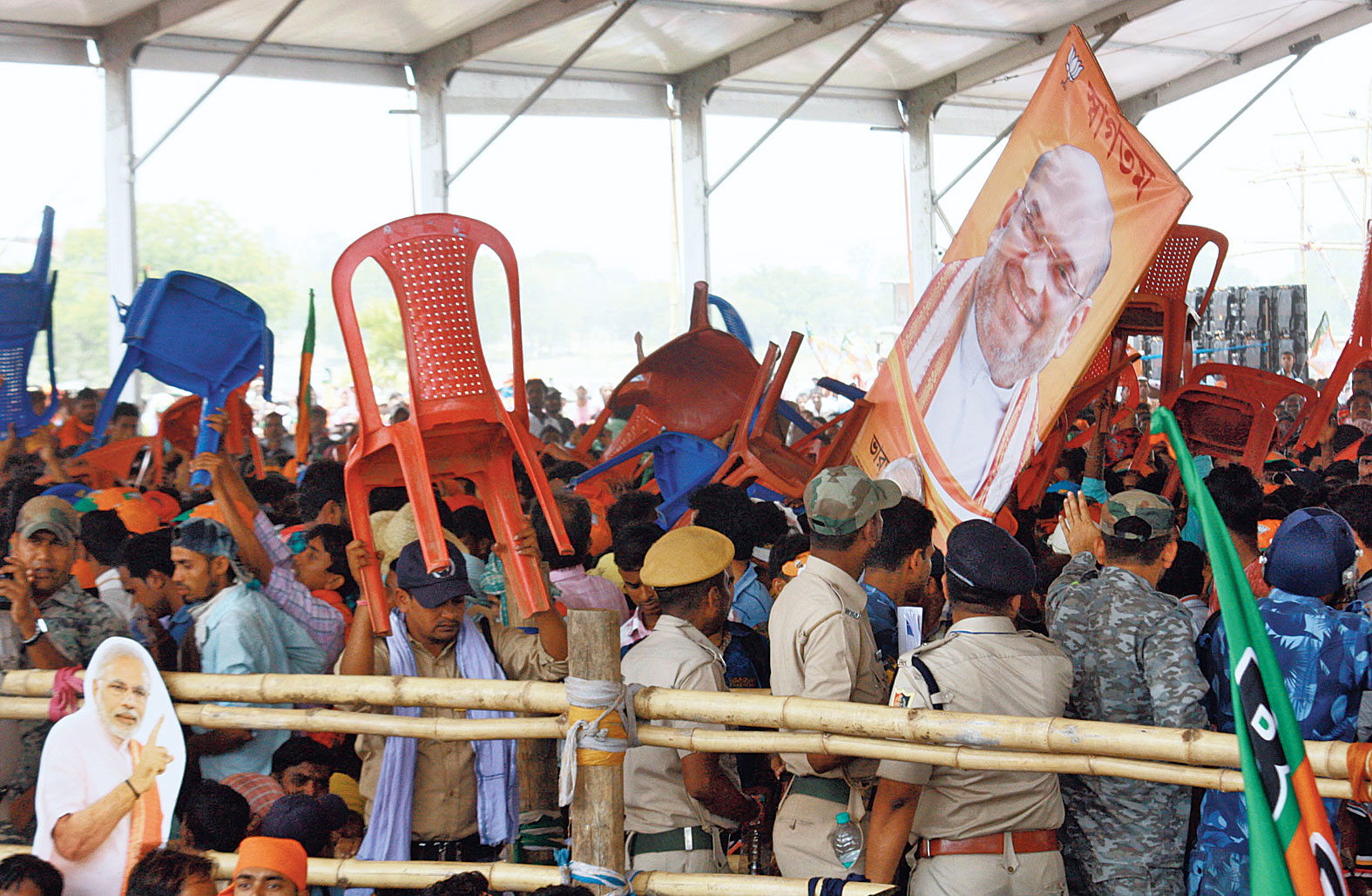 Chairs held up during the commotion in Purulia.
Telegraph picture
---
Purulia
|
Published 09.05.19, 07:56 PM
|
---
Chairs and bottles flew at Narendra Modi's rally here on Thursday as sections of the crowd jostled for a better view of the Prime Minister, prompting Mamata Banerjee to take pot-shots at the BJP for its inability to organise meetings.
The chaos began before Modi's arrival at Raibaghini Ground in Purulia town, where supporters had started gathering from 9am. Modi was to take the stage at 11.30 am and supporters had started streaming in from 9am.
Two groups started throwing chairs and water bottles at each other after those sitting in the back rows complained that those in the front were obstructing their view of the dais. The pandemonium continued even after the Prime Minister took the dais around noon and saw his speech disrupted several times.
Over an hour later, Mamata addressed a rally at Purulia's Shimulia Ground, around 4km from the venue of Modi's meeting, and sought to contrast the two meetings.
"I heard there was chaos…They started throwing chairs and water bottles, some even at police personnel. They can't even organise a meeting peacefully. Look at our meeting….everyone is sitting peacefully," the chief minister said.
BJP leaders denied any chaos in Purulia. "No one threw chairs or bottles. The workers were passing the chairs as the supporters from behind could not see the dais. However, such small incidents happen if lakhs assemble in a small place," Vidyasagar Chakrabarti, the BJP's president in Purulia, said.
As questions arose about the ability to hold peaceful meetings, Modi referred in Purulia to his meeting in Bankura over an hour ago and accused the Bengal administration of discrimination.
"I heard Trinamul and the administration tried to stop my rally in Bankura. But it is your love which helped us hold the rally here," Modi told the crowd of around 60,000 in Purulia.
In Bankura, BJP leaders said the problems had started after the administration refused permission for the venue, saying Trinamul had booked it earlier. The BJP then shifted the rally to Purandarpur, around 8km from Bankura town.
Trinamul leaders alleged that the Purandarpur rally was held on a stretch of land where most of the owners declined to give permission.
"You are blaming the administration, saying they are not giving you the ground. The fact is the ground where the (BJP) rally was organised has 170 stakeholders but only 17 gave permission. The rally was held using force," Mamata said in Bankura before heading to the rally in neighbouring Purulia.