Mamata discusses missive with Abhishek, meets Governor
Centre's Covid-vigil letter cloud on Bengal bypolls
Trinamul chief Mamata Banerjee, who lost to the BJP's Suvendu Adhikari in Nandigram, has to win a byelection within November 5 to stay as chief minister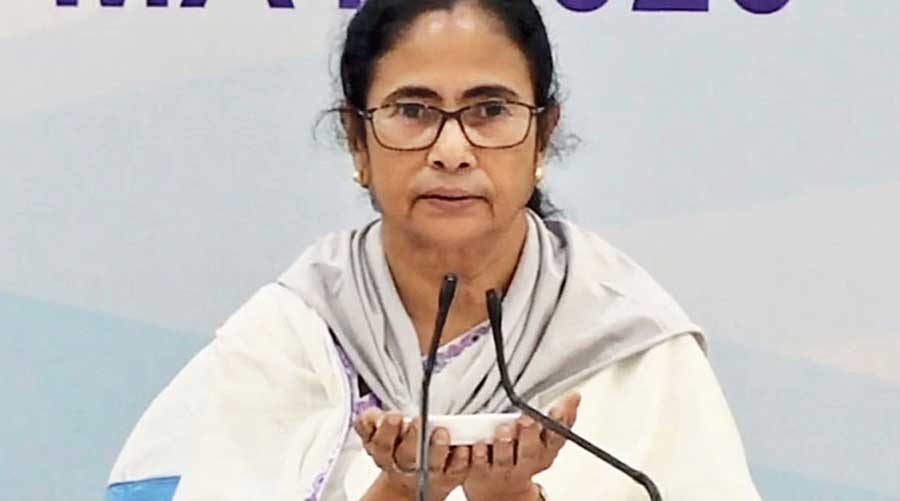 Mamata Banerjee
File picture
---
Calcutta
|
Published 15.07.21, 01:02 AM
|
---
The state government on Wednesday received a letter from Union home secretary Ajay Bhalla, asking the administration to be extra vigilant about easing curbs in view of the impending third wave of the pandemic, with sources saying the missive was read by Nabanna top brass as a prelude to an indefinite delay in Assembly bypolls.
As ruling Trinamul has a clear majority in the House, bypolls scheduled for seven seats in Bengal may not have any major numerical significance for the government. But party supremo Mamata Banerjee, who lost to the BJP's Suvendu Adhikari in Nandigram, has to win a bypoll within November 5 to stay as chief minister.
Though no one confirmed it on record, Mamata apparently went into a huddle with her party's all-India general secretary Abhishek Banerjee on Wednesday afternoon, after the letter reached Nabanna, to discuss her next move. She later visited Raj Bhavan for a one-on-one meeting with governor Jagdeep Dhankhar for over an hour. Details of the meetings were not made available.
Though addressed to all state governments, Bhalla's letter triggered speculations in Bengal's power corridors that it could have been sent to create a context for the Election Commission of India to delay the Assembly bypolls in view of the pandemic.
The reason is not far to seek. It is no secret that Mamata, sworn in on May 5, has to be elected to the House by November 5 under the constitutional requirement. "Two-and-a-half months have gone. It's a fact that the clock is ticking," said a source.
The home secretary's letter read: "With the decline in the number of active cases, States and UTs have started re-opening the activities in a gradual manner... the process of relaxing restrictions should be carefully calibrated."
Sources said the letter, by stating the second wave wasn't over and Covid-appropriate behaviour must continue, hinted that the Centre wasn't in favour of mass gatherings in the next two to three months. The letter also pointed out blatant violations of Covid norms in parts of the country after some relaxations.
"It needs to be ensured that if norms of Covid appropriate behaviour are not maintained at any establishments/ premises/ markets etc, such places shall be liable for the re-imposition of restrictions, for containing the spread of Covid-19..." reads the advisory.
As bypolls will entail rallies and gatherings, the advisory can be used by the EC to defer them, sources said. "Unless large-scale gatherings are allowed, it is tough to hold elections. So, it is definitely a cause of concern for the Bengal government. The notification for bypolls has to be issued within the next two-and-a-half months to allow the chief minister to continue by winning the bypoll," said an official.
Some officials that this paper spoke to said the chief minister can take oath again after six months if bypolls aren't held owing to Covid-19. But others said the rule clearly states she has to win an election within six months.
There's a high probability that bypolls may be indefinitely delayed, said a Trinamul source, referring to public statements by scores of BJP leaders. Adhikari has often taunted Mamata as a "non-MLA chief minister".
"Ideally, there shouldn't be a correlation between a central advisory and a decision of the poll panel...But things have changed so much in recent years that there are reasons to believe that the Union home ministry under Amit Shah is setting the context so that the Election Commission can say bypolls can't be held now," said a source.