Centre job fund whip on Bengal
Delhi asks state to recover funds spent on 100 days' job scheme projects where malpractice was 'found' by the monitoring team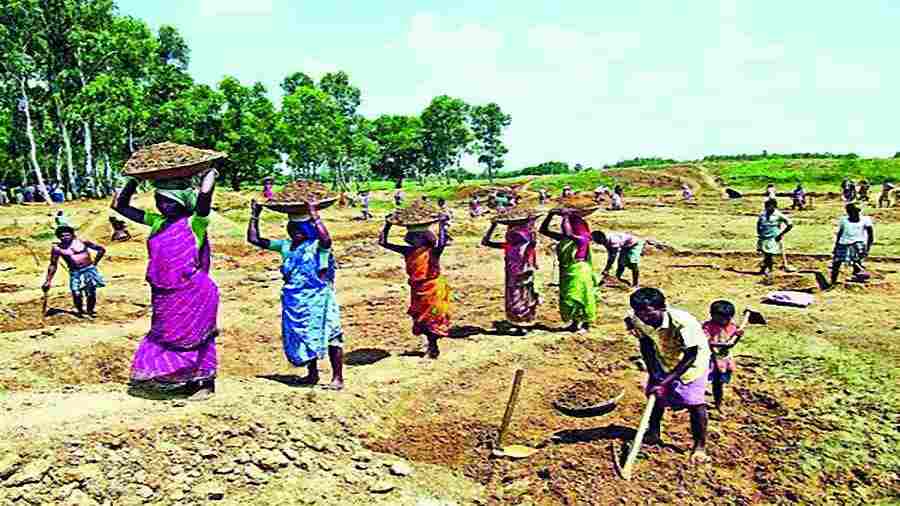 We will explain to the people that they are not getting jobs under the scheme only because the Centre is not releasing funds: TMC MLA
File Picture
---
Calcutta
|
Published 26.06.22, 02:37 AM
|
---
The Centre has asked the Bengal government to recover funds spent on 100 days' job scheme projects where malpractice was "found" by a national-level monitoring team while making it clear that release of more money under the MGNREGA for 2022-23 financial year may depend on the state's efforts to take action against those responsible for alleged anomalies.
"The national-level monitoring team has found several irregularities in MGNREGA in Bengal during its visits in 2019 and 2021. The state was asked to recover the funds misappropriated in some schemes from guilty individuals. But as the state did not initiate action on the report, the Centre stopped funds under Section 27 of the MGNREGA," a senior state government official told The Telegraph.
Section 27 of the MGNREGA states that the "Central Government may, on receipt of any complaint regarding the issue or improper utilisation of funds granted under this Act in respect of any Scheme if prima facie satisfied that there is a case, cause an investigation into the complaint made by any agency designated by it and if necessary, order stoppage of release of funds to the Scheme and institute appropriate remedial measures for its proper implementation within a reasonable period of time."
A bureaucrat from Delhi over phone told this correspondent: "The state government had sent an action taken report (ATR) on January 8, 2021, which failed to satisfy the Centre. The state government was asked to send a fresh ATR on December 12, 2021. As the state did not, the Centre decided to prohibit the release of funds for Bengal."
Sources said that the Centre had explained in detail the irregularities identified by the monitoring team during visits in 2019 and 2021 but no action was taken.
Some instances:
• Non-permissible work under MGNREGA like metallic fencing, laying of sand-filled bags, planting ornamental plants was done but funds spent on them were not recovered later.
• The procedure of making detailed project report in the case of embankment strengthening was breached but again funds spent were not recovered.
A Trinamul insider said the BJP-led Centre was trying to blame the state "without basis" as the state had taken action in areas where some problems had occurred. However, the Delhi bureaucrat countered this, saying the state government did not act against persons responsible for misappropriation of funds or recover money from them.
"As gram panchayats are the implementing agency of MGNREGA, action has to be taken against the ruling party-led gram panchayats. This is easier said than done ahead of the next year's panchayat polls," said a Trinamul leader.
Trinamul, sources said, was planning an agitation to demand money under MGNREGA. "We will explain to people that they are not getting jobs under the scheme only as the Centre is not releasing funds," said a Trinamul MLA.