Call to scrap estates' lease for urban expansion
Demand comes at a time when Darjeeling Organic Tea Estate Pvt Limited is under stress to clear workers' wage dues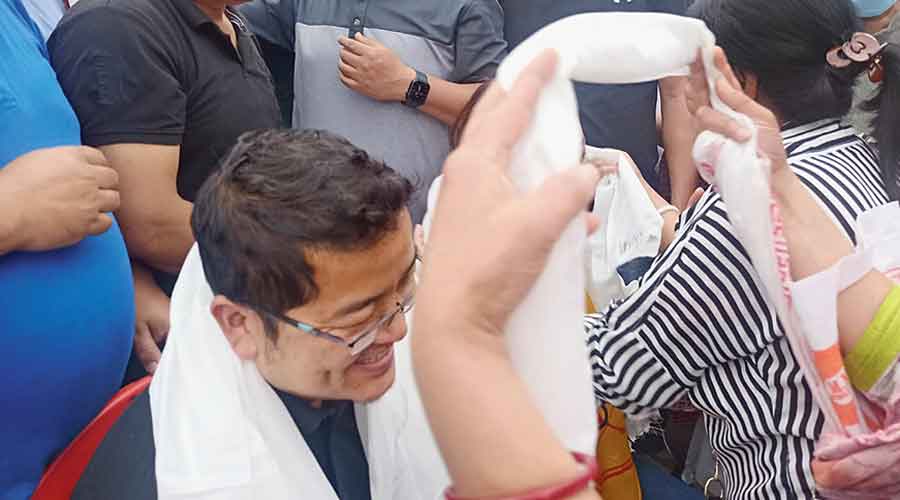 Ajoy Edwards
File Picture
---
Darjeeling
|
Published 22.08.22, 01:38 AM
|
---
The Hamro Party, which runs Darjeeling municipality, has requested the Bengal government to cancel the lease of tea gardens that are situated near urban areas but are not paying workers in order to facilitate the expansion of hill towns.
The demand comes at a time when Darjeeling Organic Tea Estate Pvt Limited (DOTEPL), which is the second largest group manufacturing Darjeeling Tea, is under stress to clear workers' wage dues.
The group, based in Calcutta and owned primarily by European investors, has 10 gardens, of which Happy Valley and Monteviot abut on Darjeeling and Kurseong towns, respectively. The company's Ambootia estate is also situated close to Kurseong town.
DOTEPL has been irregular in the payments for few years and the last three fortnights' wages are outstanding. Many workers have bee staying away from garden jobs because of the mounting arrears.
Hamro Party president Ajoy Edwards said Darjeeling had not had a master plan since the British had left India.
"Dear Mamata Banerjee, please cancel the lease of the Tea Gardens who have not paid their workers for months,… please allow Darjeeling to expand toward the tea gardens, so that we can have planned municipalities, enough space for affordable housing, data centre's for our youth, IT centres, self-sustaining tourism, multi crop organic farming, retail outlets , tourism related activities, etc etc," Edwards wrote on his official Facebook page on Sunday.
Tea garden land is leased out by the state government mostly for a period of 30 years.
Edwards's demand is expected to find resonance among many in the hills as the region and the Darjeeling town in specific are facing space crunch. Darjeeling has been experiencing a high rate of urbanisation. With a population of 1,15,568 according to the 2011 census within an area of 10 square kilometres, Darjeeling is one of the most densely-populated mountain areas in the world.
Expansion hasn't, however, been possible as the town is sandwiched between forests and tea gardens, whose use for other purposes is mostly prohibited.
When Subash Ghisingh had helmed the Darjeeling Gorkha Hill Council as the chairman in the early 2000s, he had wanted to create a satellite township at Ghoom-Bhanjyang. But the idea was dropped as clearance from the forest department was unlikely to come through.
Edwards has said some tea plantations near Darjeeling town have around 300 workers who are "getting paid a little more than Rs 200 per day with a daily inflow of about Rs 60,000". Tea garden workers are paid Rs 232 a day now.
"We can easily increase this (inflow) by 10X (times)," said Edwards.
Absenteeism among labourers is as high as 40 per cent in certain gardens and this is also an indication that the younger generations are no longer inclined to work as tea leaf pluckers.
Rembert Biemond, the acting chairman of DOTEPL, however, told this newspaper that the company was trying to enlist new investors to weather the storm.
Biemond, who is representing the European investors in the company, however, added that foreigners had "invested more than Rs 400 crore during the last six years" but the "money left the company through the back door."
The company saw a change of guard since 2020 with Biemond being appointed as the acting chairman, instead of the previous Indian promoter.
The company also has a bank loan of around Rs 100 crore, sources said.