Yaas: Agencies activate efforts to save lives and minimise damage
As part of the preparations, trees are being pruned, billboards are being brought down and the height of high-mast lights is being reduced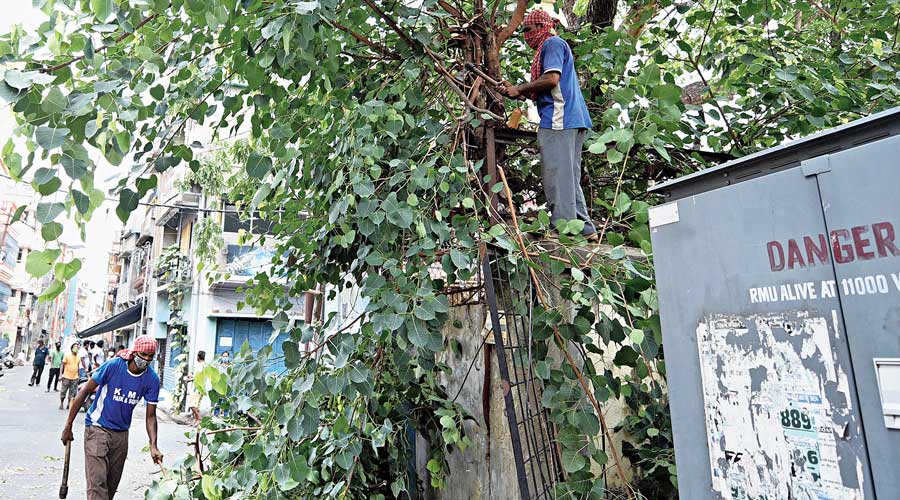 Civic workers trim branches of a tree in Bijoygarh, near Tollygunge, on Sunday.
Gautam Bose
---
Calcutta
|
Published 24.05.21, 01:28 AM
|
---
Police, civic bodies, CESC and other agencies on Sunday started taking steps that could reduce the impact of Cyclone Yaas, which is likely to hit land on May 26 evening.
As part of the preparations, trees are being pruned, billboards are being brought down and the height of high-mast lights is being reduced.
A unified command centre will be set up at the Calcutta police headquarters in Lalbazar, where representatives of all nodal agencies like the Calcutta Municipal Corporation, CESC, Calcutta Metropolitan Development Authority, fire and emergency services department, public works department and the civil defence department will be present.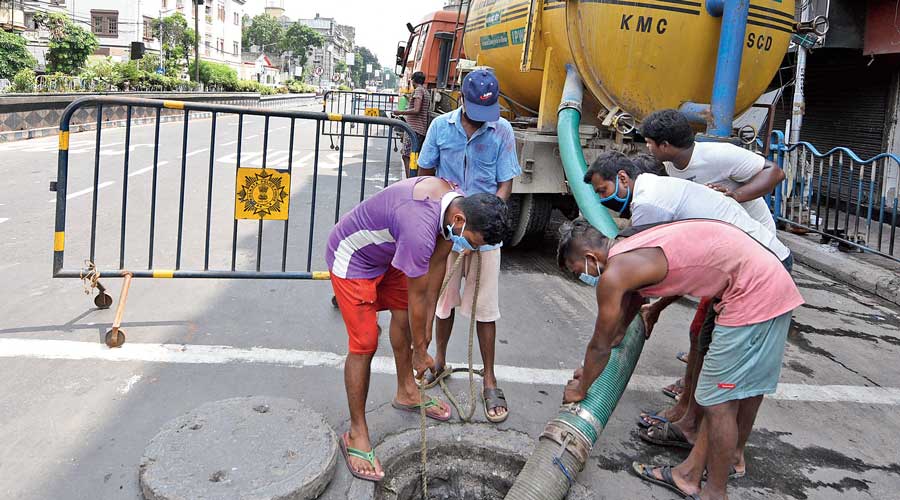 They will coordinate and respond to the pre and post-cyclone situation in the city. The command centre will be operational from Monday.
Multiple rounds of meetings were held at Lalbazar and CMC headquarters on Sunday to finalise the operational details, including the number of teams of the various agencies that are expected to work in tandem.
The Telegraph takes stock of some of the steps undertaken by the agencies.
Pruning of trees
The CMC and the New Town Kolkata Development (NKDA) have started pruning trees and canopies since Saturday to reduce their chances of getting uprooted in the cyclone.
CMC officials said they had been trimming trees based on calls from residents and civic representatives in the last 24 hours. Also, CMC teams are making rounds to detect trees that need pruning.
According to NKDA officials, the canopies are being trimmed so that they don't remain top heavy.
"We are taking care to trim the canopies on all sides and not make a tree heavier on one side as that will make them susceptible to toppling," said Debashis Sen, the NKDA chairman.
Bidhannagar Municipal Corporation officials, on the other hand, said they had conducted a drive to prune trees in the run up to the Assembly elections. No fresh drive is needed, they said.
Billboards
CMC personnel started bringing down billboards across the city to eliminate chances of these iron structures coming off the frames under the impact of the storm and turning into missiles.
Last year, several houses near Park Circus were damaged by billboards and iron structures protruding out of the frame.
The NKDA has conducted a survey listing all large billboards and has decided to take them down before the storm makes landfall.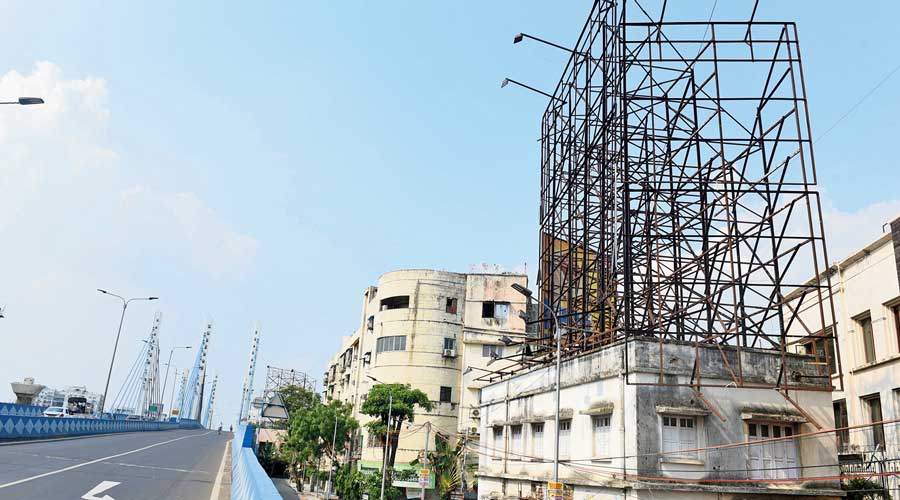 As construction sites dot New Town, the NKDA has asked the site managers and supervisors to ensure that the cranes are brought down to their lowest levels and are locked properly, so they do not fall under the impact of the storm.
High-mast lights and trident lamps: CMC officials said 50 high-mast lights and 8,000 trident lamps and decorative lights in the city would be switched off from Monday evening to eliminate chances of a short-circuit and electrocution.
The high-mast lights will be lowered to prevent their damage during the cyclone. All street lights will be operational, CMC officials said.
Alerting citizens
The police and CMC have been making public announcements in the city, especially in slums and other congested areas, asking people to stay indoors during and even after the storm.
"Many people get curious and step out after the first round of the storm blows over, without realising that a second round may follow," said an official.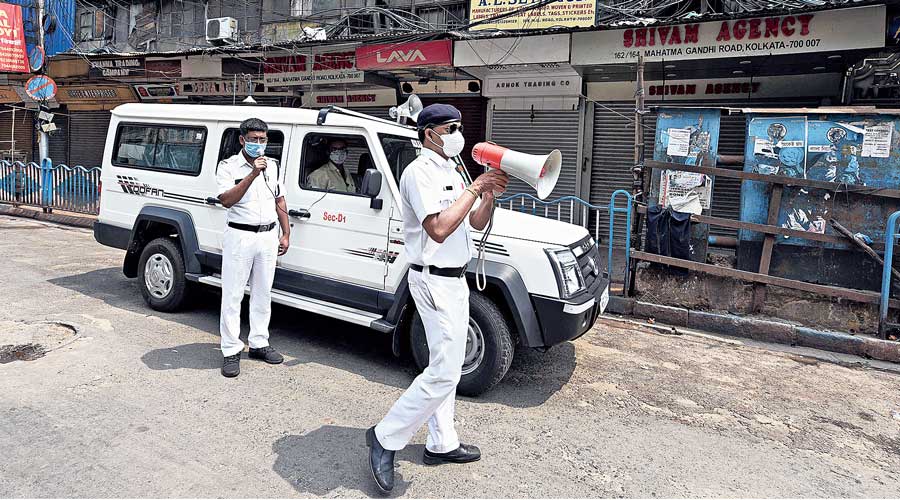 The police have also been making announcements to evacuate endangered buildings that are vulnerable to gusty winds. The CMC is opening several cyclone shelters across the city where people living in dilapidated houses and huts can shift. "We have identified 545 severely damaged houses in the city, where 2,500 to 3,000 people live. Besides, there are many kutcha houses in slums and elsewhere. We are visiting slums and appealing to residents to shift to safe shelters. We have set up 150 cyclone shelters in schools run by us and community halls," said a CMC official.
High-rise buildings
The New Town authorities have sent letters to all gated communities to keep all windows, doors, stairwell approaches and roof doors tightly shut. An NKDA official said they had asked all residents' welfare associations to ensure residents, particularly those on upper floors, keep their windows and doors shut.
The gated communities have also been advised to replace cracked window panes in common areas and to shift as many vehicles as possible to the basement parking lots.