Bengal polls 2021: Devout does not mean diabolic
Prays thrice daily but against politics in temple's name
---
|
Calcutta
|
Published 11.04.21, 01:22 AM
---
An old woman stopped by a temple on Diamond Harbour Road, opposite Behala police station, on her way to the polling booth on Saturday.
She bowed her head and uttered a brief prayer, her palm touching her chest and forehead multiple times, before resuming her walk towards the booth.
"I am a devout Hindu and pray three times a day. But I am against seeking votes in the name of a temple," Aparajita Chatterjee, 76, told this newspaper after coming out of the booth around 10.20am.
The temple, dedicated to Shiva, is one of the oldest in Behala. Chatterjee has been a regular visitor to the temple since 1960, when she came to the Behala neighbourhood after marriage.
Chatterjee is now a widow and lives alone. Her two daughters are married. At home, Chatterjee watches news channels regularly. She is aware of the emergence of a new brand of Hinduism in Bengal, she said.
"Bhishon chinta hoy (I am extremely worried)," she said. "There is an aggressiveness in this so-called Hindutva — whether in slogans or in political speeches. Baying for blood is not there in my religion. My religion does not tell its followers to kill people for food they eat or clothes they wear," she said.
Chatterjee voted in Behala West where Trinamul heavyweight Partha Chatterjee is pitted against the BJP's Srabanti Chatterjee and CPM's Nihar Bhakta. Metro met her around 10.15pm, when there were not more than a dozen voters in the queue.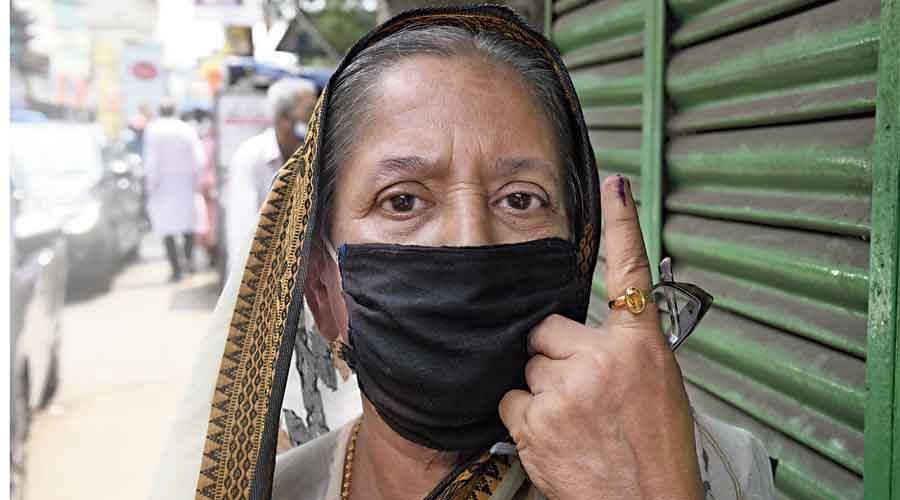 Behala, once a Left bastion, is now considered a Trinamul stronghold. The party had a lead from the Assembly segment — which falls under the south Calcutta Lok Sabha seat — even during the BJP surge in the 2019 general elections.
But local residents are also familiar with the Jai Shri Ram cry as the BJP has been organising rallies and street corner meetings in Behala neighbourhoods. Three days ago, Union home minister Amit Shah took part in a road show in Behala.
Despite her age, Chatterjee walks straight. On Saturday, she politely refused an offer by a jawan posted at the gates to lead her inside. Most people at the booth greeted her. A middle-aged man, who came up to enquire about her health outside the temple, was "admonished" by the septuagenarian for not wearing a mask.
Chatterjee also had two sons — one of them died in an accident and the other "left home one day many years ago, never to return again".
"I know what losing her children means for a mother. Not a single woman should suffer that fate. I pray so that no more lives are lost in the name of religion," said Chatterjee.
Chatterjee's maternal home used to be in Bowbazar. She never went to school but was taught by a tutor at home.
"My father was very conservative. But my in-laws were very progressive and encouraged me to read, write and listen to the radio," said Chatterjee.
"I don't have degrees. But I understand that keeping the communal pot boiling deflects attention from real issues like lack of employment and price rise," she said before heading home.