An 82-year old man walked with a tall umbrella to support his infirm knees along with students and others from diverse walks of life in a rally on Monday because they thought "the BJP poses a threat to Bengal".
The march, part of a "No Vote to BJP in Bengal" campaign, started from the Academy of Fine Arts and ended at the Rashbehari intersection, through the Bhowanipore and Rashbehari Assembly constituencies, which go to the polls on April 26.
Metro spoke to some of them to find out what made them walk.
Utpalendu Chakrabarti, 82, needs the help of a stick or an umbrella to walk. He decided to ignore the discomfort and walk 5.8km.
"They are talking about developing 'Sonar Bangla' and leaving a trail of destruction. How can one support that? Let the people take a look at me and realise what could have prompted an octogenarian to march and make up their mind," said Chakrabarti, who had retired as an overseer at a factory.
A resident of Metiabruz, Chakrabarti said in August last year, when the first wave of the pandemic was underway, the Prime Minister was "busy laying the foundation of the Ram temple in Ayodhya".
"It did not strike him that building health infrastructure to combat Corona was the need of the hour. Just see what is unfolding now that the second wave has struck. I am out to tell people that they should not do anything that allows these demons to come to power," he said.
Alpana Dutta, a retired school teacher, said she joined the rally because she felt angry about the actions of the BJP-led government at the Centre.
The 65-year-old who worked in a school in Basirhat in North 24-Parganas, walked till the march culminated at the Rashbehari crossing.
"What really agitates me is the fact that all the policies that the BJP pursues are anti-people. This Prime Minister is holding meetings to combat Corona. Again the same Prime Minister is holding rally after rally in Bengal where his supporters don't maintain basic Covid hygiene. He has not cut down on rallies despite so many deaths. What more does he need?" Dutta asked, joining the students to raise slogans.
Slogans like: "Ei Surya Sen er maati te BJP ke ektio vote noy (In this land of Surya Sen, not a single vote to the BJP).
"Narendra Modi does not utter a word against Kumbh being held in utter disregard of health protocols. So this time you cannot attribute the surge of cases to China. In Bengal, the surge of cases could be blamed on him alone. We don't want a party led by him in power in Bengal," said Dutta.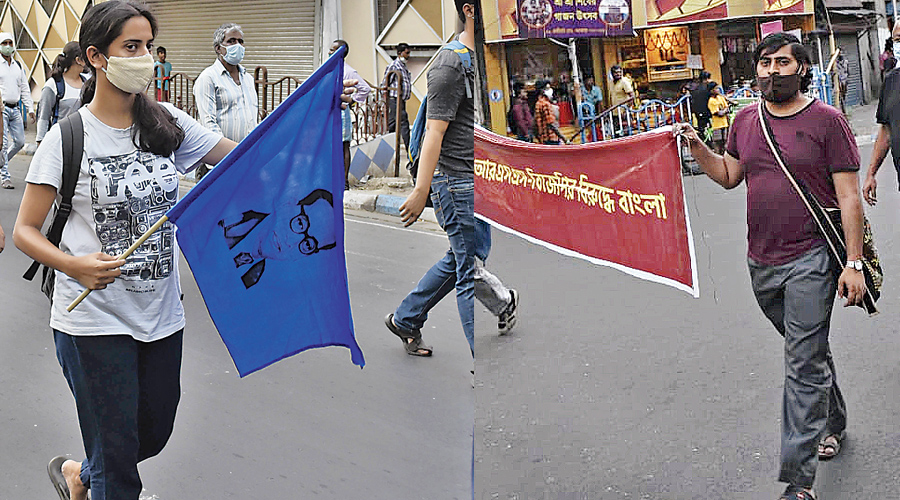 Koushani Mukherjee and Yogeshwar Prasad at the rally.
Koushani Mukherjee, an undergraduate Presidency student, came to the Academy of Fine Arts on a Monday evening to buy a ticket for an upcoming play. She saw an assembly building up outside. "I could have left for my residence in Barrackpore. But instead, I decided to march because I felt BJP poses a threat to the dignity of women," she said.
A third-year student of performing arts, Mukherjee said she had taken part in a protest outside Presidency University against the brutalising of a Dalit woman in Hathras in Uttar Pradesh last year. "The same Yogi Adityanath, the chief minister Uttar Pradesh under whose watch it all happened, is now campaigning in Bengal and screaming at the top of his lungs that an anti-Romeo squad will be raised in Bengal. What could be more scary than this?" said Mukherjee, holding aloft a blue flag that had embossed on it the face of BR Ambedkar.
"I am scared. Maybe this is a last ditch effort to thwart these subversive forces. If I don't walk now, then when will I?"
Yogeshwar Prasad, a postdoctoral research fellow at the Saha Institute of Nuclear Physics was holding aloft a banner that read: "Fascist RSS aar BJP r biruddhe Bangla (Bengal against fascist BJP and RSS)".
The 34-year-old scholar said he was marching as "the BJP is against freedom of expression".
"Being a part of the students' community, I remember how they started a confrontation with students in FTII, Pune. This was followed by incidents at JNU, Jamia Millia. There is a pattern in what they do. It is to silence students through intimidation so they don't dare to raise questions," Prasad said.
According to him, if the BJP comes to power, they will target institutions like Jadavpur University and Presidency University that spearheaded the campaign against issues like CAA and NRC.
"We cannot allow such an anti-student force run to the state," he said.