Weather report, forecast: Pleasant turn to sweaty Sunday in Calcutta
The Met office has predicted more such thunderstorms over the next couple of days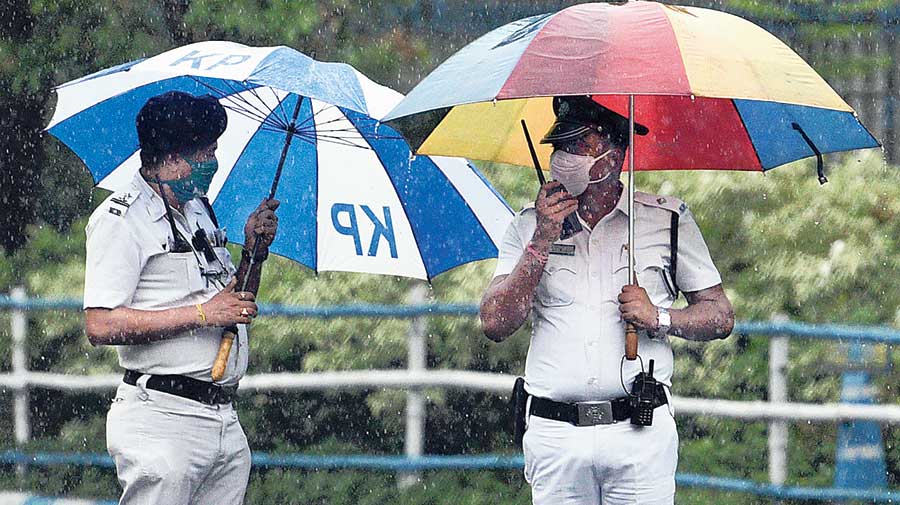 ---
Calcutta
|
Published 10.05.21, 01:56 AM
|
---
A hot and sweaty morning in the city was followed by thundershowers in the afternoon on Sunday.
Dark clouds started gathering from 2pm. The showers started around an hour later, preceded by gusts of wind and accompanied by lightning.
The rain turned into a mild drizzle that lasted for around an hour. But even after the rain stopped, the conditions remained overcast. The wet spell offered Calcuttans relief from heat and humidity.
The temperature was around 35 degrees at 1.30pm. Around 6pm, it was 27 degrees.
Not many people were out on the road. But those who were, took shelter under shades of shops dotting pavements. Many people flocked to the balconies.
The Met office recorded around 25mm of rain in Alipore.
The city has had just a single squall and not a single Nor'wester in entire April, making the start of summer uncomfortably hot. But the start of May has been reasonably wet.
Thundershowers have been interrupting sweltering heat in Calcutta over the past few days. On Wednesday afternoon, spells of rain accompanied by gusts of wind and lightning hit the city and neighbouring areas from the afternoon, keeping the temperature under check and the weather pleasant.
Sunday's showers were attributed by the Met office to a high-pressure area over the Bay of Bengal and a cyclonic circulation over Jharkhand and adjoining areas.
The Met office has predicted more such thunderstorms over the next couple of days.
A cyclonic circulation over Madhya Pradesh has resulted in the formation of a trough from central India to Assam. The trough is passing over Uttar Pradesh, Bihar and Bengal. A high-pressure area over the Bay of Bengal and the trough are combining to inject a lot of moisture into the atmosphere.
"Both systems will remain effective till May 12. There is a good possibility of thunderstorms over the next few days. But since there is a lot of moisture in the atmosphere, the weather will be hot and humid when the sun is out," said a Met official.