Tribute to Bards over three evenings
Sanskriti, a New Town-based cultural group organised a three-da online event - Rabindra-Nazruljayanti
Krisav Makar, 3, and Madhura Adak, 7, perform to the poem Baul on the first evening.
---
Salt Lake
|
Published 30.07.21, 03:39 AM
|
---
• New Town-based cultural group Sanskriti hosted a three-day online Rabindra-Nazruljayanti with participants from across the township.
The show began with an inaugural group song Mahabiswe mahakashe led by Sunita Dasgupta and Kanika Dey. Bani Das narrated the childhood of Tagore and his Totakahini was enacted by children like Hridhhiman Sarkar, Harsha Biswas and Archita Biswas. It was directed by Madhumita Sarkar and Sunita Dasgupta. 
Nazrul's Rajbondir Jabanbondi was presented by Srabanti Biswas, Nupur Gupta and Dhuryoti Gupta. A dance-recitation collage, titled "Rabindra Nazrul bhabnay nari", was compiled and narrated by Bedasree Ghosh while others sang and danced along. "Tagore's initial women characters in works like Sonar Badhan and Manasi were conservative but this changed in later works like Chitrangada and Strir Patra," she explained. "Nazrul, throughout his life, wrote of equality as seen in the poem Samyobadi." 
The first day's events were co-ordinated by Sunita Dasgupta and the highlight of the second day was Tagore's Dui Pakhi, about the conversation between a free and a caged bird. Madhura Adak of Class I danced to Kothao amar hariye jabar while her brother Bibhore and cousin Shoutrik Mitra essayed the roles of the caged and free birds respectively. "We rehearsed so much that my voice cracked during the show!" Shoutrik confessed later.
The same day Lichuchor was enacted by tots Krisav Makar and Rayan Mondal and a collage titled "Sadhre ajike praner sadhan" was presented with recitation by Biswas and Nafisa Yasmin, and dance by Asmita Biswas, Shree Mukherjee, Rupanjana Sarkar etc.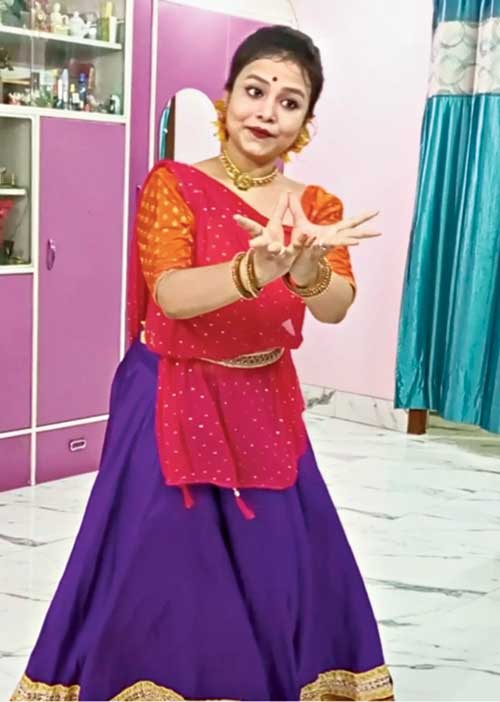 Sakhi bhalobasa kare koi, on different shades of love, had recitation by Hasi Dutta, Biswas, Yasmin and dance by Sanghamitra Banerjee, Paromita Mullick etc. More music was presented by Gouri Chatterjee, Subrata Nandi, Rina Roy and others.
The third day began with a chorus of the Nazrulgeeti Anjali laho mor sangeete by Mithu Das, Madhumita Sarkar and Mithu Roy while Ushasi Nandi presented Amar hiyar majhe with narration and visuals of landmark moments of Tagore's lives.
Krishnendu Kishore Biswas recited self-composed poems on both the bards and a chorus of Akash bhara surjo tara was presented by Aparna Biswas, Sumita Mondal, Swapna Mondal etc.
Child artist Anish Raha played the harmonium and sang Nazrul's Tumi amar sakalbelar phool. Piyali Dasgupta, an elderly member of the group, danced to Tumi robey nirobe. "I used to dance long back and am feeling very happy that I could perform today," she later said.
The show concluded with the presentation titled Rituranga, an array of colourful dances on seasons. The narration was by Bedasree Ghosh to the dance of Ayesha Chowdhury, Sushmita Seal, Biswas Manali and others.
The concept of the show was by Biswas and Sharmila De had edited and clubbed all the performances together using video clips that were sent to her beforehand.
"The main objective behind this show was to accommodate as many participants as possible. People are depressed because of the pandemic and an online show gives them the chance to perform something," said Biswas, who also anchored the show.
If you want to get a programme featured in this column, write in to The Telegraph Salt Lake, 6, Prafulla Sarkar Street, Calcutta - 700001 or call 22600115 on Wednesday evening or e-mail to saltlake@abp.in