Tintin set to step into your phones in February
Bengali e-books of all 24 adventures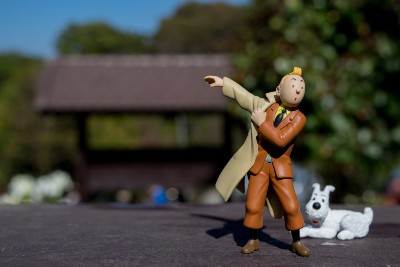 ---
Calcutta
|
Published 13.01.21, 06:42 PM
|
---
The adventures of the world's most-loved scribe can be read in Bengali on mobile phones from next month.
Moulinsart, the exclusive owner of worldwide digital rights of Herge's works, and Ananda Publishers have come together to launch all 24 albums in The Adventures of Tintin series as Bengali e-books. They will be available across Android and iOS 
devices.
"During year 2021, Moulinsart will make available each book from the series in Bengali on The Adventures of Tintin app. Meanwhile, Ananda Publishers Pvt Ltd will make 23 eBooks on the Ananda Publishers App by 28th February 2021 and the Bengali translation of Tintin et l'Alph-Art (Tintin and Alph-Art) will be published in Bengali by the end of this year," said a joint statement from the collaborators.
Translated into more than 120 languages across the world, Tintin has enjoyed immense popularity among readers young and old. With over 250 million copies sold, the stories of the young investigative reporter and his various adventures have been adapted for radio, TV, theatre and film.
Ananda Publishers has been publishing the series in Bengali since 1975.
The first translations of Tintin appeared in Anandamela, a children's magazine of the ABP group. 
Over the next few decades, 23 Tintin albums were serialised in Anandamela. They were then published as individual books by Ananda Publishers.
"Herge had been personally involved in the rights process for Tintin to be published in Bengali and was in close contact with ABP Group throughout his lifetime. It is said that a large chunk of his fan mails at that time consisted of adoring missives from young Bengali readers," the statement said.
The stories will be available to read on a phone or a tablet by downloading the Ananda Publishers app and The Adventures of Tintin app from iOS App Store or Google Play Store.