State government asks private hospitals to add ICU beds for positive patients
Healthcare centres are willing to increase critical care units in Covid wards but it would be difficult if the number of non-Covid patients remained the same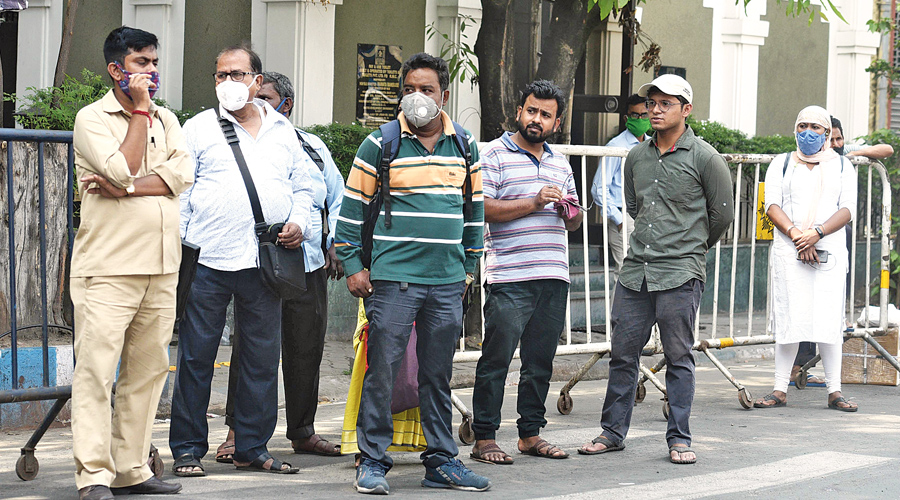 ---
|
Calcutta
|
Published 08.04.21, 02:32 AM
---
The state government has asked private hospitals to increase the number of critical care beds for Covid patients.
Several hospitals said they were willing to increase the ICU bed count in Covid wards but it would be difficult to do so if the number of non-Covid patients remained the same.
On Tuesday, a senior state health department official posted a message on a WhatsApp group of private hospitals asking them to add ICU beds.
"We have asked the private hospitals to increase the number of Covid ICU beds so we are prepared for any situation. They have been asked to ramp up general beds but ICU beds should be increased in more numbers," Ajay Chakraborty, Bengal's director of health services, said on Wednesday.
According to him, there are around 8,500 general beds and 2,000 ICU beds in government and private hospitals in Calcutta for Covid patients.
Some of the hospitals said they were ready to increase the number of Covid beds.
The RN Tagore International Institute of Cardiac Sciences has 40 Covid beds, of which 16 are critical care ones.
"We had planned non-Covid beds on the same floor so we can easily convert them to Covid beds. As an immediate measure, we will ramp up our Covid beds to 60, including 29 critical care beds," said R. Venkatesh, regional director, east, Narayana Health, of which the RN Tagore hospital is the flagship unit.
The hospital, he said, will buy more non-invasive ventilators and high-flow nasal oxygen equipment.
Belle Vue Clinic has 20 ICU beds for Covid patients and all were occupied on Wednesday evening, officials said.
"At the peak of the Covid pandemic last year, we had 34 ICU beds for Covid patients. We are planning to increase the number of ICU beds to that level soon. Non-Covid patients in need of critical care will be kept in another ICU where we have eight beds," said Pradip Tondon, the CEO of Belle Vue.
An official of a private hospital said the challenge was to strike a balance between Covid and non-Covid ICU beds.
Officials of some hospitals said they are expecting the number of non-Covid patients to go down as Covid cases surge again.
At three units of AMRI Hospitals, relatives of seven patients cancelled planned surgeries on Wednesday.
"We are expecting the non-Covid patient footfall to reduce as Covid patients get admitted in large numbers. But even then we cannot drastically reduce non-Covid beds and convert them into Covid beds. We have to do it gradually," said Rupak Barua, group CEO, AMRI.
Three units of the hospital have around 250 ICU beds, of which 50 are reserved for Covid patients.
At Peerless Hospital, officials said five out of seven Covid ICU beds were occupied. "We will increase the count if we cannot accommodate patients," said Sudipta Mitra, the chief executive of the hospital.