Schools to reopen after puja break if Covid situation doesn't get worse: Mamata Banerjee
In early August, the CM had spoken of reopening following a meeting with the state's global advisory board on coronavirus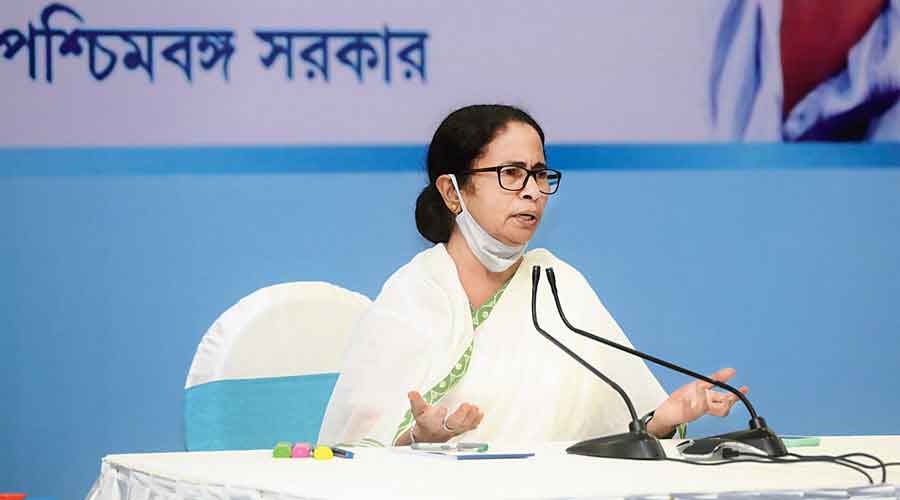 ---
Calcutta
|
Published 24.08.21, 01:31 AM
|
---
Chief minister Mamata Banerjee on Monday said her government was keen to reopen schools after the Puja break, provided the Covid situation remains under control and "the third wave is not as dangerous".
"I have already said the schools will reopen after Puja. We will have the schools sanitised before they are reopened. (The schools will reopen) provided the third wave is not as dangerous. It depends on the situation. So far, the situation in Bengal is stable. Positivity rate is hovering around 1 per cent. But we want the situation to remain stable," the chief minister said at Nabanna.
The state government will try to reopen schools and colleges "on alternate days" after the Puja vacation, Mamata had said on August 5.
The positivity rate had soared to 33 per cent during the peak of the second wave in May.
"If the third wave strikes, I cannot control myself because every state is facing it. Even in Maharashtra, then Kerala, it is increasing day by day. I do not know what the situation will be tomorrow. But today I can tell you that it is in control," Mamata said on Monday.
"We want the students to go to school. But the only thing is that we have to plan something. Since Puja is around the corner, schools will be reopened after Puja, after Diwali, provided the situation remains normal." Diwali is in early Nov-ember.
In Bengal, schools had resumed in-person classes for students of Classes IX to XII from February 12. The classes were suspended on April 21 because of a renewed spike in the number of Covid cases.
Students of Classes III to VIII and those in colleges and universities have been away from campuses since March 2020.
In early August, Mamata had spoken of reopening following a meeting with the state's global advisory board on Covid-19, headed by Nobel laureate economist Abhijit Vinayak Banerjee.
An official of the school education department said Mamata was in constant touch with the board and would take a decision after consulting the members.
"When the schools reopened in February, teachers and students in several schools tested positive…. It is true that lack of in-person classes is weakening the foundation of many students, but the state government wants to tread cautiously," the official said.
The state has around 59,000 primary and 18,000 secondary schools, close to 550 colleges and more than 40 universities.
In neighbouring Odisha, the schools have reopened this month.
Considering the adverse impact stemming from disconnect with studies, NIT Durgapur is setting up two virtual classrooms in Bankura and Purulia, where teachers and students of the institute will offer free tutorials to underprivileged students from Classes VIII to X.
Students of Ramakrishna Mission Residential College, Narendrapur, are offering free tutorials to school students over online platforms.
Saugata Basu, of the government school teachers' association, said reopening of campuses, particularly for Classes X and XII, was required so the students could undergo as many internal assessments as possible. If the Class X and XII board exams are cancelled next year, too, the scores in the internal assessments will help determine their board performance.
"While preparing the HS results, the higher secondary council this year gave 40 per cent weightage to a student's performance in the Class X board exams and 60 per cent to Class XI annual exam marks. This led to a sharp drop among top graders, subjecting them to tougher competition for admission to undergraduate courses based on marks," said Basu.