Run health services during Durga Puja: Mamata Banerjee
The CM asked the organisers to adopt a host of safety measures and reminded government officials to ensure that the health services ran well during the festival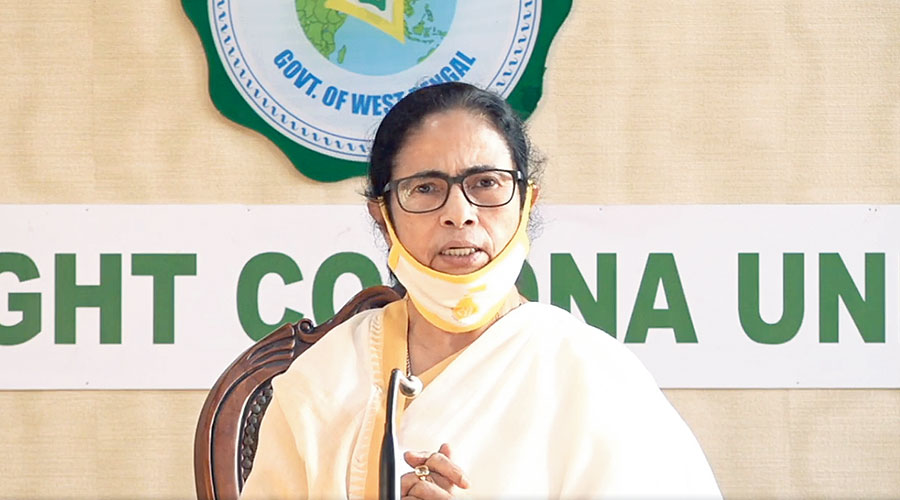 ---
|
Calcutta
|
Published 25.09.20, 01:27 AM
---
Chief minister Mamata Banerjee said the impact of Covid-19 made her sad, which was why she could not be cheerful during the coordination meeting with Durga Puja organisers on Thursday.
Mamata asked the organisers to adopt a host of safety measures and also reminded senior government officials to ensure that the health services ran well during the festival, when Covid cases could spike because of people stepping out in large numbers.
Mamata asked the health department to deploy extra volunteers during the Puja and also reminded them that providing treatment to anyone taking ill was the government's responsibility.
She said she was not smiling like she did in previous years' meetings because the pandemic's impact had made her sad.
"The situation this year is different from previous years. This year I am very sad. Usually I talk to you with a smile," she said.
"Many doctors, health workers, municipal workers, journalist friends, police personnel have lost their lives in the pandemic. Many known friends are no more. I am reminded of them very often and it reates an element of sadness even amidst happiness."
She stressed the need to ensure that the health services ran properly during Puja.
"The Covid-19 helpline numbers should work properly during Puja. If required we have to do some extra arrangements. Suppose a hospital is full, we still have to give treatment to the (sick) person. Health department has to increase the number of volunteers. People will step out during Puja and there may be a spike."
She then turned towards the chief secretary and home secretary and asked them to see that the arrangements were in place. Her stress on running health services well during the festival is important because usually doctors and others associated with health care go on leave during the period.
Mamata then announced a host of measures that should be adopted during the Puja and during immersion. "I had created circles for people to stand in markets when the pandemic started. Make similar circles or at least draw lines at your pandals so that people wait in a queue," she said.