Rs 50 lakh contribution and a first for IIEST
The money could go a long way in addressing the financial constraints threatening the future of many students amid the Covid pandemic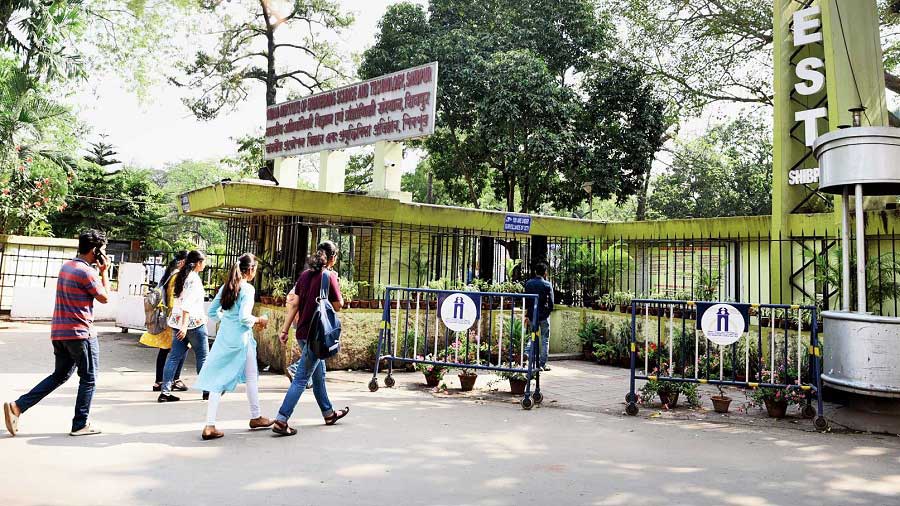 IIEST director Parthasarathi Chakrabarti said: "With the money we will create an endowment to give scholarships to the poor but meritorious students all through the undergraduate programme. This will help them pay the hostel and mess fees."
File picture
---
Howrah
|
Published 19.11.20, 01:47 AM
|
---
A young man who could not study engineering because of financial constraints wanted to do something so that an engineering student did not have to quit studies for want of money.
On his death, he left a considerable part of his savings to be donated to an engineering institution of repute.
His wife will come to IIEST, Shibpur, on Tuesday on the occasion of the institution's foundation day to hand over a cheque for Rs 50 lakh to fulfil the wishes of her late husband.
The woman, a retired college teacher, would not be identified by her name, although she spoke to Metro at length.
This is the first time a non-alumnus is making a contribution to the institute. The money could go a long way in addressing the financial constraints threatening the future of many students amid the Covid pandemic.
The person in whose name an endowment fund will be created had passed away in 2006. He had been a general manager of a cotton mill.
"My husband wanted this contribution to be used for a specific purpose. I expect his wishes will be honoured. Although the bulk of the contribution was from my husband, I, too, have contributed," said the 81-year-old, who will not mind exposing herself to the risk of catching infection and visiting the campus to hand over the cheque.
A devotee of Sri Ramakrishna and Sarada Devi, she said she wanted to stay away from the glare of the media. "I want to work silently," she said when this newspaper sought her consent to name her in the news report.
IIEST director Parthasarathi Chakrabarti said: "With the money we will create an endowment to give scholarships to the poor but meritorious students all through the undergraduate programme. This will help them pay the hostel and mess fees."
Registrar Biman Banerjee said that from the annual interest to be earned every year from the deposit, IIEST will give scholarship/assistantship to three first-year undergraduate students. Each student will get Rs 30,000 annually.
"At least one of the students will preferably be a woman," Banerjee said.
Sunandan Narayan Basu, who had graduated from the erstwhile Bengal Engineering College (now IIEST) 64 years ago and donated Rs 50 lakh to his alma mater in August, will visit the campus on Tuesday to hand over another Rs 50 lakh.