An acre of immunity
A group of residents of Sunny Fort in New Town has adopted a plot near Bagjola Canal to grow 'amlaki'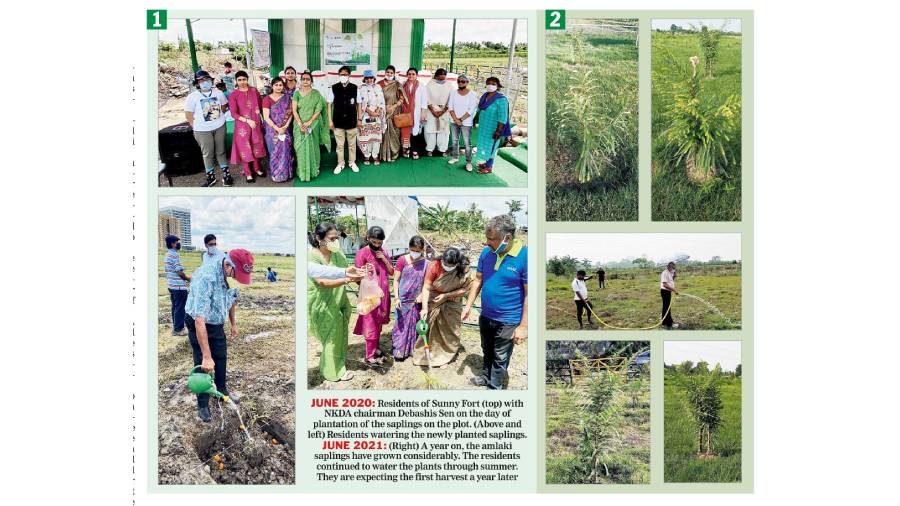 ---
Salt Lake
|
Published 25.06.21, 07:11 AM
|
---
A plot of land next to Bagjola Canal in Action Area III will be a source of Vitamin C in near future. The amlaki saplings planted there in September have already grown threefold.
A group of residents of Sunny Fort, in Action Area IIB, have adopted an acre of the canal bank where they have planted 200 amlaki plants.
"A large number of trees fell in New Town during Cyclone Amphan. Trees like Krishnachura and Radhachura may be good for beautification and fast-growing but they are not deep-rooted. We decided to plant indigenous trees that would be good for the environment and also have medicinal value," said Achintya Mitra, an ayurvedic doctor who works for the Ayush ministry.
The choice of amlaki was dictated by the prevailing pandemic situation. "Amlaki is the richest source of Vitamin C. It prevents respiratory diseases, like cough and cold," says Sankar Dasmahapatra, a gynaecologist, who takes half an amlaki every morning.
In August, the residents approached NKDA with an appeal to let them grow medicinal plants. "They showed us two plots. We chose this one, just behind NBCC Square, as it was close to a water source, was level and was unlikely to be submerged in a shower," said Joydeep Banerjee, a geologist. 
The plantation project has been taken up under New Town Kolkata Care Foundation, a non-profit trust set up by them. "We are funding it from our own pockets. NKDA fenced the land, de-weeded it and handed it over to us. We got high-yielding imported saplings from a nursery in South 24-Parganas, levelled the land and got the soil ready with manure. A small electric pump was purchased and we went over by turns in the weekends to water the plot through the winter and summer. Two people have also been engaged to look after the plants," said Dasmahapatra, who is the president of the foundation.
The fence has also been netted to prevent  cows from the local village from being let in here to graze.
Though the plot is close to Bagjola Canal, the residents do not use that as their source of supply. The canal being a sewage channel, its water is full of heavy metal. We draw the water from another fresh water canal nearby," said Banerjee.
The group met NKDA chairman Debashis Sen on Monday. "They are expecting the first crop next year and want us to put them in touch with a self-help group. We also want people of the neighbouring villages to benefit rather than passing on the yield to a corporate entity. They have promised to train the villagers to treat the amlaki so there will be value addition before they sell it," said Sen.
Use of vitamin C-rich vegetables  in cooked food destroys their benefits. "So it is best taken raw. This is why amlaki is so good for boosting immunity. Price of amlaki skyrocketed last year after the pandemic struck, from Rs 50 a kg, reaching Rs 300 a kg, and is still hovering around Rs 200 a kg. It will be a commercially viable crop," said Dasmahapatra.
Once the amlaki plants stabilise, the group plans to plant other smaller medicinal plants like ginger and turmeric in the 4.5m gap between the amlaki saplings. "We can do more projects if the government gives us more land," said Mitra, whose wife Paramita is a horticulturalist and is part of the endeavour.
Residents of Sukhobrishti are also welcome to join the foundation since their complex is closest to the current site as is any like-minded individual, he added.
The project would officially turn a year old on September 10. "If the corona situation eases, we want to commemorate the occasion with a programme," said Banerjee.