Ramakrishna Mission Blind Boys' Academy inaugurates new wing with updated technology
Annexe with smart classrooms at RKM Narendrapur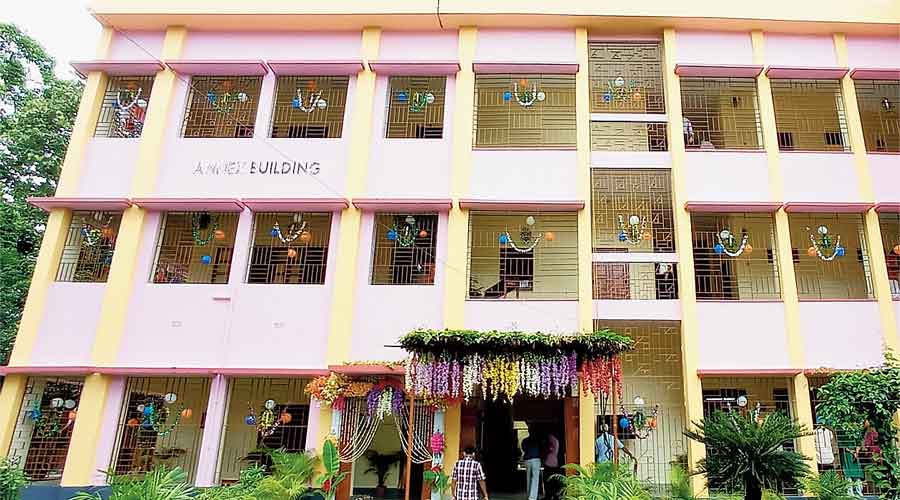 ---
Calcutta
|
Published 13.07.21, 01:57 AM
|
---
An annexe of the Ramakrishna Mission Blind Boys' Academy with updated technology was inaugurated on Monday.
The two-storey building at Ramakrishna Mission Ashrama in Narendrapur has smart classrooms, a multipurpose hall, space for judo, a visitor's room and more.
"We will use technology to teach our students Braille. There will be large screens for those with poor eyesight and recorded books and other devices to make learning more up to date," said Biswajit Ghosh, the principal of the academy.
The project was initiated about two years back but got delayed because of the Covid pandemic and a lack of funds, said Swami Sarvalokananda, secretary, Ramkrishna Mission Ashrama. "Now that the building is complete, we plan to use it fully and we are grateful to all those who made it happen."
Principal Ghosh said: "The pandemic had hampered some of the work in the project but we are happy to inaugurate it today, though it must be said that we missed our students today."
The building also has classrooms for BEd in special education under Calcutta University.
The annexe has been completed with financial assistance from the department of mass education of Bengal, the MPLAD fund of C.M. Jatua, SBI Capital Ltd, Joy Foundation and others.
The Blind Boys' Academy was established in 1957.
Swami Suvirananda, the general secretary of Ramakrishna Math and Ramakrishna Mission who delivered the inaugural address virtually, said the academy started the higher secondary course in 2012. The institute has been providing the highest level of education and skill to visually impaired students, he said.
The academy has a Braille press attached to it.
Swami Sarvalokananda said Bhabani Prasad Chanda, a visually challenged student at a students' home in north Calcutta's Pathuriaghata (RKM Students' Home, Pathuriaghata), had requested Swami Lokeshwarananda — the then secretary of the home and later, the founder of the Narendrapur ashrama — to be allowed to stay in the hostel so he could study at Presidency College.
The student went on to become the first principal of the academy when it came up in Narendrapur.
The annexe was inaugurated by Prasanta Kumar Giri, the president of the managing committee of Ramakrishna Mission Ashrama, Narendrapur.