Rallies support farm law protest
Participants performs a skit that culminated in burning of copies of the three farm laws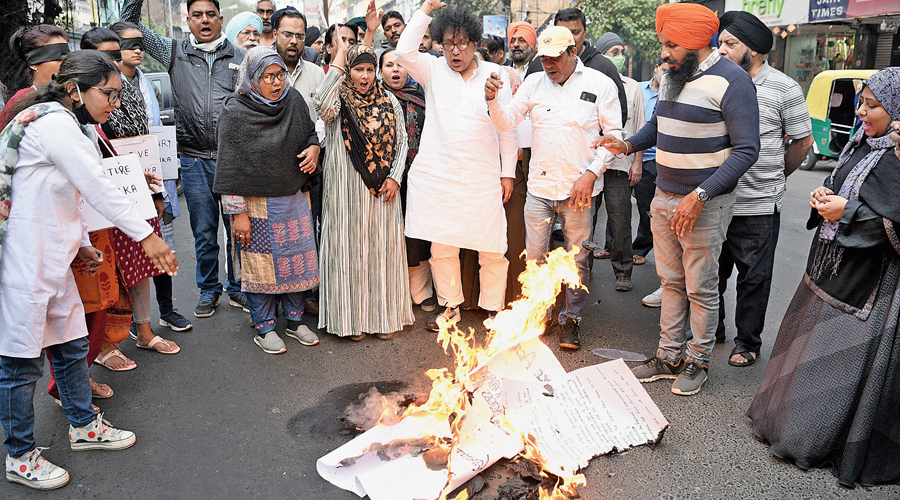 ---
|
Calcutta
|
Published 14.01.21, 02:21 AM
---
The city saw two demonstrations against the new central farm laws on Wednesday.
Copies of the laws were burnt and one speaker after another iterated that the repeal of the laws, not a temporary stay on their implementation, was the solution.
At a demonstration near the intersection of Chakraberia Road and Sarat Bose Road, the participants performed a skit that culminated in burning of the copies of the three farm laws.
Large sheets of papers, representing copies of the three controversial farm laws, passed the hands of three women, all blindfolded.
"The three women represent legislature, executive and judiciary," said Nausheen Baba Khan, one of the organisers of the demonstration.
"So far we knew justice is blind. But the way the farm bills were turned into laws shows that Parliament and the government have also become blind to people's concerns," said Khan.
The bill finally went to a fourth woman whose eyes were not blindfolded. She represented citizenry. "Our eyes are open. So, we reject this bill," said Khan and the papers were set on fire.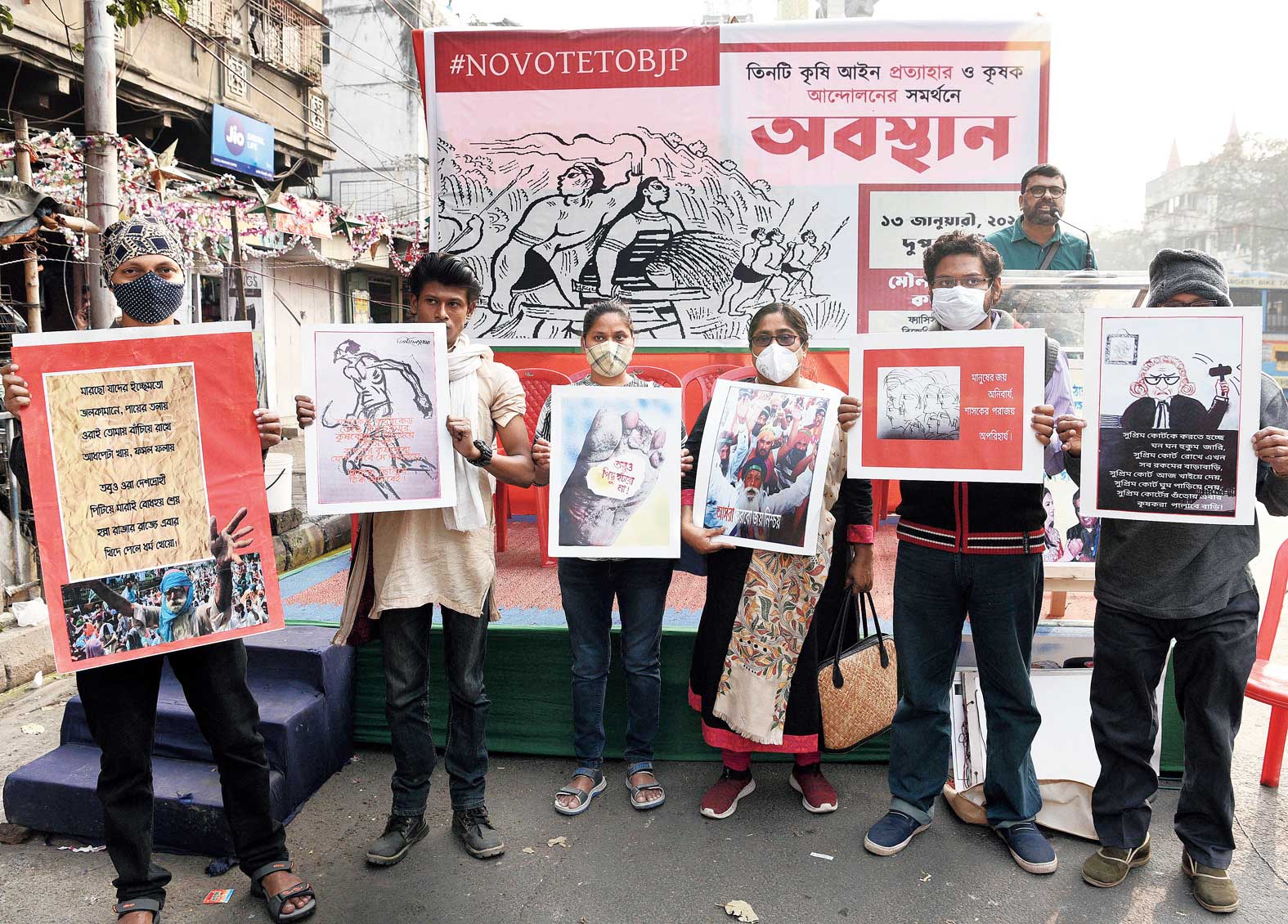 The organisers of the demonstration have been conducting a relay hunger strike at the site for 11 days now. On Sunday, they had organised a torchlight rally in solidarity with farmers.
At Moulali, the site of another demonstration, the speakers said the Supreme Court-constituted committee to broker peace between the protesting farmers and the government would not yield any dividends.
The only solution is total repeal of the laws, they said. Multiple speakers pointed out that all four members of the committee have backed the farm laws in the recent past.
"The Centre wants to stop the tractor rally on Republic Day at any cost," said a participant.
One of the many posters at the demonstration had a Bengali poem which read: "Marchho jader ichhemoto, jalkaman e, paayer tolaye. Orai tomaye baanchiye rakhe, aadhpeta khaye, phasal phalaye. Tobuo ora deshodrohi, pitiye marai bodh hoye sreyo. Rajar rajye ebar, khide pele, dharma kheyo (People you are beating at will, with water canons and boots, they are the ones who keep you alive. They don't get a full meal but still grow crops. Still, they are anti-nationals. Perhaps, they should be beaten to death. In this kingdom, eat religion the next time you are hungry)."