Nurses of government hospitals withdraw their agitation
The protesters were told by the state health department that their demand for a pay hike had been sent to the state finance department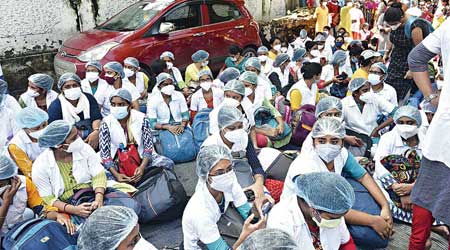 Nurses protest at SSKM Hospital on Friday.
Bishwarup Dutta
---
Calcutta
|
Published 07.08.21, 01:24 AM
|
---
Nurses of government hospitals withdrew their agitation on Friday after being told by the state health department that their demand for a pay hike had been sent to the state finance department.
The nurses had been taking turns in joining a sit-in at SSKM Hospital for the past 11 days demanding pay parity with state government employees with similar qualifications in other departments.
They cancelled their plan to organise a rally on Chowringhee on Friday after receiving an invitation to meet the state's junior health minister, Chandrima Bhattacharya, in the afternoon.
Bhattacharya told Metro that the state pay commission would now have to take a call on the issue. "We sent our proposal to the state pay commission (which functions under the finance department) in March. It is no longer in our hands. Now, we have to
wait for the pay commission's decision."
When asked whether the health department had recommended a pay scale revision for the nurses, Bhattacharya said: "Why else would we send a file to the pay commission?"
Bhaswati Mukherjee, the secretary of Nurses Unity, the association of nurses that had been spearheading the protests, said the junior health minister told them that a recommendation for the pay revision had been sent to the state pay commission.
"The minister told us they had already sent a file recommending a revision of our pay grade to the state's pay commission. We asked her how much time it could take for the revision to take effect. She said it would be known within three or four months," Mukherjee said.
The state pay commission makes recommendations for pay revision of state government employees to the finance department, which takes the final call.
Mukherjee said since the movement of nurses demanding an end to alleged pay disparity had been going on for years and the nurses had protested time and again, they were ready to wait for another four months.
"We trust the government will do the needful. We are calling off the sit-in and will wait for four months. We are thankful to the state government for thinking about our demand," Mukherjee said on Friday evening. 
Nurses in the government sector have been putting up with pay discrimination for years, they alleged. A nurse with a diploma should be entitled to Level-12 pay but they get Level-9 pay. Nurses across all categories — diploma-holder, BSc-degree holder, experienced, fresher — get less than what they should be entitled to, the nurses alleged.
"An engineering diploma-holder gets Level-12 pay. There is a difference of nearly Rs 8,000 between levels 9 and 12. We want an end to this discrimination," said a protesting nurse. The "pay disparity", she said, has been there for years and nurses have protested against it time and again.
The latest round of protests started on July 26, when the nurses began a sit-in demonstration inside the SSKM Hospital compound. Before that they had written to the chief minister listing their demands.