Mop-up drive for pulse polio on Sunday
Health workers will conduct camps from 11am to 2pm at specified sites for children who have missed out on the oral polio vaccination dose last Sunday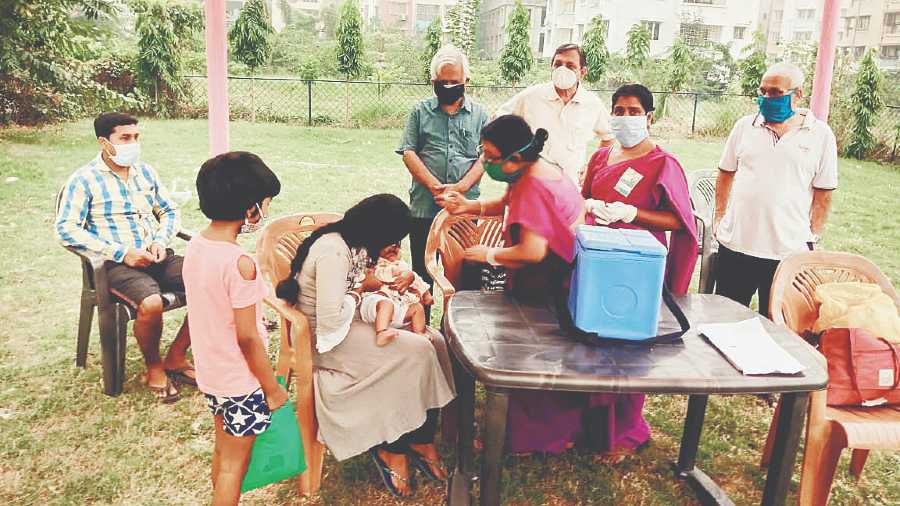 A booth in DA Block, New Town
Telegraph Picture
---
Salt Lake
|
Published 27.11.20, 02:26 AM
|
---
Children who have missed out on the oral polio vaccination dose last Sunday can avail of the facility free of cost next Sunday when a mop-up drive will be conducted across New Town.
Health workers will conduct camps from 11am to 2pm at specified sites (see box). Children from any locality can avail of the facility.
As part of the sub-national immunisation day drive, children under the age of five are being administered polio doses across the twin townships. In New Town, the drive is being conducted by New Town Kolkata Development Authority (NKDA) in association with the primary health centre of Rekjuani block in Rajarhat. The entire NKDA jurisdiction is being covered along with the commando hub in Jothbhim in Action Area III and the Border Security Force camp in Sector V. "We have 1,090 children in this age group registered with NKDA and another 43 in the additional areas we are covering. Vaccination took place last Sunday both at the booth level and door to door. About 600 children are expected to be covered next Sunday," an official said.
The Bidhannagar Municipal Corporation (BMC), too, undertook a five-day polio drive from Sunday. But because of the pandemic situation,  there was no booth day to avoid public gathering.  Health workers did the rounds from door to door. There are over 39,600 children aged under five in the BMC area, of which by Tuesday 25,447 were covered, according to civic body sources.
Children in India have to be administered two drops of oral polio vaccine six times — at birth, at six weeks, at 10 weeks, at 14 weeks, between 18 and 24 months and by the age of five years.
Polio vaccine drops will be administered free of cost at the following venues on Sunday, 11am to 2pm:
⚫ AD Park ⚫AI Park ⚫ Sonar Kella Park in BA Block ⚫ CB Park ⚫ Unlock park at Biswa Bangla Gate ⚫ Bisarjan Ghat ⚫Tarulia Refugee Rehabilitation site ⚫ NBCC and CE Park ⚫ Balaka Abasan ⚫ Aloka Abasan ⚫ Eco Urban Village ⚫ Greenwood Sonata ⚫ City Centre 2 ⚫Uniworld City ⚫ Sukhobrishti