Unlock: Calcutta gym-goers relieved on reopening day
The guidelines issued by the Centre on Monday said gyms would need to space equipment and individuals six feet apart as a precaution against Covid-19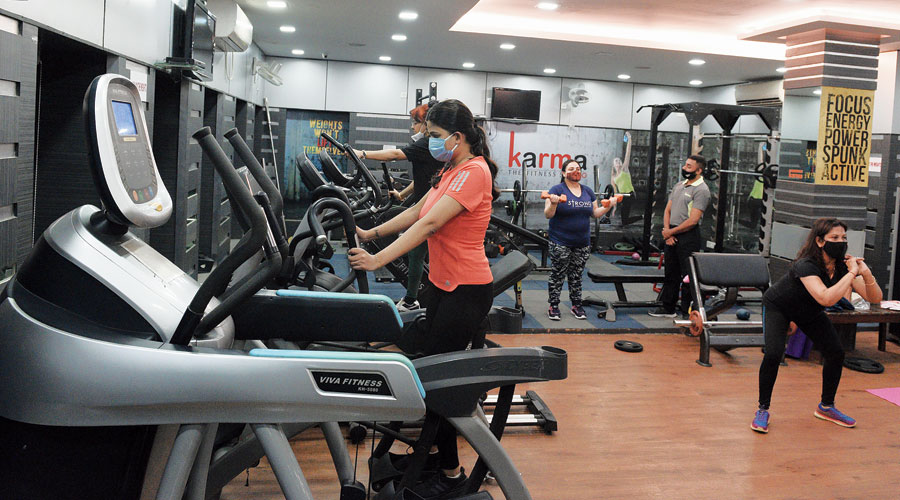 ---
|
Calcutta
|
Published 07.08.20, 05:15 AM
---
A teacher with mobility problems. A youth aspiring to be a professional powerlifter. An insurance sector employee who calls himself a fitness freak.
A handful of Calcuttans hit the gym on Thursday, when they reopened after over four months. The attendees were yearning for the places to reopen for different reasons.
Arpita Chakraborty, 40, came from her Picnic Garden home to a gym in Ballygunge riding her two-whee-ler. Chakraborty, a school teacher, suffers from severe rheumatoid arthritis, a chronic inflammatory disorder that leads to joint pain and impairs mobility. She was facing severe challenges in movement when she joined the gym last year. The gym, Endorphins, is known for not being a machine-oriented place.
A daily routine of mobility exercises has improved Chakraborty's condition. "But I have to do it without fail, every day. It is like my personal hygiene," she said.
For the past four months, Chakraborty had been working out at her home.
"But working out in a dedicated space is important because of the guidance of a trainer and zero distraction," she said. Her six-year-old daughter often interrupts her training at home.
As the reopening day came close, Kinjal Paul, 22, started becoming restless. Before the lockdown, he used to spend over two hours every day at Devil's Den, a gym in Salt Lake's CB Block. Paul has just completed a bachelor's in business administration but he aspires to a career in powerlifting.
He had booked an afternoon slot for Thursday. "I did not realise how the time flew. I did squats, deadlifts and bench-press. It was the first day after four months. So, I did not go overboard," said Paul.
Moderation for Paul is lifting over 130 kilos. He said his usual quota was 170 kilos.
Paul had mostly been working out at his Paikpara home for the past four months. "But serious powerlifting needs a lot of equipment. It is difficult to assemble them at home. I used to go to a friend's place that has some," said Paul.
Some of his family members and friends had cautioned him against going to "a public place when Covid-19 cases are increasing". But Paul said he was satisfied with the safety measures adopted by the gym.
Most gyms had asked members to pre-book slots and come accordingly. They followed a 10 to 15-minute interval between two slots for sanitisation. Equipment inside the gym were being sanitised after every use. Face shields, masks and gloves were provided to the members. "Blocks" were carved out for each user.
The guidelines issued by the Centre on Monday said gyms would need to space equipment and individuals six feet apart as a precaution against Covid-19.
Many owners had reduced the number of functional equipment. "I used to have six treadmills. I have shifted three to the store room," said the owner of a gym in New Alipore.
Most members avoided public transport to reach the gyms.
Himangshu Valechha had booked an hour's slot from 8.20am at Karma Fitness Studio in Mudiali, which was his regular den before the lockdown. Valechha, an employee of a private insurance firm, considers "fitness to be his religion".
"I was so pumped up once inside the gym. I had been working out regularly inside my house. But there is no mind-muscle synergy. There are too many distractions," he said.
Valechha did shoulder exercises on Thursday.