Metro service on weekdays with 50% seating capacity
Bengal government's latest relaxations to the pandemic-induced stricter restrictions have been extended by another 15 days till July 30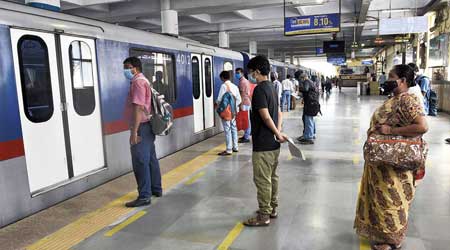 ---
Calcutta
|
Published 15.07.21, 02:35 AM
|
---
Metro train services will resume in a limited manner from Friday as part of the Bengal government's latest relaxations to the pandemic-induced stricter restrictions, most of which have been extended by another 15 days till July 30.
According to a notification issued by the Mamata Banerjee government on Wednesday, Metro trains will be allowed to run on weekdays with 50 per cent seating capacity. Consistent with its cautious approach of allowing movement only for emergency and work, the government said there would not be any Metro services on Saturdays and Sundays.
Suburban train services, however, will remain suspended till at least July 30.
The relaxations the state government has offered from July 16 to July 30 are:
⚫ Metro train services with 50 per cent seating capacity from Monday to Friday.
⚫ All kinds of shops can remain open without restrictions to their normal business hours, except for the 9pm-to-5am curfew.
⚫ Retail outlets at shopping malls and market complexes can remain open till 8pm with 50 per cent workforce and restricted entry of customers. These shops are now operating with 30 per cent of the workforce, and till 6pm.
⚫ Banks can operate from 10am to 3pm. Earlier, they could remain open only till 2pm.
⚫ Games and sports can resume, but in empty stadiums.
Sources in the government said that during a meeting with the chief minister on Wednesday, senior officials advised that continuing with the stricter restrictions for a few more weeks would be prudent although daily Covid cases in Bengal have fallen to 800-odd from over 22,000 in April-end.
"It is a precautionary step keeping in mind a possible third wave of the pandemic.… We discussed the situation in states like Kerala where the daily cases are rising again after stricter restrictions were eased. So we want to have a closer look at the infection numbers before we withdraw all restrictions," a senior government official said.
The sources said that before the chief minister's meeting in the afternoon at Nabanna, an advisory from the Union home ministry had arrived at the state headquarters, suggesting that restrictions be relaxed in a carefully calibrated manner.