Don Bosco's co-ed college from 2021
A self-financing undergraduate institution on the same (Park Circus) campus affiliated to Calcutta University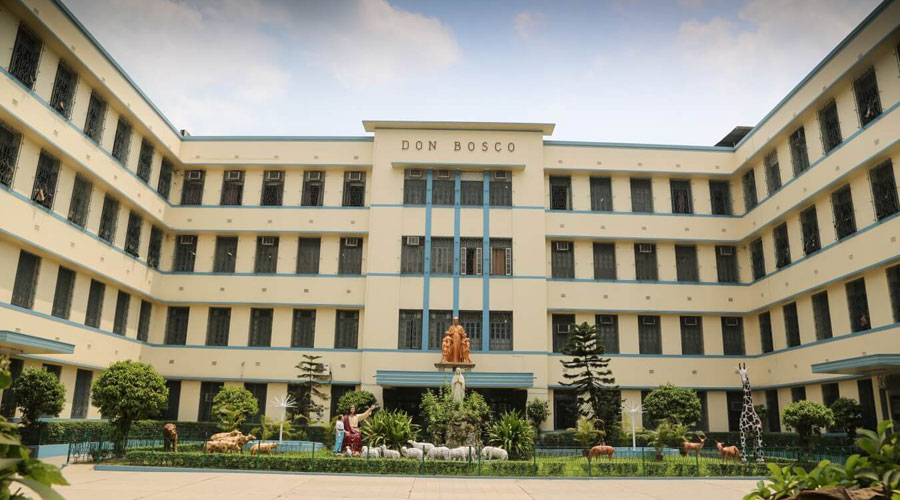 Don Bosco Park Circus
Picture: donboscoparkcircus.org
---
Calcutta
|
Published 11.10.20, 02:23 AM
|
---
Don Bosco Park Circus will start an undergraduate co-educational college on its campus from 2021.
The state higher education department gave its "no objection" to the Don Bosco Educational Society on Saturday to start Don Bosco College, a self-financing undergraduate institution affiliated to Calcutta University to start from this year.
But Father Bikash Mondal, principal of Don Bosco Park Circus, said the college would start from next year.
"It will be a co-ed college and it is scheduled to start from 2021. The college will start on the same (Park Circus) campus. Apart from offering subjects in science, commerce and arts, the college will run professional courses as well," he said.
Asked why not from this academic session, a school official said the approval came in October; so, the session would start next year.
The higher education department has extended the deadline for undergraduate admissions till October 30 for this academic session.
"We had submitted the proposal to the department in November last year. Had the no objection arrived in February or in March, we could have started the college from this year," the official said.
The college will offer honours in English, physics, chemistry, mathematics, accounting and finance and bachelor of business administration and computer science.
The inspection got delayed because of the pandemic and that is why the NoC could not be issued earlier, a department official said.
"Besides, the Don Bosco Educational Society was advised to follow certain norms after the inspection. After the compliance, the NoC was issued," the official said.
"The physical infrastructure maybe ready, but the college requires time to appoint teachers and members of the non-teaching staff. It has to finalise who will head the college," the department official said.
A vice-chancellor said the launch of the college would fulfil the "need for a good undergraduate college". "Besides, I feel parents won't send their children to study in colleges outside Bengal because of the pandemic… for them, the launch of a good college in the city will be a boon."
When asked what triggered the move to start a college, Father Bikash Mon-dal said: "Most of our stud-ents look for good colleges… we will cater to this demand. Students of other institutions, too, will benefit. I have to get in touch with Calcutta University for completing the affiliation."
A department official said the department was sure that Don Bosco College would grow as a good college.
"The Educational Society runs a self-financing college, Don Bosco College of Arts and Science, in Chennai. They run a college in Siliguri. Then there is Assam Don Bosco University. We are sure this rich experience will come handy as they start the college in Calcutta," the official said.