Kite string slashes biker on Parama flyover
Many people have been arrested for manufacturing and selling manjha to discourage the flying of kites in the Beniapukur, Topsia, Tiljala and Park Circus area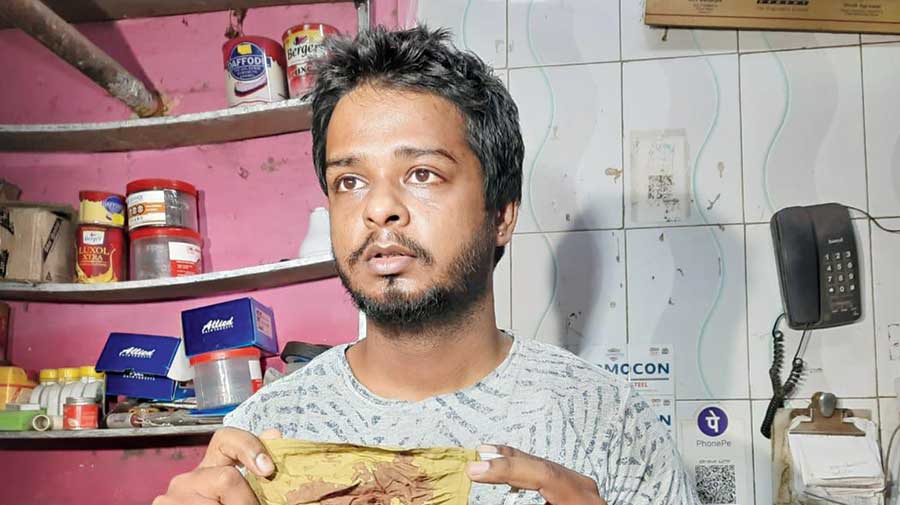 ---
Calcutta
|
Published 01.09.20, 02:08 AM
|
---
A motorcyclist was left bleeding from a slashed chin by a kite string on the Parama flyover on Sunday evening, police said.
Rohit Sau, 30, who runs a business of supplying building material, said he was moving at medium speed when the string struck his face. He got the time to catch the string with one hand and protect his throat, Sau said.
"I was purely lucky that I could react on time and remove the string and change its angle; otherwise it would have slashed my throat straightaway and not my chin," Sau said.
The string cut through the face mask he was wearing and slashed his chin.
The Picnic Gardens resident is the eldest of four siblings.
He had taken the flyover to reach a construction site behind Spring Club where he has been supplying building materials, he said.
An injured Sau reached the Beleghata traffic guard on his motorcycle where he received first aid. He then went to Topsia police station to report the matter.
"If the police cannot people from flying kites in the area, it is better to completely restrict the movement of two-wheelers on flyovers. This could have been fatal," Sau said.
Sau is among the many two-wheeler riders injured on the Parama and AJC Bose Road flyovers by kite strings.
The police have been keeping a watch with binoculars from highrises. Cops have distributed leaflets to make people aware of the dangers of flying kites near flyovers.
Many people have been arrested for manufacturing and selling kite strings and spools to discourage the flying of kites in the Beniapukur, Topsia, Tiljala and Park Circus area.
"We have been trying to tackle this problem but it has remained unsolved… practically it is not possible to detect the place from where a kite is being flown… it could be kilometres away," a traffic police officer said.