Hyena killed on Purulia road
Forest officers are coordinating with the local police to try and track down the vehicle that hit the animal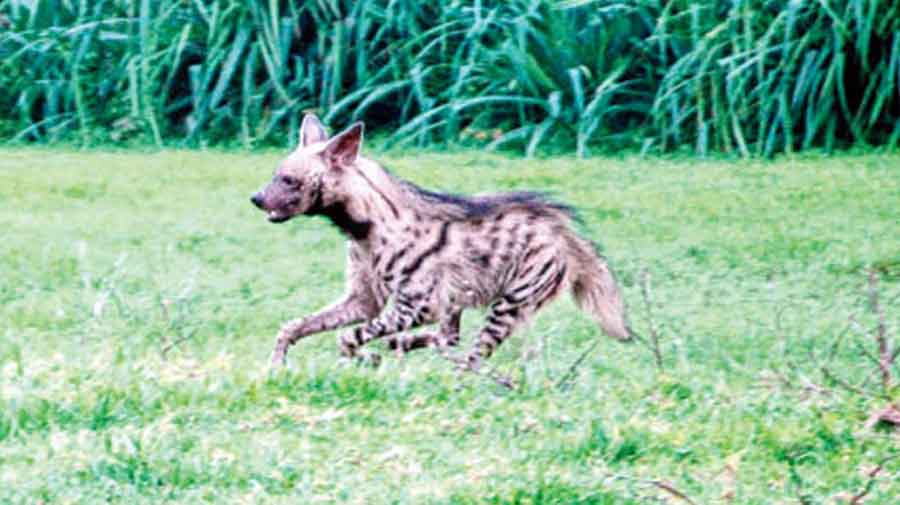 ---
Calcutta
|
Published 23.06.21, 01:54 AM
|
---
A hyena was killed apparently after being hit by a car on a road that cuts through a forested terrain in Purulia early on Monday.
The incident took place in Jhalda block, around 60km from Purulia town and over 300km from Calcutta.
"The hyena, an adult female, was found by some residents lying on the road, writhing in pain and bleeding heavily from the mouth. She was taken to a hospital where she died. The vets pointed to heavy internal haemorrhage," said Debasish Sharma, the divisional forest officer of Purulia.
Forest officers are coordinating with the local police to try and track down the vehicle that hit the animal. But even if traced, the owner or the driver of the vehicle cannot be prosecuted for an accidental hit-and-run case, said forest officials.
In India, hyenas are found in the semi-arid and dry fringe forests of Purulia, West Midnapore and Jhargram in Bengal, the Deccan plateau, Rajasthan and Gujarat.
Hyenas in Bengal have not been studied enough. The extent of their distribution is largely anecdotal. A study to assess the habitat and distribution of hyenas, wolves and some other animals, started in 2019 by the Zoological Survey of India, has not yet been published.
The hyenas found in India are mostly striped hyenas.
"Striped hyenas are smaller and more solitary creatures than spotted hyenas of Africa. They are much more docile, mostly spending the days in burrows and coming out at night," said a researcher with the Wildlife Institute of India.
Sharma, the DFO, said hyenas had been sighted even a month ago in the forests of Jhalda and Garpanchkot in Purulia.
"They are solitary and nocturnal. The hyena that died was possibly hit between 3am and 4am. She was probably returning to her burrow after spending the night outside," he said.