Housing society in Behala imposes penalty of Rs 5,000 for concealing Covid cases
At least two residents of the complex have had to pay the amount for allegedly suppressing news of infections in their families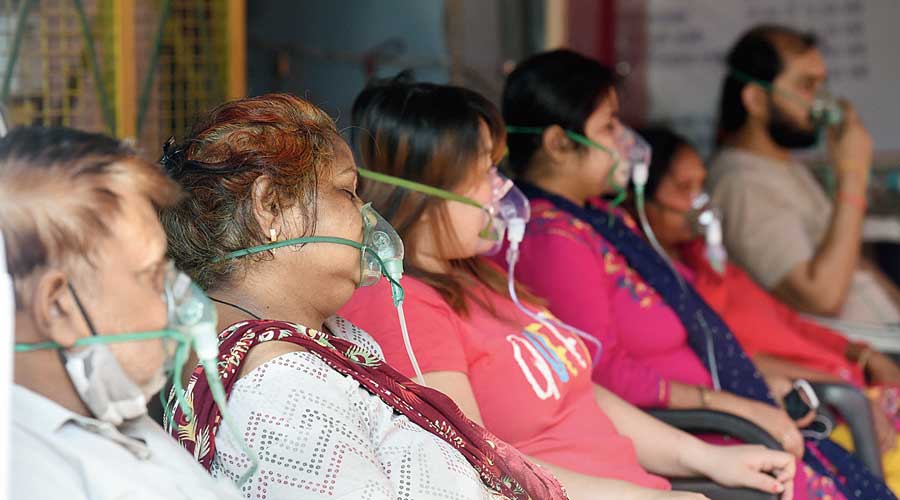 The number of Covid cases at the complex spiralled to around 70 within a few days.
File photo
---
Calcutta
|
Published 11.05.21, 01:33 AM
|
---
A housing society in Behala is imposing a penalty of Rs 5,000 on residents caught concealing cases of Covid-19 infections in their family and a fine of Rs 500 on those spotted without a mask in common areas.
Officials of the Residents' Welfare Association (RWA) of Diamond City West said they were forced to initiate the penalties as the number of Covid cases at the complex spiralled to around 70 within a few days and many families were found to have suppressed news of infection to ensure that their help — who work in multiple flats — are not prevented from entering their home.
At least two residents of the complex have had to pay Rs 5,000 each for allegedly suppressing news of infections in their families. Several have been fined for not wearing masks, said RWA president Deepak Agarwal.
South City Residency and Urbana have announced a fine of Rs 100 and Rs 500, respectively, for not wearing masks in common areas.
"Last year, one of the residents, who is a film-maker, was verbally abused because he asked a neighbour to wear a mask. But this year people are scared. The number of violations has gone down," said an official of the Urbana RWA.
Suppressing news of Covid infection in families has emerged a bigger issue than violation of the mask mandate at many housing complexes.
Officials of the Diamond City West RWA, which has close to 1,000 flats, said they had recently learnt about two families who had allegedly concealed news of their members testing positive for Covid. They are said to have suppressed the news to ensure their help are not prevented from entering their flats.
"In one of the cases, we learned from a sample collector that he was collecting samples for the Covid test from the family for the second time. Then we found that a Covid patient was living in the apartment. Their domestic help was visiting their home as well as other flats in the complex," said an official.
"We confronted the family. They admitted their fault and paid the fine amount in cheque," the official said.
Guards at the complex have been asked to take photographs of residents who are seen without masks in common areas.
"The photographs are circulated in the community's WhatsApp group and a fine of Rs 500 is added to their maintenance bill," the official said.
Vendors or maids, if found without masks, are being barred from entering the complex for a week.
At other housing complexes, there were cases where families had not informed the associations during the collection of samples for Covid tests and had continued with the service of their help.
Several such housing societies, however, have not imposed any penalty.
"Imposing a fine involves strict vigilance and fairness. If the RWA fails to impose a fine on one violator even by mistake, it creates a lot of unrest in the society. So we have not introduced any form of penalty. If we come across cases of suppression, we directly contact the families and ask them to start following the Covid protocol," said an official of the RWA of Upohar the Condoville.