Global pizza gets a desi twist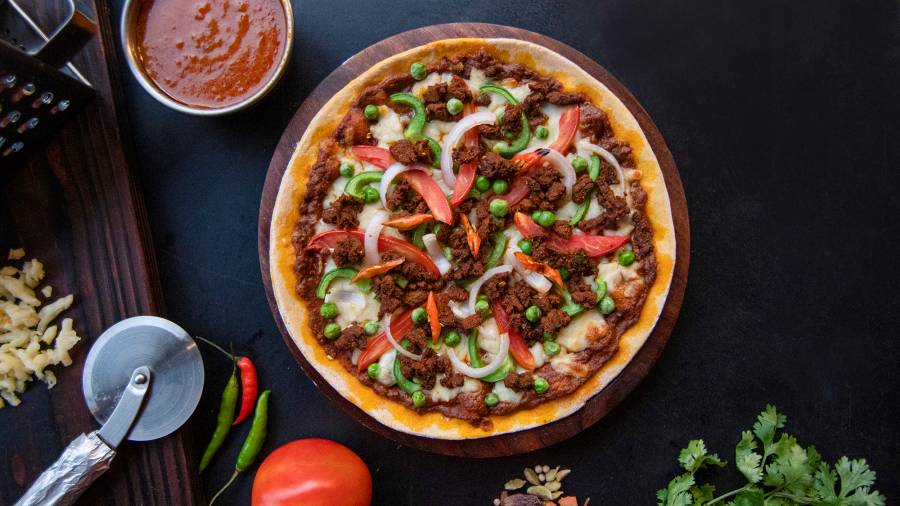 Keema masala tandoori pizza
Sourced by the correspondent
---
Salt Lake
|
Published 18.12.20, 01:43 AM
|
---
The tandoor is the new birthplace of the pizza. Sauce has made way for curry. And oregano flakes have been replaced by a mix of masala-roasted jeera, kasuri methi etc. Welcome to a desi version of the archetypal Italian flatbread with toppings.
The Rang De Basanti kitchen, known for its north Indian specialities, has diversified into pizza-making and a new cloud kitchen in Sector V has been christened Curry & Crust: Tandoori Pizza, keeping both its core competence and its new venture in focus. In keeping with post-pandemic trends, it is a delivery-only brand.
The offerings, which are the result of experiments carried out over a month and half, are what the man behind the brand, Abhimanyu Maheshwari, calls "globalised pizza". "Indian curries are our strength so we thought why not marry it with another popular dish? Our pizzas are targeted at global sensibilities but carry the comfort and familiarity of home," says the founder and chief executive officer of Zing Restaurants, which owns both the brands.
Maheshwari, who started his career as a sandwich maker at Subway, where he worked part-time for three years during his undergraduate studies in Rochester, New York, hit upon the idea of thickening the curry that is the soul of north Indian gravy dishes and using it in place of sauce on a flatbread. The range of desi toppings — keema masala to chicken tikka — followed. Currently the menu has nine standalone offerings. "Take our Kadhai Chicken Tandoori Pizza. The flatbread base has been reworked. On it, we have used kadai gravy as the sauce base. On top of it, mozzarella and cheddar cheese have been spread with capsicum, onion and tomatoes. Once the Kadhai Chicken pieces are added, the pizza goes straight into — not the oven but — the tandoor," said chef Somir Das. And it tastes fine!
They have even devised their desi version of garlic bread — lasoon naan!
The most popular vegetarian pizza on the menu is a corn and saag one (picture left). Here spinach is blanched and tossed with corn as the topping alongside the cheese. There are options in pav bhaji and paneer too. "Yesterday, we were trying out fish and chips as toppings. The possibilities are endless," said Maheshwari.