Forest festival week: Gift from Bidhannagar Horticultural Society
A sapling distribution ceremony in the open air parking space of an AD Block building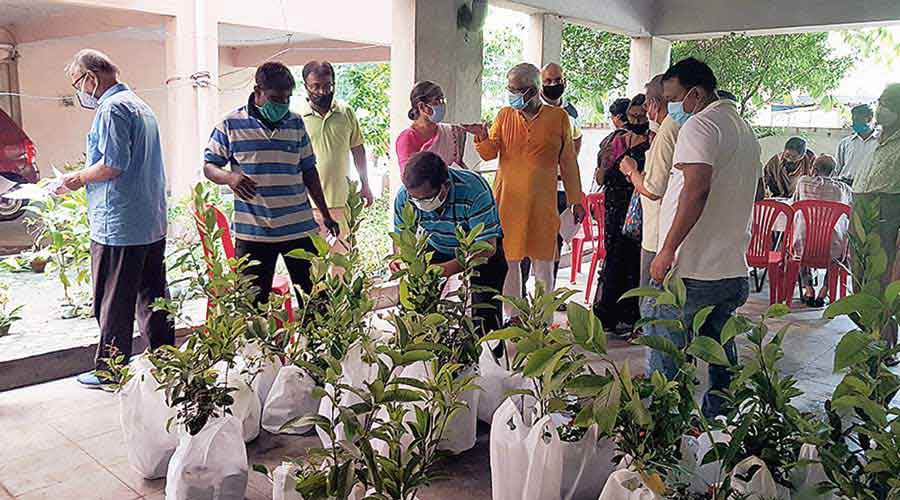 Saplings being distributed among society members on July 18
Sourced by correspondent
---
Salt Lake
|
Published 30.07.21, 11:40 PM
|
---
It was a tough to call to take, since most of the members of Bidhannagar Horticultural Society are senior citizens. "But then we asked members to vote and 90 per cent wanted a Forest Week celebration after all," said secretary Arijit Poddar. "We couldn't hold it last year and everyone missed it sorely."
So on July 18, a sapling distribution ceremony was held in the open air parking space of an AD Block building where member Saumitra Maiti lives. Members had been asked to send the organisers their choice of plants and so the distribution was simpler and faster. To maintain Covid protocol, members were encouraged to pick up their saplings and leave without crowding.
More than 100 members showed up and they were given four saplings each. "We gave expensive items like Roses and rare plants like Biliti Dhone Pata, spices like pepper and cardamom and even fruits like Banana and Lemons.
"I've placed a request for Hibiscus, Jhumkolata, Gondhoraj Lebu and Adenium," smiled Ratna Saha of HB Block. "Those who are passionate about plants wait for this occasion the whole year. We are always excited to add to our collection. I'm glad the organisers managed to pull it off despite the pandemic." She also arranged to meet and exchange home-grown Lilies there with Kalyani Kundu, another member she met on the society's WhatsApp group.
The society also gifted 60 saplings to a bamboo garden that has come up in New Town. "It's for a good cause and so we're gifting them 30 Bamboos, 15 Rangans and 15 Lantenas.
Nayan Mitra, founder director of Sustainable Advancements, the company that is looking after the BE Block plot in New Town, drove away that day with a car full of greenery. "It means a lot to have this society help us and join our efforts to increase the greenery and oxygen around us. The more the stakeholders, the greater the ripple effect," she said.
Greens gifted in AA Block and BD Block Over a 100 saplings each were distributed from the AA Block community hall and from outside BD Market recently. The drive was organised by Ward 41 along with the block associations. The state lost a huge number of trees during the Amphan cyclone last year and we have to try and plant enough new trees to replace the lost ones," said ward co-ordinator Ratna Bhaumik. Fruit and flowering trees like Lemon, Amla, Guava and Hibiscus were given out.