Food for 600 families in Calcutta and Sunderbans
On Sunday, a team of volunteers visited several areas in the city and Salt Lake and distributed around 500 packets, each containing a kilo of rice, 250g of daal and soya chunks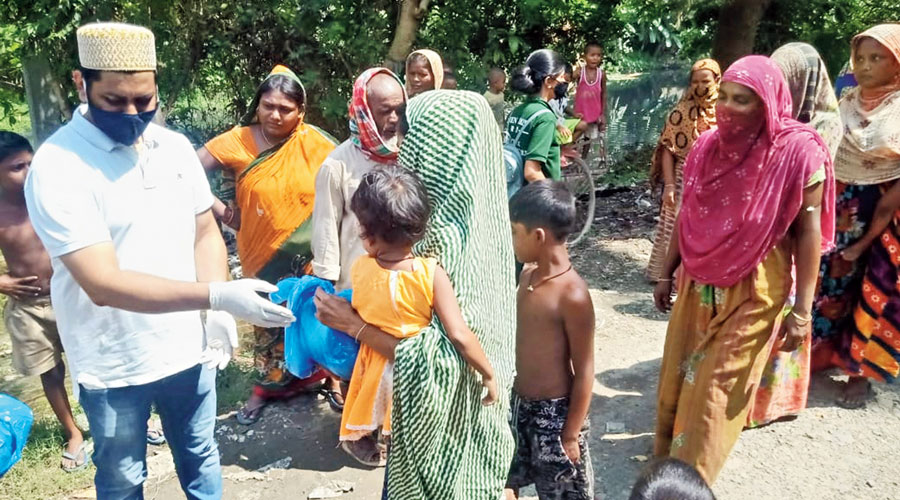 A Dawoodi Bohra community volunteer distributes dry ration among residents of Chandipur village in Gosaba block of the Sunderbas on Sunday
Telegraph picture
---
Calcutta
|
Published 13.10.20, 02:39 AM
|
---
Over 600 families in Calcutta and the Sunderbans got dry ration on Sunday, thanks to a campaign by the Dawoodi Bohra community of the city.
The country is moving towards resumption of normal economic activities but many families are still without livelihood and struggling for two square meals a day. On Sunday, a team of volunteers visited several areas in the city and Salt Lake and distributed around 500 packets, each containing a kilo of rice, 250g of daal and soya chunks.
The packets were distributed at Moulali, Eco Park and Golpark, under the Gariahat flyover and at Shalimar Ghat in Howrah.
The recipients lived in slums, on pavements and under flyovers. They are out-of-work labourers, rickshaw pullers and cobblers, who have been hit the hardest by the Covid pandemic.
The team then drove to Chandipur village in Gosaba block of the Sunderbans, around 90km from Calcutta. The destitute families in the mangrove delta are grappling with the aftereffects of Cyclone Amphan, in addition to the pandemic-induced slump. Around 150 packets were distributed in the Sunderbans.
The Sunday drive, in the run-up to World Food Day on October 16, was part of Project Rise, a philanthrPopic endeavour by the Dawoodi Bohra community across the world.
"As the name suggests, its aim is to raise and elevate the less fortunate among us. It strives to foster a culture of empathy, awareness and generosity such that no individual is neglected, overlooked or marginalised," reads a poster of the campaign.
The Dawoodi Bohra community has around one million members all over the world, including around 1,100 families in Calcutta. The community had organised multiple campaigns to provide food to the needy during the lockdown. The younger members of the community took the lead in Sunday's drive. It was organised by Hizb us Saifiyatil Burhaniyah (HSB), an association of former students of MSB Educational Institute, a school run by the Dawoodi Bohra community.
"Visiting the Sunderbans was a different experience. You have to see their plight to believe it," said Khuzema Tasira, the secretary of the association.
The packets were sorted at Faiz-ul-Mawaid-e-Burhaniyah, a community kitchen of the Dawoodi Bohras in Calcutta.
Two NGOs collaborated in the Sunday drive, helping the organisers in selecting the recipients and with logistical issues.
The distribution in the Sunderbans was in collaboration with Anti-Hunger Squad Foundation, a city-based organisation that has fed thousands of families during the lockdown. The campaign in and around Calcutta was done in collaboration with Robin Hood Army, a non-profit that collects excess food from restaurants to feed the poor.
"Many people in the Sunderbans are in urgent need of relief. NGOs from the city are reaching out to them but many families are still left out," said Zeeshan Majeed, of the Anti-Hunger Squad.