Feast with a twist
Celebrate Bengali New Year at home with these luscious recipes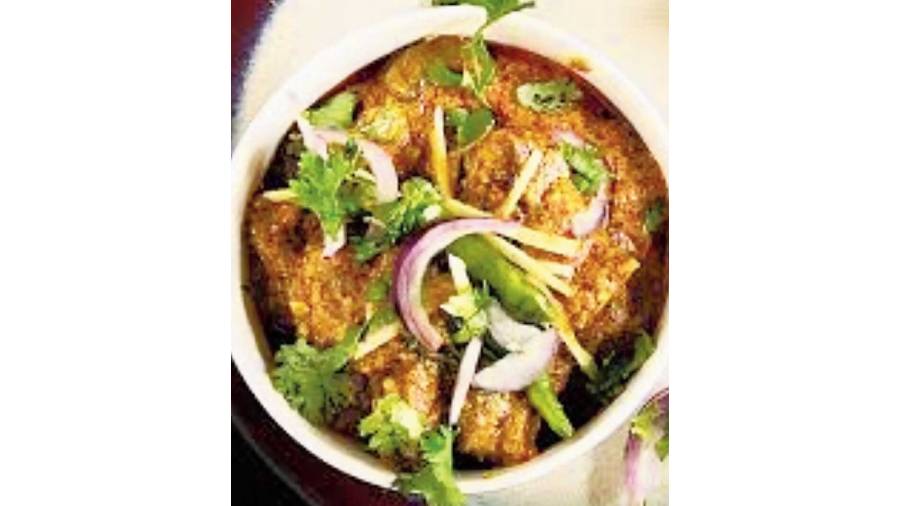 Sorshe Posto Mangsho (mutton)
---
Salt Lake
|
Published 09.04.21, 07:17 AM
|
---
Sorshe Posto Mangsho (mutton)
A perfect afternoon dish which retains the richness of the sorshe-posto bata. Those who like their food hot and spicy may enjoy the burst of flavours of this mutton that may even cause the eyes to water.
Ingredients
⦿ Mutton- 1kg
⦿ Black mustard seeds– 100g
⦿ Poppy seeds- 25g
⦿ Green chillies -16
⦿ Hung curd– 100g
⦿ Onions– three big ones, freshly sliced
⦿ Garlic– 10 cloves, finely sliced
⦿ Salt– to taste
⦿ Bay leaves– 3
⦿ Dry red chillies– 2
⦿ Turmeric powder– 2tsp
⦿ Red chilli powder– 2tsp or as required
⦿ Garam masala– 1 tsp
⦿ lSugar– 1tsp
⦿ Mustard oil– as required
⦿ Coriander leaves– for garnishing
Method
⦿ Boil mutton in a pressure cooker with adequate water, salt, turmeric powder, ginger and garlic.
⦿ Soak mustard and poppy seeds in hot water for 10 minutes and make a smooth paste with green chillies and salt.
⦿ Heat oil in a pan.
⦿Temper the oil with bay leaves and dry red chillies.
⦿ Add the onions and fry till they turn reddish-brown. Add ginger and garlic till their raw aroma goes.
⦿ Add the hung curd and mix nicely for a few minutes.
⦿ Add the sorshe-posto paste with a little water and mix well again.
⦿ Finally, add the boiled mutton.
⦿ Add salt, sugar, turmeric powder and red chilli powder (optional) to taste.
⦿ Since the mutton is already boiled it will not take much time to get cooked. After it soaks up all the oil add lemon juice, switch off the flame.
⦿ Garnish with coriander leaves.
⦿ Enjoy the steaming dish with rice for lunch.
Chhana Khejurer Kofta A sweet and spicy snack that can serve as an ideal starter at parties.
Ingredients
⦿ Grated paneer- 250g
⦿ Chopped dates- 50g
⦿ Raisins- 50g
⦿ Potatoes (mashed)- 100g
⦿ Ginger (chopped)- 20g
⦿ Green chillies (chopped)- 15g
⦿ Cardamom powder- 2tsp
⦿Khoya (mawa) (grated)- 50g
⦿ Corn powder- as required to taste
⦿ Coriander leaves (chopped)- 2tsp for deep frying
⦿ Oil
Method
⦿ Mix all the ingredients except the dates and raisins to make individual balls of koftas.
⦿ Stuff the koftas with the chopped dates and raisins.
⦿ Deep fry the koftas and serve with sauce. See them disappear fast from the plate.
Narkel Suji Cake Delicious and moist, this cake is bound to fill your mouth with lots of flavours. And it's simple to make.
Ingredients
⦿ Semolina (suji) coarse– 2 cups
⦿ Coconut shredded– 1 cup
⦿ Butter (melted)– ½ cup
⦿ Sugar– ½ cup
⦿ Baking soda-1 tsp
⦿ Yogurt (plain)– 1 cup
⦿ Almond (roasted)– ½ cup
For syrup
⦿ Water– 1 cup
⦿ Sugar– 2 cups
⦿ Lemon juice– 1 tsp
⦿ Rosewater (optional)– 1tsp
Method
⦿ Mix the suji, coconut, sugar, baking soda and butter in a large bowl.
⦿ Add the yogurt and continue mixing till fully blended.
⦿ Cut diamond or square pieces and add an almond on top of each.
⦿ Grease the baking dish with oil or butter and add the mixture into it.
⦿ Pre-heat the oven to 180° C (or 350°F) and bake for 40 minutes or until the skewer comes out clean.
⦿ While the cake is baking, mix all the ingredients for the syrup and heat on a saucepan in high flame till it boils.
⦿ After the cake is properly baked take it out from the oven and pour the hot syrup over it.
⦿ Let it rest for some time until the syrup is absorbed by the cake.
⦿ Cut the pieces and savour the dessert.
Caramel Mora Bhapa Sandesh Give the traditional sandesh an attractive twist by adding a caramel coat to it. Guests will lap this one up for sure.
Ingredients
⦿ Full cream milk- 1l
⦿ Calcium lactate– 2tsp
⦿ Sugar– 6 to 7tsp
⦿ Green cardamom– 4
⦿ Pistachio (chopped)- 2tsp
⦿ Rose water– 1tsp
For the caramel
⦿ Sugar– 1/2cup
⦿ Water– 1/3 cup
Method
⦿ To make the chhana, boil milk. Mix calcium lactate in water and add it to the boiling milk and stir. The milk will turn into curd.
⦿ Strain the chhana in a muslin cloth and let it rest for some time.
⦿ Grind the sugar and cardamom into a fine powder.
⦿ Add sugar and rose water into the chhana and mash it till it is smooth and free of lumps.
⦿ Keep the chhana aside and prepare the caramel.
⦿ Put the sugar and water in a pan on high flames. The sugar will start melting and changing its colour. Be careful not to burn the sugar. When it turns golden-brown remove it from the flame.
⦿ Pour the caramel in the pan or baking dish. Add the chhana mixture to it and press lightly. Cover and bake for 25-30 minutes or until the skewer comes out clean. You can also pressure cook it without the vent for five minutes on high flame and then 10 minutes on low flame. When it cools down, de-mould and refrigerate.
⦿ Cut it into desired shape and serve.
Gurer Sherbat This is a light summer drink that can serve best as an appetiser.
Ingredients
⦿ Gur (jaggery)- 150g
⦿ Lemon- 1
⦿ Ginger (crushed)- ½ inch
⦿ Fennel seeds (crushed)-1/2 tsp
⦿ Black salt– ½ tsp
⦿ Salt– as per taste
⦿ Black pepper powder– 1 tsp
⦿ Cumin powder (roasted)– 1 tsp
⦿ Mint leaves (chopped)– 2 tsp
⦿ Water (two glasses)- 500ml
Method
⦿ Take a bowl, mix the jaggery and water, stir and let it all mix well.
⦿ When the jaggery totally dissolves in water, add lemon juice and grated ginger.
⦿ Then add the remaining spices and the mint leaves and wait for 10 minutes.
⦿ Blend the crude mixture in a blender and strain it.
⦿ Serve the strained sherbet in juice glasses with ice chunks and a lemon slice. Serve chilled.
Athrayee Das, a resident of CE Block, New Town, whips up delicacies dipped in Bengali tradition but laced with a trendy touch ahead of Poila Baisakh for you to enjoy at home