Brush with choice, for a day
Proud owners of dream clothes in festive season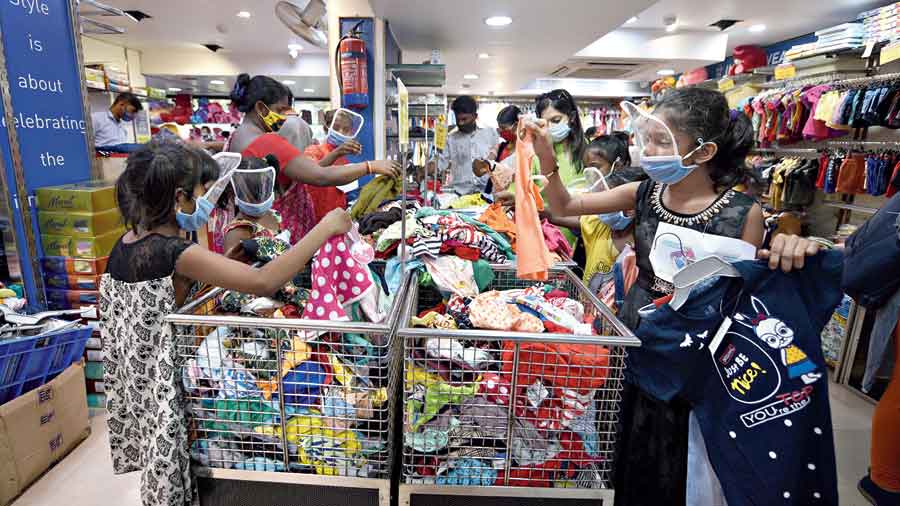 Some of the children at the mall on Sunday
Gautam Bose
---
Calcutta
|
Published 12.10.20, 01:34 AM
|
---
A 10-year-old girl has seen her father rummage through garbage in dustbins outside a mall on Rashbehari Avenue. On Sunday, the ragpicker's daughter spent close to 30 minutes at the kidswear section of the mall, from where she got a denim dungaree for herself.
Moyna Mandal was part of around 25 children from destitute families who were taken to the mall by volunteers of two NGOs. They bought each of the children a set of clothes in the run-up to the festive season.
"I have seen this dress on actors," a beaming Moyna told The Telegraph.
Most of the children who had the day out live on the pavement near the gurdwara on Rashbehari Avenue. Some are from slums around Kalighat. Many of their parents are ragpickers and some beg outside the Kalighat temple. A handful are labourers who have seen their income vanish amid the Covid-19 pandemic.
The group reached the Triangular Park mall around 10.30pm in a mini-van and two cars. The volunteers guided the children to the kids' section on the first floor.
Twins Lab and Kush Sardar, 11, were spoilt for choice. Intent on buying similar clothes, they had almost zeroed in on two round-neck T-shirts and two pairs of denims. But a shiny black shirt hanging in a row forced a change in the decision. "Erokom ar akta hobe?" Kush asked a volunteer who in turn sought the help of a store employee.
A tense wait of around 10 minutes ended with the staff finding another similar black shirt.
The brothers, who study in Class V of a school run by the civic body, lost their father during the lockdown. Their mother works as a domestic help.
"The children are used to getting used clothes. New clothes are like a dream for many. We could have given money to their parents to buy clothes but many of them would not, given the circumstances," said Anish Dasgupta of We — Together We Can Foundation, that organised the trip with another NGO called Nari Sriniketan.
The NGOs work with street and slum children in Calcutta. On Saturday, a group of children from north Calcutta were given a set of new clothes.
"We wanted the children to come to a mall and buy new clothes and get soaked in the festive atmosphere, even if for one day," said Sohini Chakraborty, another organiser.
The two foundations comprise around 20 members. The projects are till now funded by the members themselves.
Shopping done on Sunday, the kids came out of the mall, their faces beaming and the packets held tightly. But there was another round of goodies. After getting into the vehicles, each was given a box from a popular confectionary brand.
Not everyone ate on the spot though. "I will take this home and share with my mother," said Jay Sardar, 12.