Flooded roads, fear of disease
Water in locality forces 200-odd families to remain indoors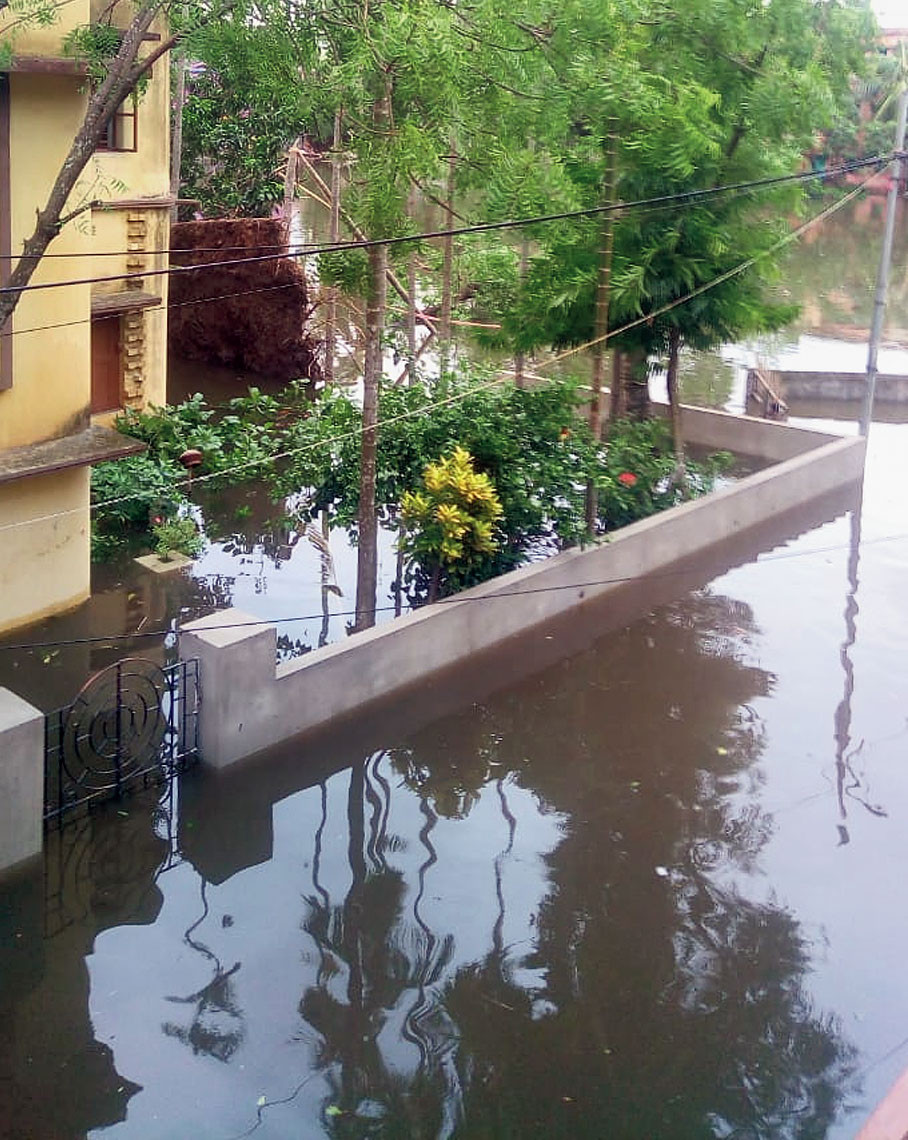 ---
|
Calcutta
|
Published 26.05.20, 09:43 PM
---
Close to 200-odd families on the city's outskirts have been stuck indoors since the cyclone because their locality is still flooded.

Santosh Co-Operative Society, around 4.2km from Taratala Brace Bridge, had been without electricity till Tuesday morning. There's no water supply, though, and residents are worried of a disease outbreak in the middle of the lockdown.
Prabir Kumar De, 66, a retired government bank employee who lives with his wife, said he could not run the pump to draw water from the underground reservoir because the floodwater had seeped into the reservoir and contaminated the water.
The moment electricity was restored in the morning, De had switched on the pump to fill up the overhead tank. But brown water with a foul smell started coming out of the taps, he said.
"We have been buying 20-litre packaged water jars at a premium. The supplier said he could do little because he had to pay extra to the van driver to wade through knee-deep water to deliver us the water jar," De said. "We cannot even go to the market near the station, around 10 minutes away, as rickshaw-pullers don't want to visit the area because of the stench."
The area is in Ward 9 of the Maheshtala municipality. "We had tried using two pumps to drain out the water but they kept stalling as the inlet pipes got choked with plastic bags and garbage," an official said.
De, however, said pumps had been brought in on Tuesday. "They ran for around 20 minutes before being taken away," he said.
"We drain out the water into a canal leading to the Akra lockgate on the Hooghly. As the canal's water level is high at present, water from this area is not flowing down naturally," the official said. "Moreover, we have a few pumps and it is difficult to drain out such a large area with them."
The locality has around 100 single and double-storey houses and a couple of ponds. Several trees uprooted in the cyclone can be found almost everywhere. Elderly residents of the area are running short of medicines but they cannot visit the market near the station because the area is flooded.
Shyamal Biswas, another resident, said the problem compounded at night. "Electric supply to our houses has been restored but street lights are not working. Also, none can tell now where the roads end and the ponds start. One of the ponds is quite deep. We are also worried about a disease outbreak —either enteric diseases or dengue."
The Telegraph tried calling Dulal Chandra Das, the municipality chairman, but his phone was switched off. His daughter Ratna did not take calls and Das did not reply to a text message on the matter.