Bhaskar the hacker has no time for his home intruder
He has been working 16 hours a day clearing trees off Calcutta's roads, besides bicycling about an hour each way between work and home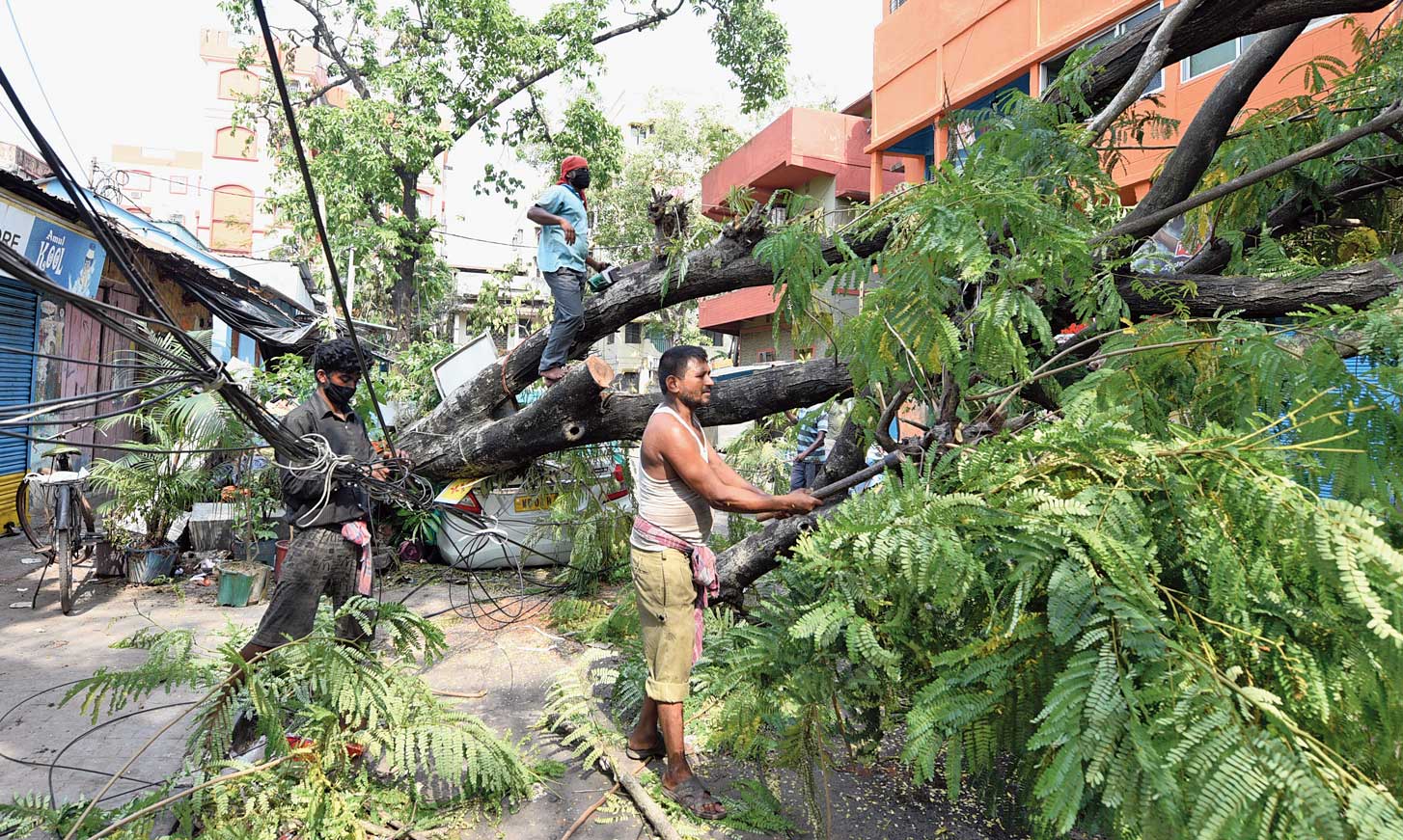 ---
|
Calcutta
|
Published 24.05.20, 08:55 PM
---
Bhaskar Pal has lost count of the fallen trees he has hacked and removed over the past four days. But there's one pesky tree he hasn't found the time to attend to.
It's the small tree that has burst through the tiled roof of his home in a pocket of Maheshtala on the city's western fringes.
He hasn't had the time to remove it because he has been working 16 hours a day clearing trees off Calcutta's roads, besides bicycling about an hour each way between work and home.
Pal, one of 15 tree cutters working under a contractor with the civic body's parks and squares department, says the past four days have easily been the busiest of his 22-year-old stint with the Calcutta Municipal Corporation.
"We start around 7am and work well into the night. That's been our routine since Thursday," he said.
"We have been working from 7am to 11pm," confirmed Badal Maity, the contractor.
The only breathers Pal receives are the lunch break and the time it takes to travel from one tree-clogged road to another on a mini-truck, during which he and his teammates smoke a bidi or two.
The Telegraph caught up with Pal and his group while they were removing a 60ft radhachura tree (Peltophorum pterocarpum) from Chetla Road, metres from the Chetla Agrani Club.
A car and two houses had borne the brunt of the giant's fall. The road was blocked by the tilted trunk and the dense foliage.
Pal climbed onto the terrace of a house on which a part of the tree was resting. He first lopped off a few loose branches with an axe, shouting to the men below to move away.
He then directed one of his teammates to climb onto the inclined trunk. Electric chainsaw whirring, the man began cutting through the sturdy timber, sending chips of wood and bark flying everywhere.
"Cutting a tree this size takes at least a couple of hours. Clearing an entirely uprooted tree takes less time than removing a partially uprooted one that has fallen on a house," Pal said.
Pal leaves his home in Basudevpur, a locality near Maheshtala, 14km from the heart of Calcutta, at 5.30am when his two children are yet to rise. They are fast asleep when he returns around midnight.
"A portion of a small tree fell on my house during Wednesday's storm. There isn't any big damage but it has made a hole in my roof and covered a part of a room with broken tiles, branches and foliage," he said.
Pal doesn't know when he will have the time to attend to it. He will have to do it on his own, without the sort of equipment he uses in clearing the roads.
Maity, the contractor, said his 15 tree cutters worked in three groups. "We have covered swathes of Alipore, Kalighat and Behala," he said.
"The sheer number of the fallen trees has made our job tough. I have never seen a more furious storm in the almost 25 years I have been in this field."
Asked about his wages, Pal said with a smile: "Chole jaye konobhabe (I can make ends meet somehow)."
Maity refused comment on the tree cutters' wages. A CMC official said Pal "should be getting Rs 272.20" for each day's work.