Need for more Covid-19 beds in Calcutta
Officials expect rise in number of coronavirus tests to lead to jump in positive cases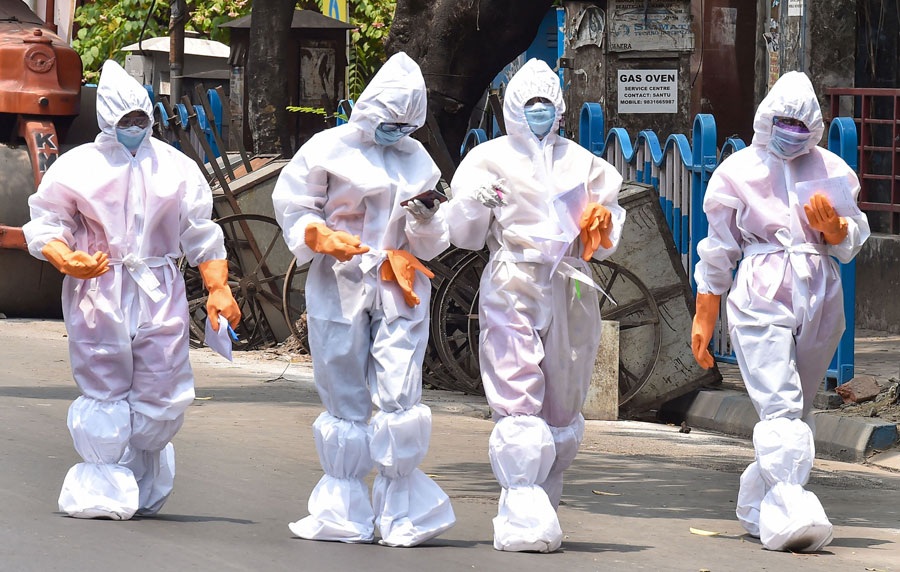 ---
|
Calcutta
|
Published 21.04.20, 08:50 PM
---
More beds to treat Covid-19 patients and those with symptoms of the disease should be set up in and around Calcutta because the count of patients will increase with the number of tests going up, health department officials said.
On Tuesday, 300 more Covid-19 tests were conducted across Bengal compared with Monday.
Health officials and public health experts said more tests meant more positive cases and so more functional beds would be needed soon.
A large number of the positive cases are expected to be from Calcutta, Howrah and North 24-Parganas, which have been identified as Covid-19 red zones.
"The problem is a large number of people with Covid-19 symptoms who may not test positive are getting admitted," said an official.
Another reason that may lead to a shortage of beds in the event of a drastic jump in the number of positive cases is prolonged hospitalisation a Covid-19 patient requires — which stretches from 14 to 21 days.
"The situation is often worsened by delays in getting the test results," the official said.
According to the state government's figures, Calcutta has more than 1,400 beds in four hospitals reserved for Covid-19 patients and those suffering from severe acute respiratory distress or having influenza-like symptoms.
Of the four treatment centres, MR Bangur Hospital has 1,100 beds, Chittaranjan National Cancer Institute's New Town unit has 192 beds, Infectious Diseases and Beleghata General Hospital has 82 beds and the annexe of AMRI Hospitals Salt Lake has 50 beds.
Health department sources said that of the 1,100 beds at MR Bangur Hospital, only around 150 beds are "functional" — the ones that can be used for treatment. As of now, the rest cannot be put to use because of lack of infrastructure and personnel.
"All 150 beds are full. Around 85 beds are being used to treat Covid-19 patients and the rest those who are having symptoms," a source said.
The Beleghata hospital is treating 44 Covid-19 patients. The hospital can only admit those who have tested positive for the novel coronavirus.
"The annexe of AMRI Salt Lake is almost full and it's critical care unit is full, too," a source at the hospital said.
Health department officials said it was time to make ready more beds because the rise in the number of beds would lead to more positive cases.
On Tuesday, chief secretary Rajiva Sinha said 713 tests were conducted during the day. The average daily count till Monday was around 400.
Metro has reported that the Covid-19 testing centres were not being utilised to their capacity, much against the advice of public health professionals.
New test facilities have come up at the Malda Medical College and Hospital, RG Kar Medical College and Hospital and CNCI.
Till Tuesday, 6,182 tests have been conducted, Sinha said.
"Since the gamut of tests is being widened, we are expecting the number of positive cases to rise. Then we need to have more functional beds at MR Bangur hospital," said an official.
He said there was a need for more beds that have critical care facilities like ventilators and dialysis units.
A state government official, however, claimed that all 1,100 beds at MR Bangur were functional. But he refused to say how many patients were admitted.
Many private hospitals in Calcutta, which are not designated for Covid-19 patients but have isolation units where such patients are being treated, said they had exceeded their capacity.
One private hospital said it had 10 coronavirus positive patients in its 12-bed isolation unit. "We had to create an additional unit for nearly 15 more who are high-risk contacts of Covid-19 patients and awaiting results of swab tests," said an official of the hospital.