Coronavirus outbreak: consent form for Covaxin recipients
The state health department or the vaccinating site has to call the person after 7 days and again after 28 days to enquire about the person's health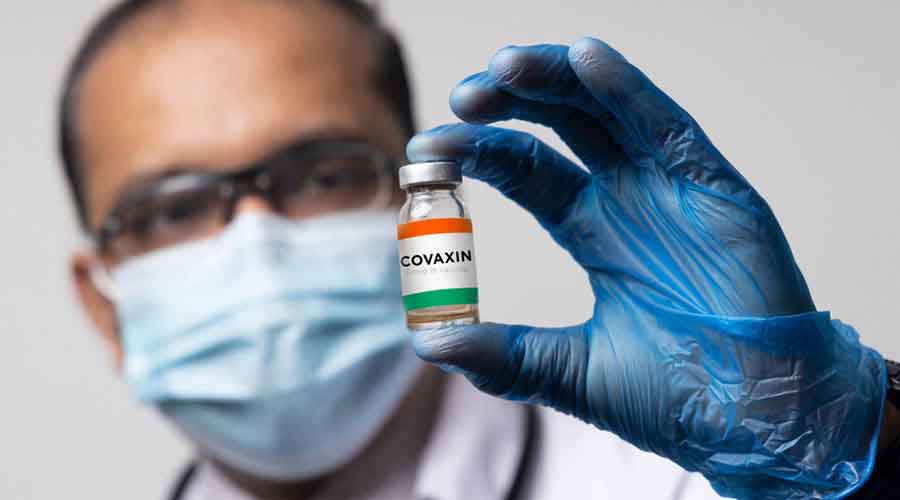 the Union health ministry announced on Saturday that Bengal would be among seven new states that would begin administering Covaxin next week in addition to 12 states that started administering the vaccine last week
Shutterstock
---
Calcutta
|
Published 24.01.21, 01:09 AM
|
---
Recipients of Covaxin, India's indigenous Covid-19 vaccine, would have to sign informed consent forms before they are administered the vaccine, the Centre informed officials of the state health department on Saturday.
The state health department or the vaccinating site has to call the person after seven days and again after 28 days to enquire about the person's health. The recipient must also fill up a form if they experience any serious events after receiving Covaxin, said Ajay Chakraborty, the director of state health services.
Simultaneously, the Union health ministry announced on Saturday that Bengal would be among seven new states that would begin administering Covaxin next week in addition to 12 states that started administering the vaccine last week.
Till now Bengal had been administering only the Covishield vaccine, which is developed by AstraZeneca and Oxford University.
India has vaccinated 15.37 lakh healthcare workers since the nationwide campaign started on January 16.
Bengal received its first batch of 1.6 lakh Covaxin doses on Friday. During a video conference on Saturday, the state health department officials were told by officials of the health ministry that recipients of Covaxin must give a written consent that they have agreed to take the home-grown vaccine.
There is no such requirement for administering Covishield, manufactured in India by the Serum Institute of India. The state has received 13.88 lakh doses of Covishield and is administering the vaccine to all healthcare workers.
Senior officials of the state health department held a meeting among themselves on Friday where many raised concerns what would happen if recipients refused to be administered Covaxin doses. During Saturday's video conference, officials of health ministry told the state officials that there was no possibility of taking back the Covaxin doses.
"The Centre will send us a consent form where recipients have to sign before they are administered the vaccine. They will give their informed consent before they are inoculated with Covaxin," said Chakraborty, the state health services director. He said the consent was required since full data of phase-III trial of Covaxin is still not available. "There would have been no requirement of a consent form if phase-III trial results were available. But this is just an added precautionary measure. Covaxin has passed the safety trial and there is no reason to be afraid. The vaccine has been prepared using a time tested technology, which is using an inactivated virus," he added.
State health department officials did not have clarity on the content of the consent form till Saturday.
The fact sheet supplied with Covaxin — which contains general information about the vaccine — mentions that the vaccine is undergoing efficacy trials. "A phase III efficacy study is ongoing in 25,800 participants and administered with first dose of vaccination with Covaxin, no vaccine related adverse events were observed".
Chakraborty added that the phase-III trial results of Covaxin will be available only after at least another three of four months. "But we cannot solely depend on Covishield because that will slow down the vaccination programme," he said.
Dipyaman Ganguly, an immunologist with the Indian Institute of Chemical Biology, explained the three phases of trial. "The phase I trial assessed whether the vaccine is safe to administer to a person. In case of Covaxin, phase II trial only assessed if the vaccine generated immune response in the recipient. The phase III trial will assess whether the vaccine has efficacy in preventing the disease for a considerable period of time," he said.
The Covaxin fact sheet also mention that those with fever or severe infection, pregnant and lactating mothers, individuals below 18 years and those who are sensitive to the ingredients of the vaccine should not take it. "Covaxin should be administered as two doses on Day 0 and Day 28," the fact sheet added.