Shops shut to stop crowding in Calcutta
Lockdown rules flouted in Baguiati, risk rises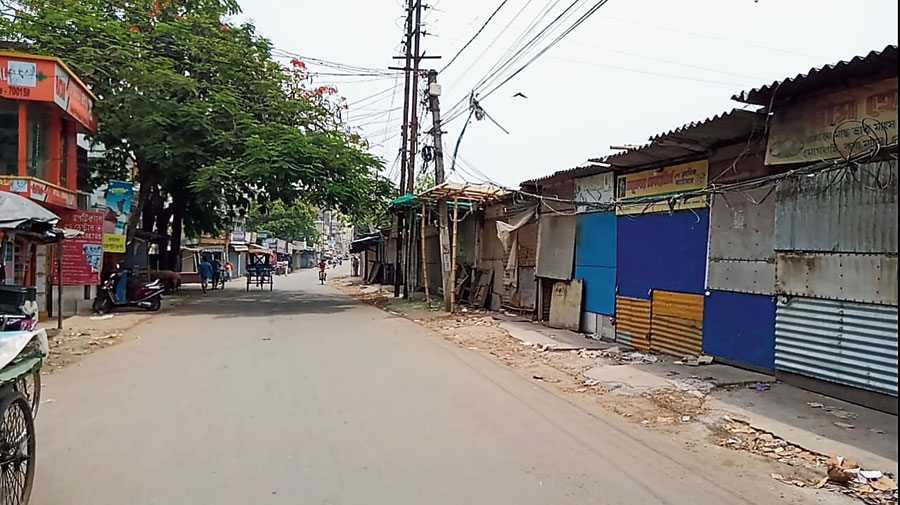 ---
|
Calcutta
|
Published 16.04.20, 09:23 PM
---
A temporary market in Jagatpur near Baguiati was shut down on Thursday because it had been attracting large crowds every day in violation of the social distancing norms.
There are around 200 stalls made of tin and bamboo in the market, barely 1km from VIP Road, along the banks of Kestopur canal, an official of Bidhannagar Municipal Corporation said.
Every morning, hundreds were converging at the market to buy vegetables, fruits, chicken and fish, the official said.
The 2-km stretch of Adarshapally Road between the Kestopur bus stop on VIP Road and Hatiara used to be clogged with shoppers. "It was not possible to enforce social distancing rules on such a huge crowd," the official said.
Metro had earlier reported how the corporation had shifted out at least 160 temporary stalls from their usual spots in the Baguiati market to a nearby fairground to control the large number of people who would gather at the market every day in violation of social distancing norms.
Temporary shops have been shifted out of Gariahat, Bagmari, and Behala markets to prevent overcrowding.
So far, customers had been asked to maintain social distance and the corporation had undertaken several measures to ensure it was followed but "everything fell flat", the corporation official said.
"We had drawn circles a metre apart from each other to ensure people waited for their turn instead of crowding in front of a shop. We had repeatedly asked people over loudhailers to maintain distance… deputed civic officials in the market to distribute leaflets on the importance of maintaining social distance," the official said. "But none of these made any difference as the market kept drawing one of the largest crowds in the area."
A member of the Jagatpur market's administrative committee said masks and gloves had been distributed to shopkeepers but "hardly anyone used them and nobody followed the social distancing norms". "It was getting increasingly risky… so we asked shopkeepers to close down."
Pranay Kumar Ray, the mayoral council member, health, said corporation officials had held a meeting with the market committee and a search was on for alternative sites where some of the shops can be allowed to operate.
In Salt Lake, cops have been posted at every market to ensure people maintain a gap of at least a metre while standing in a queue and that all shops shut down by 6pm, an officer of the Bidhannagar commissionerate said.