Shops reopen with low footfall
Owners rue lack of business; employees have a hard time reaching their place of work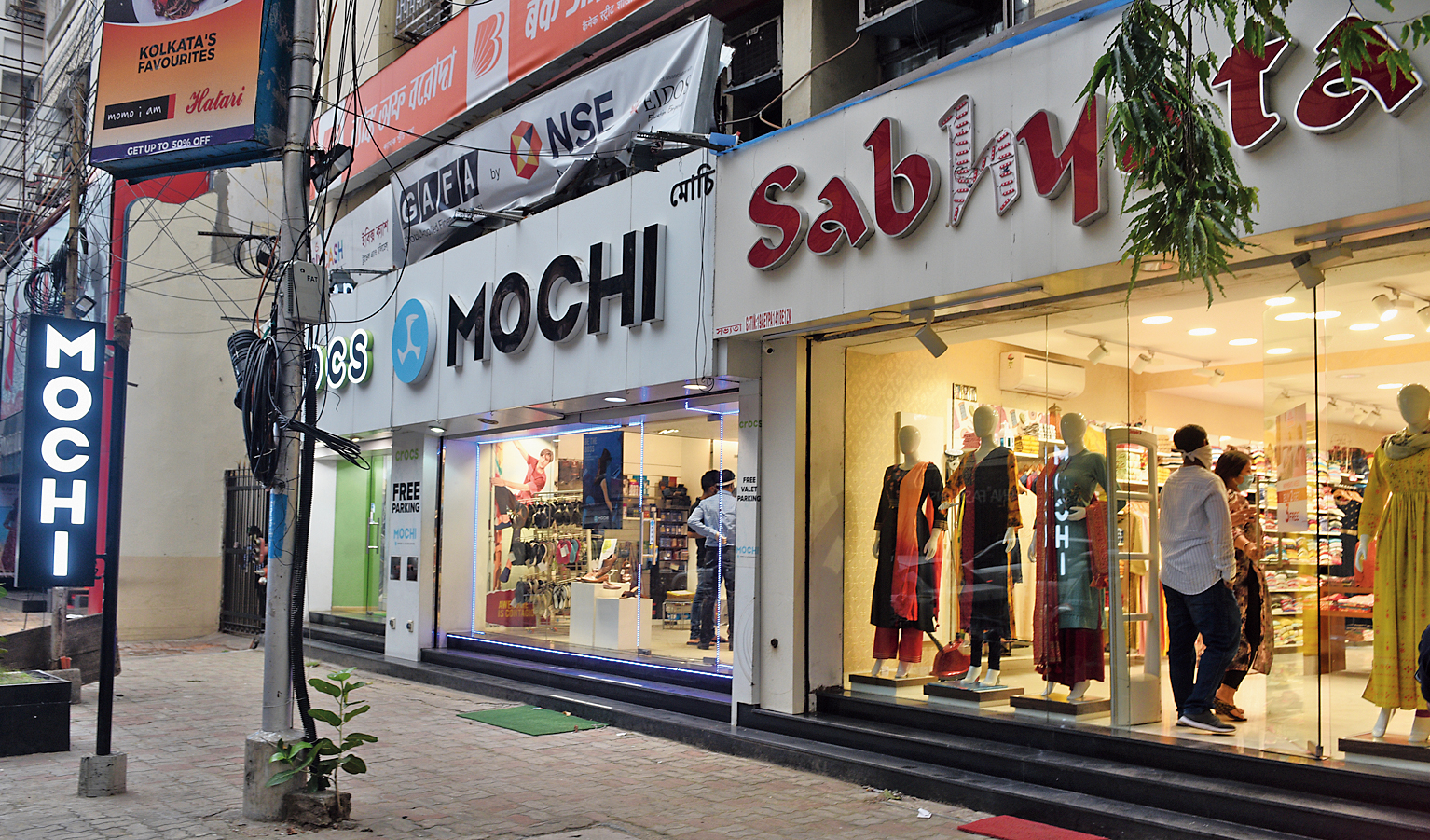 ---
|
Calcutta
|
Published 01.06.20, 09:16 PM
---
Stores have started reopening their doors after remaining shut for over two months. Their back pushed to the wall, the owners and staff have chosen to live with the virus over living with zero income. For some, that means cycling over 20km to work. For others, waiting for an hour to board an auto. But business must start, said the shop owners and their staff when The Telegraph visited them on Monday afternoon.

Stone in rice
Sai Guin Emporium, a store on Rashbehari Avenue selling kitchen appliances, opened full day for the first time since March 22. Last week, the store had opened a couple of times, but mainly for cleaning and sorting stuff that had not been touched for two months.
"A water filter and some filter accessories have been the only things I managed to sell so far," owner Tarun Kanti Guin said around 2pm.
The store opened around 10.30am. Guin has two employees. One of them, Ranjan Dey, was having lunch when this newspaper visited the shop. A stone hidden inside a morsel of rice got stuck inside his mouth for a while. "I have been forced to eat rice procured from the ration store. I was never rich but this is a first for my family — biting a stone in rice every now and then," said Dey.
Less than 200m away, Suparna, a standalone sari store, was empty. "The slump had started with demonetisation. Then came GST. Covid-19 came like the knockout punch," said Debatosh Saha, the co-owner of the store.
"People are only keen on saving for a more uncertain future. Education and medical expenses are unavoidable but apart from that, people are not willing to spend.
This was before the impact of the novel coronavirus. You do the math on what happened because of the lockdown," Saha said with a wry smile.
On guard
Gariahat had several shops that were open. But many more were shut.
Traders Assembly, the apparel shop right at the crossing, re-opened its doors on Monday. It had remained shut since March 19, an employee said. A handful of employees were seated but there were no customers.
"Bouni hoeni ekhono (We are yet to sell anything today)," said Joydeb Nag, who supervises operations. A machine dispensing a liquid handwash stood at the entrance. Handwash done, a thermal gun test for body temperature awaits visitors.
Prabir Mondal, 19, another worker at the store, had come cycling from Subhasgram in South 24-Parganas, over 20km from Gariahat. "I started around 9am. I reached here by 10.15am," said Mondal.
Shoppers

Camac Street looked busier than Gariahat on Monday. The shops were open and some had shoppers, too. Like the outlet of a Bangalore-based footwear brand. Tasmiya Naaz and Rehan Ansari, cousins from Garden Reach, had just bought a wallet from the store. "It is an anniversary gift for my father," said Tasmiya, a final-year BCom student.
"Life has become so stifling. We wanted some fresh air and uncle and aunty's anniversary gave me an opportunity to go out," said Ansari, who is pursuing an interior designing course. The store, open for a week now, has four employees. The youngest of them Subhadip Saha, 25, came from Liluah. He got a drop till Howrah on a bike. From Howrah to Camac Street, it is usually a walk. "I get a bus if I am lucky," said Saha.