Long-distance buses to meet city demand
Operators accept state govt's offer to run their vehicles in Calcutta with 'special permit'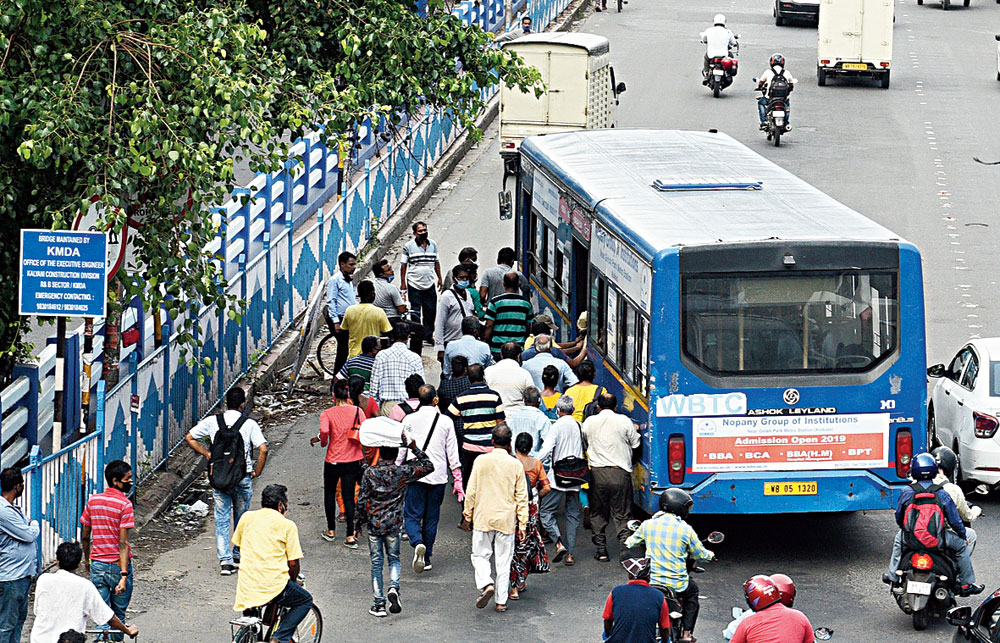 Commuters jostling to board a bus
File picture
---
Calcutta
|
Published 13.06.20, 09:39 PM
|
---
Several private operators who run long-distance buses have accepted a government offer to run their buses in Calcutta and adjoining areas with a "special permit" while choosing the routes.
Most of these operators have been struggling to cope with losses as there has been no movement of buses to places like Siliguri, Asansol and Durgapur within Bengal and to Ranchi, Dhanbad and Puri in other states.
Even after services resumed as part of Unlock 1, most passengers have avoided taking bus rides to far-off destinations from Calcutta. As a result, the losses have snowballed, according to operators.
There are a little over half a dozen medium and big private operators with a fleet strength of close to 65 buses, which run on inter and intra-state routes.
Some of the operators said they had incurred losses of more than Rs 50 lakh in the past two-and-a-half months in maintaining AC buses in garages and paying salaries to their employees.
"The net take-home income is around Rs 15,000 to Rs 20,000 on a 40-seater AC bus for a round trip to Asansol from Calcutta," an operator said. "The EMI on loans for these buses is very high and so aremaintenance charges."
On Friday, when the government offered to make special arrangements so that these operators could run their buses in Calcutta, it appeared to be a win-win situation for both. Operators saw an opportunity to cut down on losses while the transport department found an alternative to fill the demand-supply gap with the help of private buses.
A deal was struck and it was decided that these operators would begin operations from Monday. Private operators running AC buses will have to follow the existing government fare structure for AC buses.
"We have incurred losses of over Rs 60 lakh in this period," Dhananjay Singh of Kaushik Global Logistics that runs Volvo buses on long-distance routes said. "We will run 20 buses on the Barasat-Dalhousie route."
Since June 1, when the government allowed operators to run buses with full seating capacity, private owners have been pressing for a hike in fares. The demand-supply gap came to the fore when government and private offices started functioning from June 8.
On Friday, the government came up with the solution. It was decided that the South Bengal State Transport Corporation would run 200 buses and a set of private operators would bring in 200 AC buses. Among the eight companies that responded to the government offer, two used to run app-based bus services in Calcutta. These companies said they had stopped their app-based bookings since the start of the lockdow. "When the government came allowed us to choose the routes, we chose two routes for our services: Garia to Airport and Garia to Howrah," Soubhik Biswas of Hexa said. "Our investment has been lying idle for months and this was a good alternative." Private bus operators who have been demanding for a fare hike said this temporary arrangement would not help fill the demand-supply gap because the passenger count was not enough to run buses throughout the day.
"The passenger count has dropped by almost 60 per cent after the lockdown when compared to the pre-lockdown days," Rahul Chatterjee of All Bengal Bus Minibus Samanay Samity said. "How can a bus operator sustain with the present fare structure?"
Trams
Tram services on the Tollygunge-Ballygunge route will resume on Sunday. Trams will operate between 7am and 8pm at an interval of 40 minutes. The passenger count will not exceed the seating capacity. No passenger will be allowed without a mask. A trial run was carried out on Saturday. It has been decided that coaches will be disinfected before and after every run.