Hope rides on first order in idol hub of Calcutta
Kumartuli artisan gets advance, courtesy Santosh Mitra Square Sarbojanin Durgotsab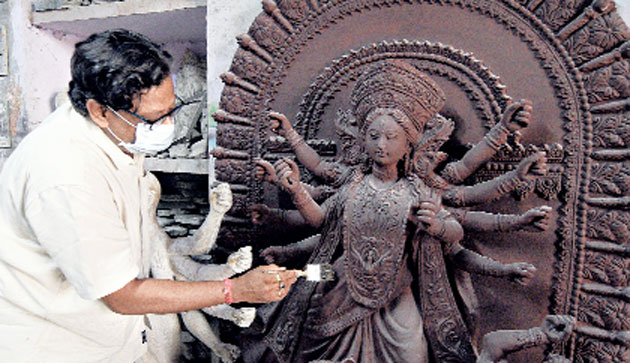 ---
Calcutta
|
Published 11.05.20, 09:42 PM
|
---
Mintu Paul has about 12 orders for Durga idols by Poila Baisakh every year. This year, he received his first order from a city puja committee on Monday.

The order from Santosh Mitra Square Sarbojanin Durgotsab also brought to Kumartuli the season's first advance payment from any big puja organiser, according to unions of idol-makers.
With Covid-19 casting a cloud on Durga Puja preparations this autumn, the order provided a glimmer of hope in the artisans' hub.
"We wanted to send a message. Durga Puja is a Rs 50,000 crore industry, which involves marginal artisans like the boatmen who ferry clay from the river, the rope-makers who make strings to tie the idol framework or the weavers who make the lion's mane or the goddess' sari. Durga Puja may be a festival for most but for them it is their sole livelihood. We have to do our bit to stave off the financial pandemic that is coming on the heels of this virus pandemic," said Sajal Ghosh, the secretary of the big-ticket central Calcutta puja.
Paul, who crafted 35 idols and two pandals last year, was too happy to have received the advance. The amount, he admitted, was half his usual rate. Nor has there been any talk of the size of the idol. "All that can wait. From this amount,
I can hand something to four of my 16 helpers who have stayed back. They desperately need to send some cash home. The rest have returned to the districts."
He had received five orders from pujas abroad before the lockdown. "I am finishing work on two. One is bound for Austria, another for France. The three other bookings are in jeopardy. Even these two are stuck here because of the lockdown," Paul said.
With all orders on pause, Paul feels the Santosh Mitra Square order might inspire the other organisers to come forward.
Agreed Apurba Pal, secretary of Kumartuli Pragatisil Mritshilpo O Sajshilpo Samiti, who had gone over to Paul's studio on getting the news: "This is the first order any of us has got. Let's see if others follow suit."
For now, the focus of all three unions at Kumartuli is on feeding their out-of-work workers. Santosh Mitra Square on Monday offered dry ration for 100 people.
They are all pinning their hopes on Rathyatra in July, an auspicious date often chosen to mark the start of the idol and pandal making.
"We will understand in end-June whether we will be able to organise the puja. Sponsor response, we know, will be dismal. The next decision will be the scale. We are all in wait-and-watch mode," said Partha Ghosh of Shibmandir Sarbojanin and a former president of Forum for Durgotsab.