Headmaster raises awareness against child trafficking in South 24-Parganas
Chandan Maity, head of Krishnachandrapur High School in Mathurapur has helped rescue girls in the area from 2003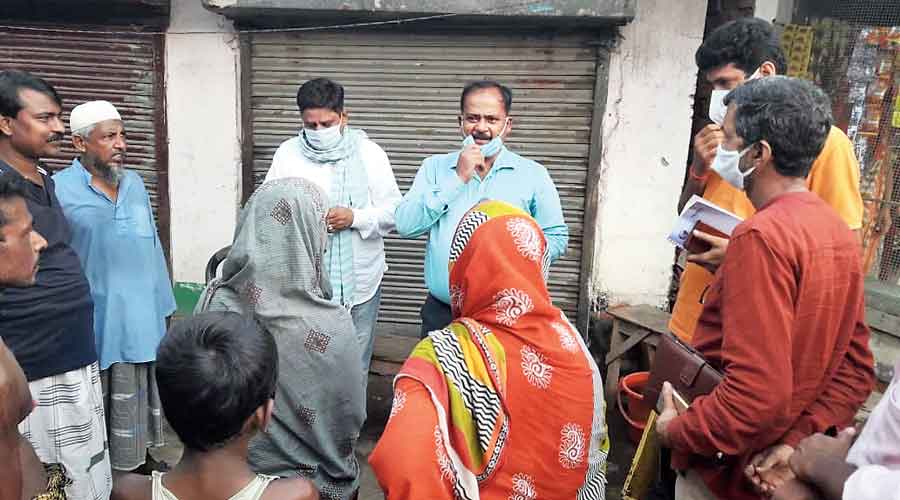 Chandan Maity, the headmaster (in blue shirt), talks to residents of Lalpur, a village in South 24-Parganas, about child trafficking in September
Telegraph picture
---
Calcutta
|
Published 24.11.20, 04:24 AM
|
---
A school headmaster has been visiting homes in 30 villages in South 24-Parganas during the pandemic to raise awareness about child trafficking.
Chandan Maity, the headmaster of Krishnachandrapur High School in Mathurapur, has been speaking to teenagers, many of who might have dropped out of school. He tells them about the consequences of eloping with someone in exchange for a smartphone or a few thousand rupees and the promise of an elusive bright future.
The teacher has helped rescue girls in the area from 2003. The numbers have gone down over the years, he said. "But there's been a rise in child trafficking during the pandemic. In the past three weeks (with the help of police and the local administration), we have rescued 12 girls."
Most of these girls are aged between 14 and 16, he said.
At times parents are unaware, and on some occasions they turn a blind eye because the pandemic has taken away their source of income and they have little to feed all members.
Most of the men are fishermen or those who collect honey in the Sunderbans. The women work as maids in the city.
But the suspension of suburban train services for months has left them without any livelihood.
Maity said the challenges had gone up during the pandemic. "Before the pandemic many families would marry off their daughters because of poverty. But when I came to know of it I would bring these girls to the hostel, arrange sponsorship for them and let them complete their studies. But this is not possible during the pandemic as I cannot let them stay in the hostels."
He said he visited families and spoke to them about their problems and told them how dangerous trafficking or child marriage could be.
"There are some instances where the damage has already been done. But if I visit homes of others and spread awareness in the neighbourhood it alerts people and sensitises them to prevent more such instances."
Since Maity heads a school, he knows the pandemic has forced many to forego studies and that it has been affecting young minds. "Earlier, they would be in school for five to six hours; now, they are completely detached from studies. Many do not have a smartphone to attend classes online or access videos sent by teachers."
Traffickers use smartphones to trap girls, he said. "Traffickers befriend them, gift them cheap smartphones and maintain contact with them. Since some girls have bank accounts for the government's Kanyashree scheme or for scholarships, traffickers transfer one or two thousand rupees to their accounts. They don't even get Rs 50 from their parents now; so, they get fall in the trap easily."
Maity tells mothers of girls to keep tabs on the phones their daughters use. "We tell them they should enquire where their daughters have got phones from and track their conversations or movements."
Saji Philip, the director of operations of NGO International Justice Mission, said interviewing survivors in Calcutta in 2016, the NGO had found that the false promise of marriage or job had been used to traffick children in 35 per cent of the cases.
"In my visit to some of these villages (where the headmaster has been taking the lead) I found students could not attend online classes for want of smartphones. That has left them frustrated," Philip said. "Families are so vulnerable… when there is promise of a job or the prospect of sending back money home every month they get lured. They are unable to see beyond a point… so, an awareness campaign gives them knowledge."