Leather units can unlock
Focus on clients for next season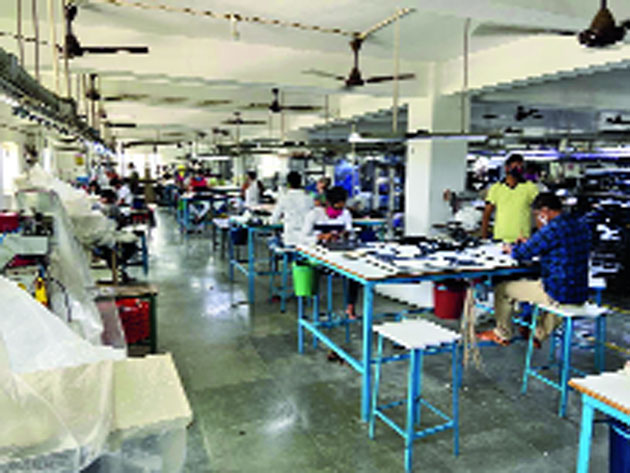 Work in progress at a unit in Calcutta Leather Complex, Bantala
Telegraph picture
---
Calcutta
|
Published 03.05.20, 10:51 PM
|
---
The state government has allowed tanneries and manufacturing units at Calcutta Leather Complex in Bantala to resume work and the few who have opened shop are not expecting fresh orders immediately but want to ensure they don't lose clients for the next season.
Several manufacturers who are also exporters with units in the Kasba industrial estate are also applying to the state government, seeking permission to start production despite the lockdown prompted by the Covid-19 outbreak.
The manufacturing units have deployed a severely curtailed workforce to finish pending orders and ready samples for the next season. The tanneries are busy processing raw hides that had been lying unprocessed for over a month and could get damaged.
"We have pending orders for approximately 30,000 bags and 50,000 wallets that could not be completed because of the lockdown. We will try to complete these orders as soon as possible," said Gautam Rajda of Rajda Industries and Exports that reopened with 40-odd workers about a week back. The unit's total workforce is over 300.
"We'll also have to manufacture about 200 samples that will be sent to our clients. This is to ensure that we don't lose clients for the next season," Rajda said.
The company mainly exports to Sweden and Scandinavian countries. "Sweden has not imposed lockdown and so my clients are ready to receive the consignments," he said.
Tanneries are focussing on saving raw hides. Around four lakh pieces of raw hide had been lying unprocessed since the start of the lockdown, sources said. "Raw hide cannot be left unprocessed for long in summer. If such a huge amount of raw materials go waste, the industry, which is already badly hit, would see several units shutting down," said Zia Nafis of Zia Hide Skin Agency. The tannery has 50,000 pieces of raw goat skin worth about Rs 40 lakh now being processed with chemicals and salt, he said.
Nafis, however, could not start his manufacturing unit at Topsia which, being part of Calcutta, falls under the red zone. "I have started work with barely 10 per cent of the workforce. I am keeping the raw materials ready but there is not a single order. Earlier, orders worth crores were cancelled or postponed indefinitely. But I have to be prepared for the next season," Nafis said.
The Bantala industrial complex received the government's nod to reopen a week ago, provided all guidelines are followed.
The complex has about 400 tanneries and 60 leather goods manufacturing units, according to the Calcutta Leather Complex Tanners' Association. Barely 30 per cent of the units could open because the rest do not have enough capital to buy chemicals, with no orders and scarce labour.
The annual export from eastern India, the bulk of which is from the Bantala complex, is worth Rs 5,000 crore, the association sources said. Europe, the US, South America and some far-east Asian countries make up the main market.
Import of fitting equipment from China, which had stopped at the start of the year, has now resumed but air freight charges have gone up three-fold from Rs 150 to 170 to as high as Rs 600 per kg because of shortage of cargo flights.