Staff stuck in containment zones, buses stay off the roads
Some refuse to join work fearing the coronavirus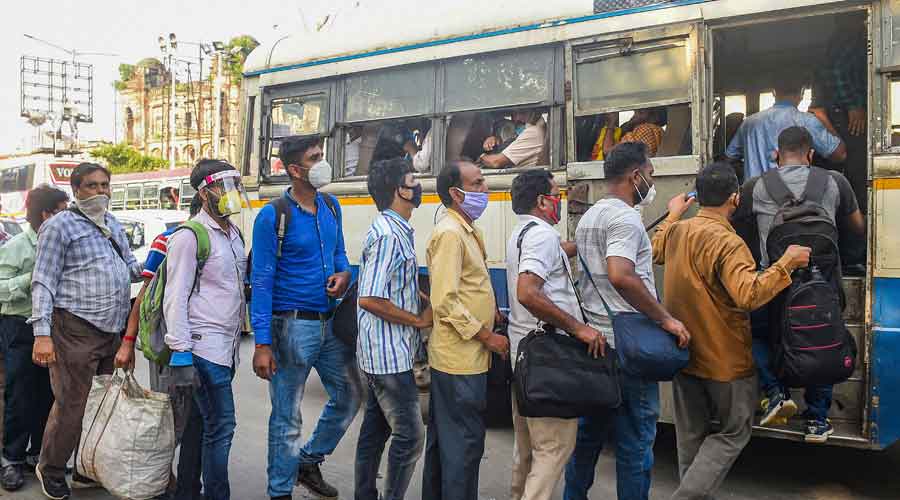 Locals rush to board a bus in Calcutta on Wednesday
PTI
---
Calcutta
|
Published 11.07.20, 02:30 AM
|
---
More than 900 private buses stayed off the roads on Friday because the drivers and conductors were stuck in containment zones across North and South 24-Parganas, operators said.
Some of those who do not live in containment zones refused to join work, too, fearing coronavirus infection.
Most of these workers are from pockets in Sonarpur, Baruipur, Diamond Harbour and Amtala in South 24-Parganas and Barasat, Bongaon, Habra and Naihati in North 24-Parganas. Several drivers and conductors had returned home to these areas on Tuesday and have since not been able to step out because their immediate neighbourhoods have been declared as containment zones.
As a result, a number of buses on a host of routes that originate from the two districts and pass through Calcutta remained parked throughout the day with their owners failing to find replacements for the workers stuck at home.
The effect of the shortage of buses was felt on parts of VIP Road, Jessore Road, EM Bypass, BT Road and Diamond Harbour Road — a large number of commuters had to rely solely on government buses.
"A number of private buses did not ply along Jessore Road," said Madhumita Pyne, a resident of Birati, who travels to Park Circus for work every day. "The buses were back on the roads after a long gap. Now they are gone again."
Operators whose buses ply on route 223, which stretches between New Barrackpore and Park Circus, said over half the fleet on their route disappeared on Friday.
"A majority of these workers would usually spend their nights on buses for days before returning home to these two districts. Many workers who joined duty went home fearing that it's no longer safe to sleep inside buses," said Tapan Bandyopadhyay, of the Joint Council of Bus Syndicate. "Absence of these drivers and conductors added to the shortage of those stuck in containment zones in the districts."
Several bus owners admitted that they were not in a position to sanitise their vehicles. The rise in the price of diesel (Rs 75.89 a litre on Friday, compared to Rs 65.62 a litre on June 1), coupled with a fall in the number of passengers, have left them with little money to spend on sanitisers, the owners said.
"If a bus runs the entire route thrice a day, the owner will not earn anything but will have to pay around Rs 500 for fuel expenses," said a bus owner. "We are still investing hoping the government would revise the fares."
Transport department officials said they were aware of the situation and would roll out more government buses. "We will try and arrange more buses during the morning and evening rush hours. Around 900 buses are plying. We will increase the number," an official said.