Want back the country where we felt so wanted
A virtual session saw speakers share personal experiences to demonstrate the diversity that makes India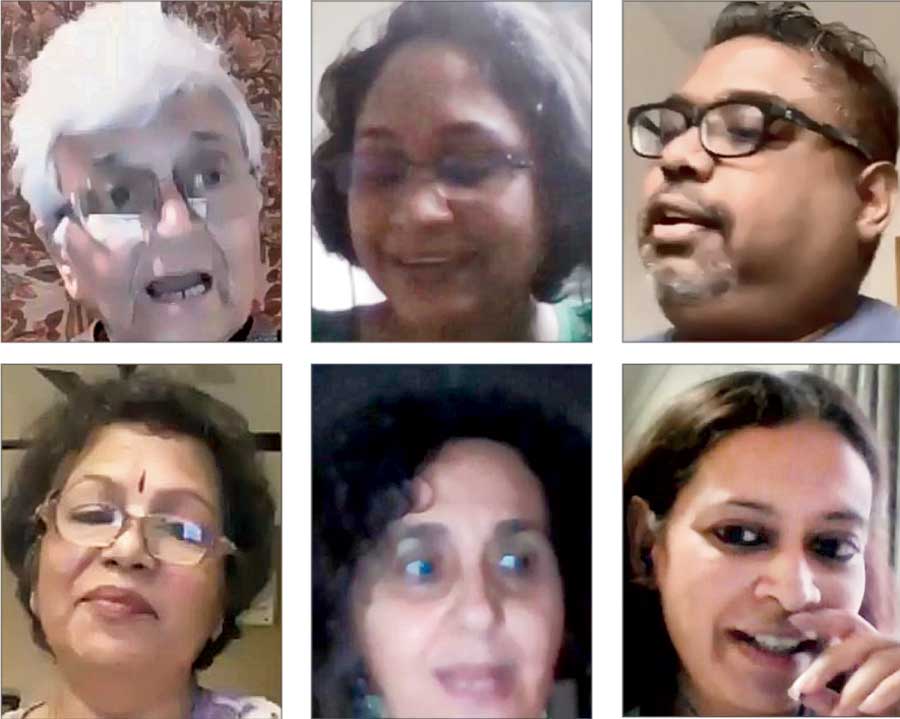 Some of the participants at the virtual session on Sunday. (Clockwise from top right) Kamla Bhasin, Sameena Dalwai, Philip Vinod Peacock, Amrita Dasgupta, Jael Silliman and Anees Wahhab
Telegraph picture
---
Calcutta
|
Published 07.12.20, 04:28 AM
|
---
A Muslim teacher who grew up in a railway colony remembered being decked out in her mother's saris during Saraswati Puja.
A Parsi author found Calcutta of yesteryears to be more inclusive than an elite US college.
A lawyer activist cited several interfaith marriages in her circle in the past, long before "love jihad" was coined.
A virtual session on Sunday saw speakers share personal experiences to demonstrate the diversity that makes India. They reminded the need to protect India's secular and pluralistic fabric, especially in the wake of "divisive forces… threatening to tear apart the cohesive and peaceful co-existence".
"Celebrating Indian Diversity: Stories of Peace, Strength and Hope," was a collaboration by Calcutta-based NGO Swayam and Know Your Neighbour, a movement to promote communal harmony.
That the session was held on December 6, the day when Babri Masjid was demolished in 1992, was significant, organisers said. "December 6, 1992 is a blind spot on the secular fabric of India. We need to learn from mistakes," said Sabir Ahamed of Know Your Neighbour. "No one group in India can claim to be the original Indian," said Amrita Dasgupta of Swayam. Ahamed and Dasgupta moderated the session.
Festival for all
Philip Vinod Peacock, a priest of the Calcutta diocese of the Church of North India, remembered growing up as a Christian in a "largely Sikh neighbourhood in Bombay".
"I had Bengali Brahmin friends. We had an Iranian refugee family as a neighbour. We frequented the gurdwara and eagerly waited for the langar there…. That is the kind of nationalism that I long for, not the new nationalism," said Peacock, a former teacher at Bishop's College in Calcutta.
Anees Wahhab, a former teacher at Loreto House and an anchor for All India Radio, spoke of growing up in Kharagpur. "During Saraswati puja, I wore my mother's sari. Holi was celebrated by everybody with fervour," she said. "We want back the country where we felt so wanted."
Sushi at Class VI
Author, scholar and women's rights activist Jael Silliman, 65, talked of growing up as a Baghdadi Jew in Calcutta. Silliman had her first sushi in Class VI. Her class was a mini-globe with Chinese, Italian, Iranian, English and Japanese students.
Later, when she went to Wellesley College in Massachusetts, she was surprised to see "Indians at one table, English at another and gays and lesbians at another. "I moved across all the tables because of having grown up in Calcutta…. This cosmopolitan diversity was deeply ingrained in Calcutta psyche," said Gillman.
Suitable boys and girls
Sameena Dalwai, professor and assistant director, Centre for Women, Law and Social Change at the Jindal Global Law School, went back to many interfaith marriages in her social circle.
One of them was between a Muslim girl and a Hindu Maratha boy. When the relatives of the girls went to see the bride off, they were "scared" to see pictures of "a goddess with her tongue out and a severed head". But the relationships stayed strong, she said.
Shashi Kapoor, an octogenarian volunteer with Swayam, traces her roots to Lahore. Her family shifted to Murshidabad first and then to Calcutta after the Partition. Her family had built a temple in Burrabazar. "A true Hindu would never say 'don't eat this or don't wear this'," said Kapoor.