Celebrate his life, says daughter
Disciplined marchers pay fitting tribute to Soumitra Chatterjee
The cortege began from Rabindra Sadan at 5.30pm and ended around 6.45pm at the Keoratala crematorium where Chatterjee received a gun salute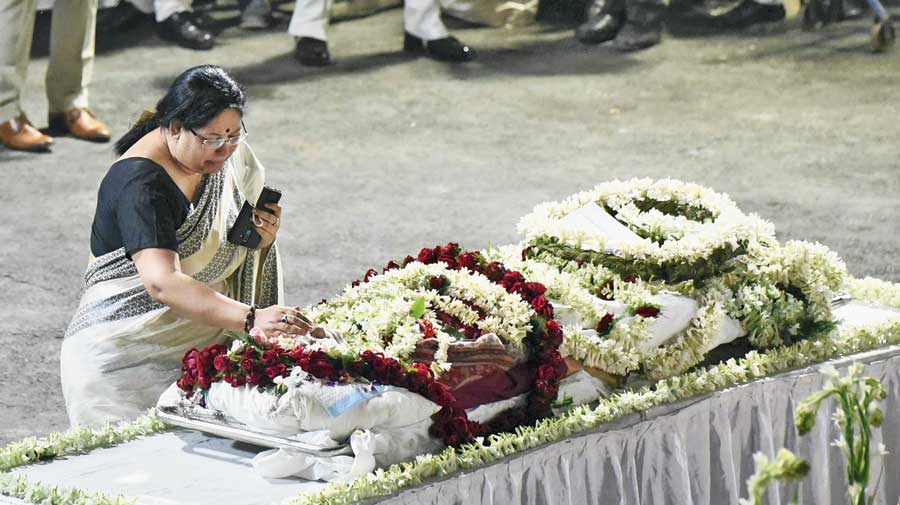 Soumitra Chatterjee's daughter Poulami Bose pays tribute to her father at Rabindra Sadan on Sunday.
Sanat Kr Sinha
---
Calcutta
|
Published 16.11.20, 02:10 AM
|
---
Soumitra Chatterjee, Bengal's beloved actor with a global reputation who straddled the worlds of art house and popular films, theatre, recitation and literature, died at the Belle Vue Clinic here at 12.15pm on Sunday. He was 85.
The doyen of Bengali cinema, who had fought for life at the hospital for 40 days, received a king's farewell with thousands joining his cortege, where artistes sang Rabindra Sangeet and sworn political enemies united in mourning.
If the size of the funeral procession was unusual for pandemic-hit times, the discipline and solemnity displayed by the marchers was fitting homage for a man who had all his life chosen sobriety and humility over the trappings of celebrity.
Tributes poured in from fellow actors, with Nandita Das remembering "an incredibly kind, funny and loving person" and Shabana Azmi highlighting Chatterjee's serenity.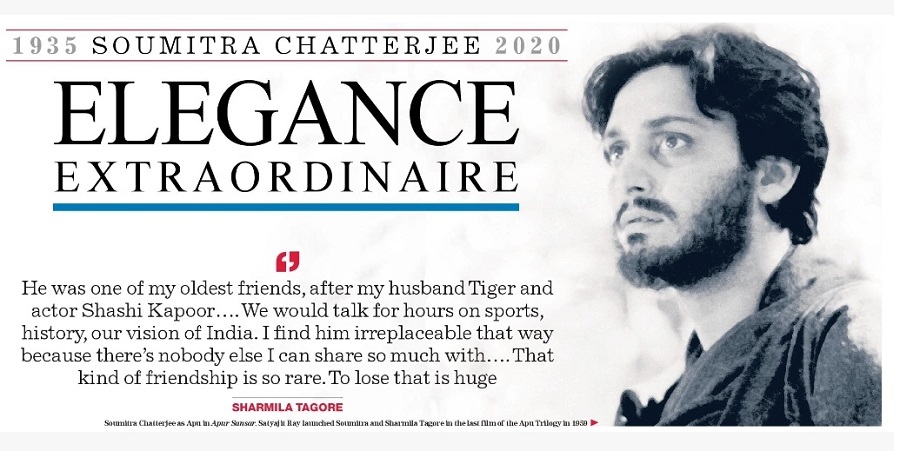 Such acclaim owed mainly to Chatterjee's being virtually the face of Satyajit Ray's films — he acted in 14 of them — but he also delivered brilliant performances for other directors, from Mrinal Sen's Akash Kusum to Tapan Sinha's Jhinder Bondi to Ajoy Kar's Saat Paake Bandha.
Sharmila Tagore, who had debuted with Chatterjee in Ray's Apur Sansar in 1959, said Chatterjee's versatility made him unique.
"He was not only an actor. He worked in the theatre, he used to paint and recite poems. He was such a wonderful person with a child's curiosity and charm. He was so learned. There was so much to learn from him. I'm very sad today," she said.
Chatterjee, admitted to the hospital on October 6 after a positive Covid test, had later tested negative but "died of non-responsive Covid-related encephalopathy", a doctor who had treated him said.
The cortege began from Rabindra Sadan, where his body had lain for nearly two hours for public viewing, at 5.30pm and ended around 6.45pm at the Keoratala crematorium where Chatterjee received a gun salute.
Theatre workers read out poems written by the actor. Many ordinary fans held up large portraits of Chatterjee; some carried lighted candles.
Chief minister Mamata Banerjee and CPM state secretary Biman Bose joined the procession, prompting many old-timers to wonder if any death had ever before brought Bengal politics' two warring sides together.
Thousands lined up along Harish Mukherjee Road, Kalidas Patitundi Lane, Kalighat Police Station Road, Sadananda Road and Rashbehari Avenue for a last glimpse.
A mourner from the procession said there had been no jostling to get near the hearse among the marchers or bystanders who allowed the actor the dignity in death that he had exemplified in life.
During the gun salute at the crematorium, everyone stood quietly at a respectful distance except for the actor's daughter Poulami who stood close to the body, laid on a platform, and wiped her tears as the bugle played the Last Post.
Poulami said she had lost not just her father but her best friend.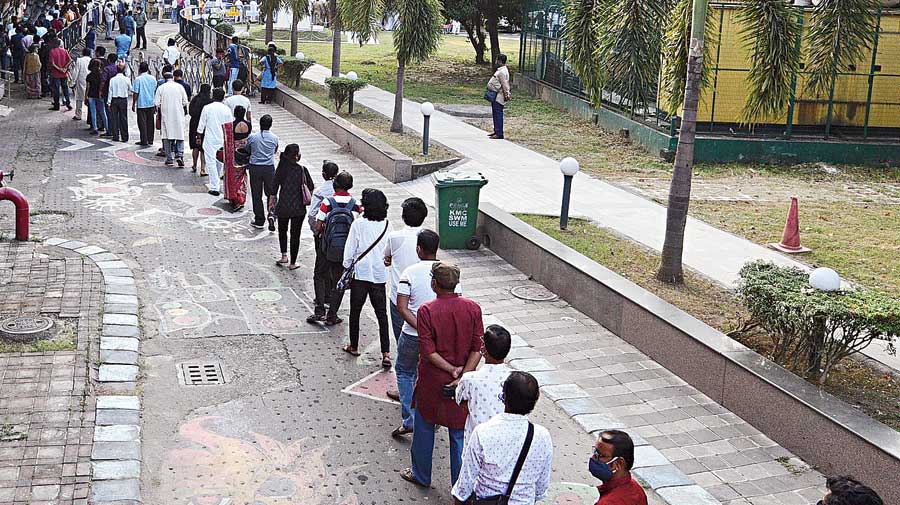 "He will live among us forever. We will celebrate his life. I'm telling everyone not to feel sad. We shall consider his life an ideal one and celebrate it," she had earlier told reporters, voice choking.
Mamata listed some of the honours Chatterjee had won. "Best known for his films with Satyajit Ray, Soumitra Da was conferred with Legion of Honour, Dadasaheb Phalke Award, Banga Bibhushan, Padma Bhushan & several National Awards," she tweeted.
She then struck a more intimate note: "Feluda is no more. 'Apu' said goodbye. Farewell, Soumitra (Da) Chatterjee. He has been a legend in his lifetime. International, Indian and Bengali cinema has lost a giant. We will miss him dearly. The film world in Bengal has been orphaned."
"Orphaned" is how many in Bengal's film industry described themselves in a testimony to Chatterjee's image as a loving guardian to his juniors, many of whom addressed him as kaku, jethu or dadu.
Chatterjee wrote and recited poems, painted, translated literary works, directed plays and acted in the theatre. For years, he also edited a little magazine, Ekkhon.
After his body was released from the hospital at 2pm, it was first taken to his home at Golf Green, where neighbours, relatives and close friends had come to pay their respects.
The hearse left around 3pm for Technicians' Studio in Tollygunge, Chatterjee's workplace for decades, where industry members had turned out in numbers.
Among them were filmmaker Aparna Sen and actors Abir Chatterjee, Roopa Ganguly and Ranjit Mullick.
The crowd was the largest at the next stop, Rabindra Sadan, where Mamata laid a wreath at Chatterjee's feet before the final journey to Keoratala.
Prime Minister Narendra Modi tweeted: "Shri Soumitra Chatterjee's death is a colossal loss to the world of cinema, cultural life of West Bengal and India. Through his works, he came to embody Bengali sensibilities, emotions and ethos. Anguished by his demise. Condolences to his family and admirers. Om Shanti."