Calcuttans pledge to gift organs at three-day awareness drive
A kiosk named 'Gift Your Organ' was set up at City Centre where men and women asked questions about donation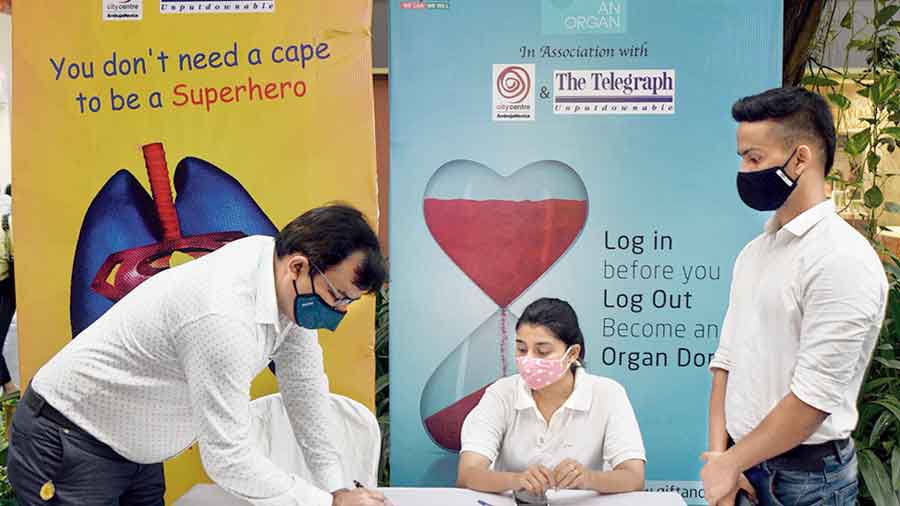 Sukanta Mukhopadhyay signs up to donate his organs after his death.
Gautam Bose
---
Salt Lake
|
Published 12.08.21, 01:59 AM
|
---
A number of Calcuttans have pledged to donate organs after death at an event in City Centre, organised by the Calcutta chapter of Young Indians and partnered by The Telegraph.
A kiosk named "Gift Your Organ" was set up at City Centre where men and women asked questions about organ donation. The kiosk was set up on Monday as part of a three-day drive that ended on Wednesday.
Sukanta Mukhopadhyay, 52, walked up to the kiosk saying he wanted to pledge to donate organs after death. The former air force officer signed the pledge declaration.
The initiative, part of Young India's Gift An Organ campaign, was aimed at raising awareness among residents of the city about donating organs and encouraging people to register to donate organs after death.
Kanupriya Pachisia, the chair of Gift An Organ, said they thought of organising such a programme as many lives could be saved if people pledged to donate organs after demise.
"There are several myths regarding the process... we want to ensure that such myths are busted," said Pachisia.
Ankit Surekha, a member of Young Indians, the youth wing of the Confederation of Indian Industry, said they had noted down the contact details of all those who walked into the kiosk. "We will contact them and register them on the website," said Surekha.
Those willing to donate organs can log into www.giftanorgan.in to register.
Ramesh Pandey, director of Ambuja Neotia group, which operates City Centre, described the drive as a "great initiative in these trying times".
"If anything, this pandemic has taught us the importance of good health. Donating organs can save lives, so we are proud to be associated with the initiative," said Pandey.